MPs back Keith Vaz appointment to Justice Select Committee
Home Secretary Amber Rudd, Health Secretary Jeremy Hunt and International Trade Secretary Liam Fox were among the Tory frontbenchers who joined 38 Labour MPs in supporting the nomination
Richard Wheeler
Tuesday 01 November 2016 08:38 Comments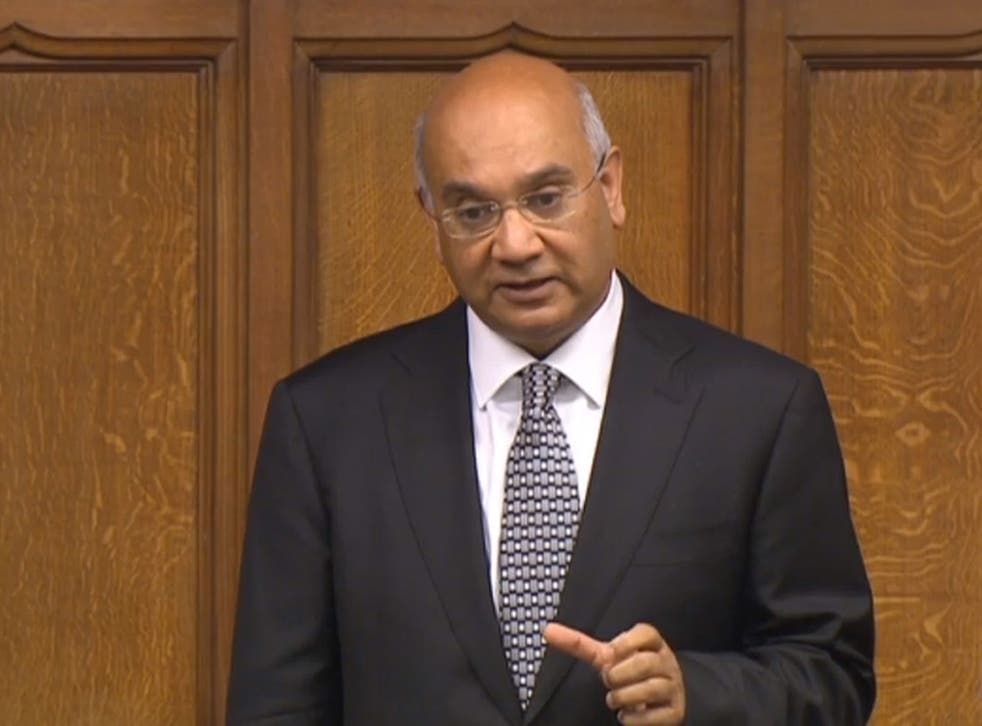 More than 150 Conservative MPs have backed Keith Vaz's appointment to a parliamentary committee despite warnings it would fuel the public's low opinion of politicians.
Home Secretary Amber Rudd, Health Secretary Jeremy Hunt and International Trade Secretary Liam Fox were among the Tory frontbenchers who joined 38 Labour MPs, three DUP MPs and Independent Simon Danczuk in supporting the nomination for the Justice Select Committee.
A rare vote on the Labour Party-backed appointment came after Tory Andrew Bridgen objected following revelations about Mr Vaz's alleged links with rent boys.
He questioned how Leicester East MP Mr Vaz could seek a position on a "prestigious and influential" committee when he judged himself "not fit" to be chairman of the Home Affairs Select Committee by resigning after the allegations were reported by the Sunday Mirror.
Mr Bridgen added a "potential police investigation still hangs over" Mr Vaz after he wrote to the Metropolitan Police to establish if a crime had been committed regarding an "allegation of conspiracy to supply a controlled substance".
He noted the force had yet to finish its assessment of the information and decide the appropriate course of action is.
Mr Bridgen later claimed Mr Vaz is alleged to have "abused his position in public office" with four witnesses interviewed by Leicestershire Police as part of inquiries which have been ongoing for at least 12 months.
Mr Bridgen (North West Leicestershire) added to Speaker John Bercow that he has "raised concerns with you about the conduct of the Right Honourable Member for Leicester East historically".
But Mr Bercow advised Mr Bridgen he would be "unwise to go into those matters" having earlier asked him to "desist".
During his speech, Mr Bridgen told Mr Bercow: "You have often spoken that this place must reflect the society with which we make the laws and I agree with you.
"I respectfully point out to the House that in any other sphere of activity a candidate with so much hanging unresolved over him would be very unlikely to be considered for such an important office.
"I believe and if (Mr Vaz) was in his place today I'd ask him to stand down from his nomination, but he's not.
"So I'd ask this House to reject his appointment otherwise I think we cannot blame the Great British public for having a low opinion of its politician and its politics - we can only blame ourselves."
He later told the Commons: "I think it'd be a huge mistake for this House to place him in a position on the Justice Committee when he has so many questions to answer."
UK news in pictures

Show all 51
Earlier, Mr Bridgen clashed with the Speaker about the content of his speech after raising "allegations that (Mr Vaz) abused his position in public office".
Mr Bercow intervened and told Mr Bridgen to sit down.
The Speaker said: "You will know I take advice on these matters and having treated of matters that are very much within the public domain until now, your speech has strayed from there and I have consulted on this matter and you are now treating of matters that are not in the same category.
"You must desist."
Mr Bridgen continued to Mr Bercow: "I have raised concerns with you about the conduct of the Right Honourable Member for Leicester East historically."
Mr Bercow ordered Mr Bridgen to take his seat, adding: "You would be unwise to go into those matters."
The Speaker then urged Mr Bridgen to focus on matters which were "proper and legitimate" for him to raise.
A division list analysis shows 159 Conservative MPs backed the motion, suggesting Mr Vaz's appointment to the committee along with fellow Labour MP Kate Green, with two voting both with the ayes and noes to show formally that they abstained.
Five Tory MPs voted against the motion.
The result in the House was declared as 203 ayes versus seven noes, although once the abstentions are considered this means 201 backed the motion with five against.
PA
Register for free to continue reading
Registration is a free and easy way to support our truly independent journalism
By registering, you will also enjoy limited access to Premium articles, exclusive newsletters, commenting, and virtual events with our leading journalists
Already have an account? sign in
Join our new commenting forum
Join thought-provoking conversations, follow other Independent readers and see their replies