Jeremy Corbyn faces calls to expel Labour MP Naz Shah over backing of 'relocate Israel to North America' plan
Naz Shah says she 'deeply regrets' hurt caused by her comments and accepts there is 'no excuse' for offence they caused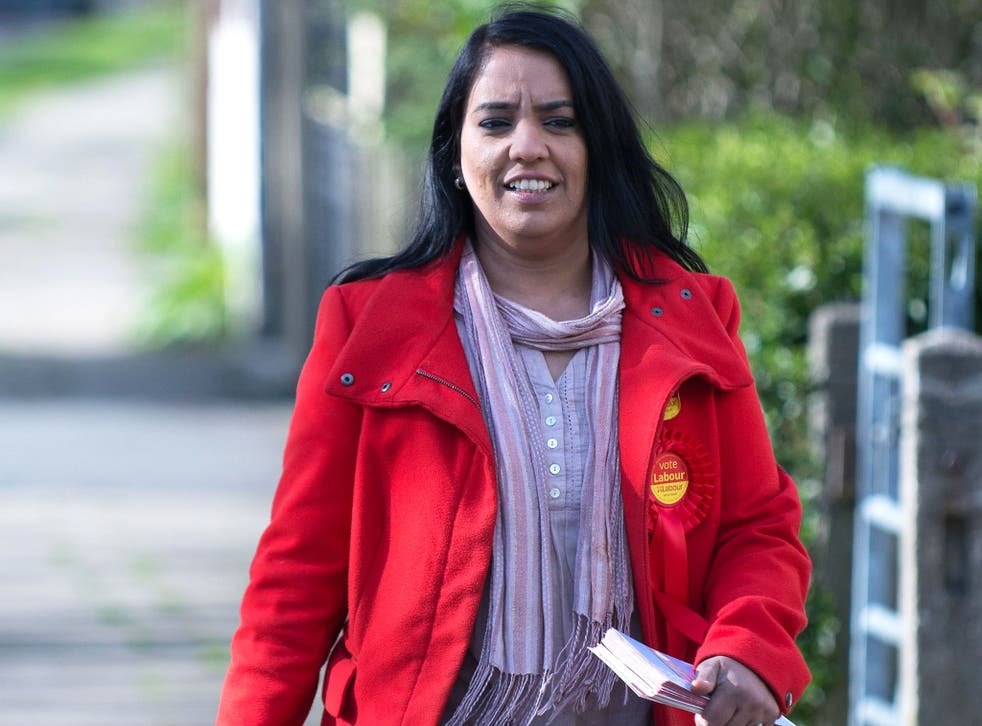 Conservatives have demanded that Jeremy Corbyn expel a Labour MP and aide to the shadow Chancellor, John McDonnell, who appeared to endorse the forced relocation of Israelis to the US.
Naz Shah, who was elected as the Labour MP for Bradford West last year said she "deeply regretted" the hurt caused by her comments and accepted there was "no excuse" for the offence they caused.
In a Facebook post in 2014, before she became an MP, Ms Shah shared a graphic which showed an image of Israel's outline superimposed onto a map of the US under the headline "Solution for Israel-Palestine Conflict - Relocate Israel into United States", with the comment "problem solved".
The post suggested the US has "plenty of land" to accommodate Israel as a 51st state, allowing Palestinians to "get their life and their land back".
It added that Israeli people would be welcome and safe in the US while the "transportation cost" would be less than three years' worth of Washington's support for Israeli defence spending.
Ms Shah added a note suggesting the plan might "save them some pocket money".
After the post became public Ms Shah resigned as an aide to Mr McDonnell. But in a letter the Tories called on her to be expelled from the party.
"Following allegations of institutional anti-Semitism within Labour, the shadow Chancellor pledged permanent expulsion from the party for those expressing such hateful opinions," the former Downing Street aide, Oliver Dowden, wrote.
"Could you confirm that this zero tolerance approach will be applied to the shadow Chancellor's former Parliamentary Private Secretary? A failure to act would call into question the commitment of the Labour Party to deal with wholly unacceptable behaviour and would constitute a betrayal of the values that all those who believe in democracy should uphold."
Campaigners against anti-Semitism also continued to raise concerns, with one group saying it would be "hard" for them to take seriously an inquiry into anti-Semitism being conducted by the House of Commons Home Affairs Committee so long as she remained a member.
Jonathan Sacerdoti, director of communications at the Campaign Against Antisemitism, said: "One cannot simply apologise for 'any offence caused' and expect evidence of gross and brazen anti-Semitism to disappear.
"Once again the Labour Party has been revealed to have within its ranks people who express extreme prejudice towards Jewish people in their public statements.
"Once again the party has failed to find these statements itself, and reject those who freely and willingly express them.
"How can we believe Labour when it says it takes the problem of Jew-hatred seriously when it repeatedly defends anti-Semitic MPs? It seems that Jeremy Corbyn's anti-racism policy only operates when convenient," Mr Sacerdoti added.
Register for free to continue reading
Registration is a free and easy way to support our truly independent journalism
By registering, you will also enjoy limited access to Premium articles, exclusive newsletters, commenting, and virtual events with our leading journalists
Already have an account? sign in
Register for free to continue reading
Registration is a free and easy way to support our truly independent journalism
By registering, you will also enjoy limited access to Premium articles, exclusive newsletters, commenting, and virtual events with our leading journalists
Already have an account? sign in