Nazanin Zaghari-Ratcliffe: British mother jailed in Iran on spy charges threatened with longer prison sentence after Boris Johnson gaffe
Foreign Secretary told MPs the charity worker was 'teaching people journalism' – when her defence was she had never worked in Iran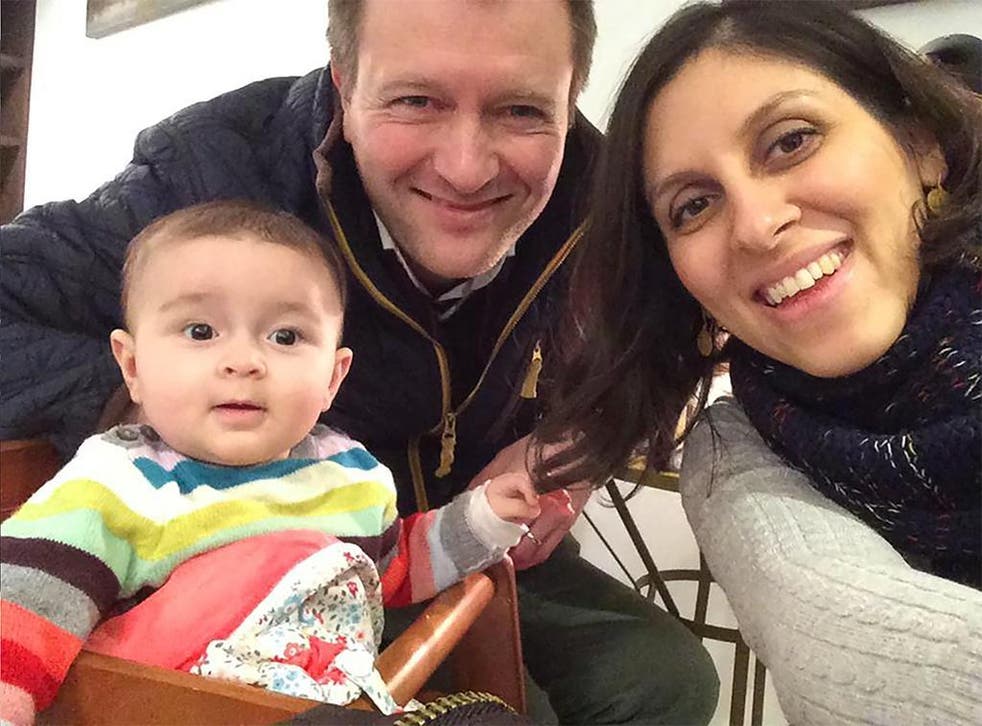 A British mother jailed in Iran on spying charges has been threatened with a longer prison term because of mistaken comments by Boris Johnson, it has been claimed.
The Foreign Secretary told a parliamentary inquiry that Nazanin Zaghari-Ratcliffe had been working in Tehran, teaching journalism, when she was arrested.
But, during her trial, the charity worker's central defence was that she had never worked in Iran and does not train journalists.
Jailed in Iran: Richard Ratcliffe calls on the government to bring Nazanin home
Her family and her employer, the Thomson Reuters Foundation, said she was on holiday, taking her daughter to meet the girl's grandparents.
At the weekend, Ms Zaghari-Ratcliffe was taken to an unscheduled court hearing in Iran where Mr Johnson's comments were cited as proof of her guilt.
She now faces new charges of spreading propaganda against Iran and has been threatened with another five years in prison – on top of her existing five-year sentence.
The new charges were announced by Abolghassem Salavati, seen as a notoriously harsh judge who was placed on the EU sanctions list for "gross human rights violations".
Ms Zaghari-Ratcliffe's husband, Richard Ratcliffe, said he had no doubt the fresh charges were triggered by the Foreign Secretary's remarks, three days earlier.
"There is a direct link between Boris Johnson's comments on Wednesday and Judge Salavati, the harshest judge that you can find, hearing her case on Saturday, where she is now facing a double sentence," Mr Ratcliffe said.
He told The Times the mistake in "saying she was training journalists, not that she was on holiday – contradicting what we have said all along – is being used for propaganda purposes to justify holding her".
Monique Villa, chief executive of the Thomson Reuters Foundation, urged Mr Johnson to "immediately correct the serious mistake he made at the Foreign Affairs Committee".
"She was in Iran on holiday to show her daughter Gabriella to her grandparents when she was arrested at Tehran Airport on 3 April 2016," Ms Villa said.
"Like Richard Ratcliffe, her husband, I see a direct correlation between this statement by Boris Johnson, who rightly condemned the treatment that Nazanin has received in Iran, and the fact that Nazanin was brought once again into court on Saturday.
"This accusation from Judge Salavati can only worsen her sentence. She is obviously a bargaining chip between the UK government and Iran and this injustice must stop as soon as possible."
The 38-year-old was separated from her 21-month-old daughter Gabriella when she was arrested as she tried to return home to London after a two-week holiday.
Gabriella, now three, remains at the Tehran home of Nazanin's parents, while her mother is in a high-security Iranian jail and her father in London.
Last week, Mr Johnson's insistence that Ms Zaghari-Ratcliffe is innocent and condemnation of her treatment by the Iranian authorities was welcomed as long overdue.
But he also told the MPs: "When I look at what Nazanin Zaghari-Ratcliffe was doing, she was simply teaching people journalism as I understand it."
Mr Johnson is yet to comment on the controversy but the Foreign Office issued a statement apparently accepting that his remarks had raised the threat of a longer prison term.
A spokesman said: "Last week's remarks by the Foreign Secretary provide no justifiable basis on which to bring any additional charges against Nazanin Zaghari-Ratcliffe.
"While criticising the Iranian case against Mrs Zaghari-Ratcliffe, the Foreign Secretary sought to explain that even the most extreme set of unproven Iranian allegations against her were insufficient reason for her detention and treatment."
It added that Mr Johnson would be telephoning his Iranian counterpart to "raise again his serious concerns about the case and ensure his remarks are not misrepresented".
Theresa May's spokesman insisted she has confidence in the Foreign Secretary and said they were "looking to establish the facts".
Last week, Mr Ratcliffe, told The Independent how his wife had endured treatment amounting to torture and called on Mr Johnson to get his wife and child home for Christmas.
The controversy comes amid some evidence that progress was being made behind the scenes to get Ms Zaghari-Ratcliffe released early.
Last month, she was threatened with new charges and another 16 years behind bars, but an Iranian diplomatic delegation disputed that in a meeting with the Foreign Affairs Committee a few weeks ago.
Join our new commenting forum
Join thought-provoking conversations, follow other Independent readers and see their replies