Nazanin Zaghari-Ratcliffe temporarily released from Iran prison due to coronavirus outbreak
British-Iranian mother among thousands of prisoners released from prison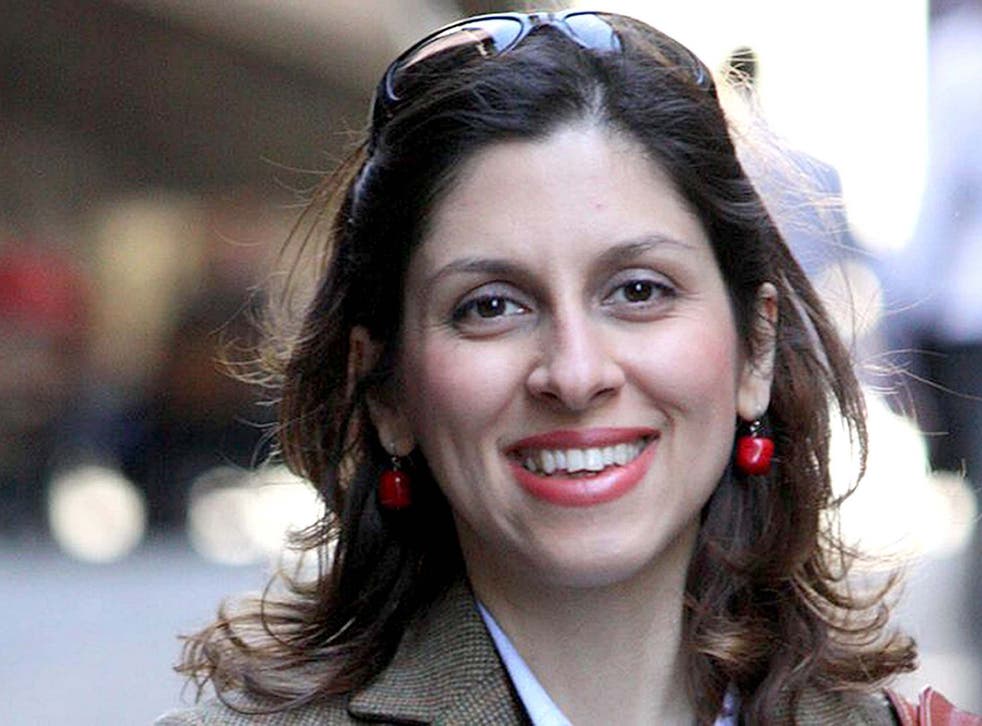 Nazanin Zaghari-Ratcliffe has been temporarily released from prison in Iran due to the coronavirus outbreak, her husband has confirmed.
The British-Iranian mother was among an estimated 85,000 prisoners allowed on a two-week furlough as part of efforts by the Iranian authorities to prevent the rapid spread of the virus.
Her husband Richard said she will be required to wear an ankle tag, effectively keeping her movements restricted to 300 metres from her parents' home in Tehran.
Ms Zaghari-Ratcliffe has been incarcerated in Evin prison in the Iranian capital since she was arrested in 2016 while visiting her parents with her young daughter Gabriella.
She was sentenced to five years in prison over allegations of plotting to overthrow the Tehran government – which she and her family have always denied.
In a statement, Ms Zaghari-Ratcliffe said: "Being out is so much better than being in – if you knew what hell this place is. It is mental.
"Let us hope it will be the beginning of coming home."
Her husband hailed her release but called on the Iranian authorities to allow her to return home.
Mr Ratcliffe said: "My feelings today have been all of a mix – pleased at the happiness for Nazanin and Gabriella, but fear this is a new drawn-out game of chess.
"Trepidation over how furlough last time ended. It is hard to relax just yet."
He added: "The issue now is to make it permanent and bring Nazanin home. It is one feeling to walk out of prison.
Before and after photos show impact of coronavirus around the world

Show all 20
"It is completely different to walk back in. No one should be asked to go and be a hostage again."
Dominic Raab, the foreign secretary, said: "I am relieved that Mrs Zaghari-Ratcliffe was today temporarily released into the care of her family in Iran.
"We urge the regime to ensure she receives any necessary medical care.
"While this is a welcome step, we urge the government now to release all UK dual nationals arbitrarily detained in Iran, and enable them to return to their families in the UK."
Labour MP Tulip Siddiq, who has been lobbying for her release, welcomed the news that Ms Zaghari-Ratcliffe would be with her family during the coronavirus crisis.
She added: "Ministers should also be doing absolutely everything they can to make this release permanent.
"This includes resolving the debt we owe to Iran and making Nazanin's case a deal-breaker in their ongoing negotiations with the Iranian government."
Kate Allen, Amnesty International UK's director, said: "The immediate priority is that Nazanin gets proper medical care, including a full coronavirus check-up.
"Beyond the immediate health concerns, let's not lose sight of where we are – Nazanin is a prisoner of conscience, convicted after a deeply unfair trial, who should never have been behind bars at all.
"We're now calling on the Iranian authorities to end Nazanin's ordeal and finally allow her to return to her family in the UK as soon as she's well enough to travel and as soon as any coronavirus travel restrictions allow."
Register for free to continue reading
Registration is a free and easy way to support our truly independent journalism
By registering, you will also enjoy limited access to Premium articles, exclusive newsletters, commenting, and virtual events with our leading journalists
Already have an account? sign in
Register for free to continue reading
Registration is a free and easy way to support our truly independent journalism
By registering, you will also enjoy limited access to Premium articles, exclusive newsletters, commenting, and virtual events with our leading journalists
Already have an account? sign in
Join our new commenting forum
Join thought-provoking conversations, follow other Independent readers and see their replies