Jeremy Corbyn more popular than David Cameron for first time, new poll reveals
The PM's approval rating had not fallen below the Islington MP's since Corbyn was elected Labour leader in September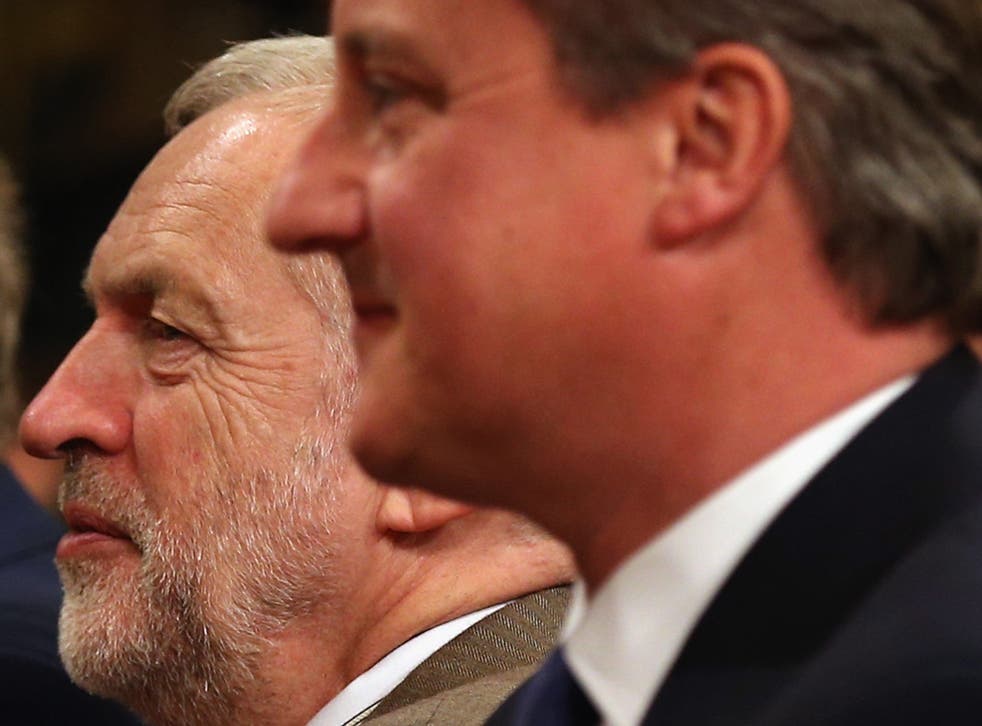 David Cameron's approval rating has fallen below Jeremy Corbyn's for the first time, a new poll has revealed.
Just 34 per cent of voters said the Prime Minister was doing a good job, while 58 per cent felt he was not.
The 24 per cent difference is worse than the 22 point difference between the 30 per cent who approve of the job Mr Corbyn is doing and the 52 per cent who disapprove.
The Labour leader could scarcely be called universally popular, and his rating barely beats Mr Cameron's - while fewer total voters approve of him - but the new YouGov poll offers far better news for him than most have since he became leader.
In November, he trailed Mr Cameron by 40 points. He now leads him by two, thanks to his gently rising popularity, and a dip in the PM's approval rating.
The change may be driven more by Mr Cameron's increasing unpopularity among Tories, who now approve of him far less than they did in 2015 - largely because of opposition to his position on the European referendum, rather than the controversy around tax avoidance.
The survey concluded before this week's revelations that Mr Cameron held shares in an offshore trust for five years while Leader of the Opposition, selling them in January 2010.
But while Europe may have hurt the PM more than tax so far, the poll also revealed that 68 per cent of voters distrust Mr Cameron to deal with tax avoidance.
Voters trust Mr Corbyn over him on the issue by 39 to 23 per cent; suggesting the Labour leader may have finally found an issue he can run on.
Register for free to continue reading
Registration is a free and easy way to support our truly independent journalism
By registering, you will also enjoy limited access to Premium articles, exclusive newsletters, commenting, and virtual events with our leading journalists
Already have an account? sign in
Register for free to continue reading
Registration is a free and easy way to support our truly independent journalism
By registering, you will also enjoy limited access to Premium articles, exclusive newsletters, commenting, and virtual events with our leading journalists
Already have an account? sign in
Join our new commenting forum
Join thought-provoking conversations, follow other Independent readers and see their replies