New row between LSE and BBC as ex-EDL leader Tommy Robinson turns up to film lecture
Simon Hooper
Sunday 27 October 2013 18:57 Comments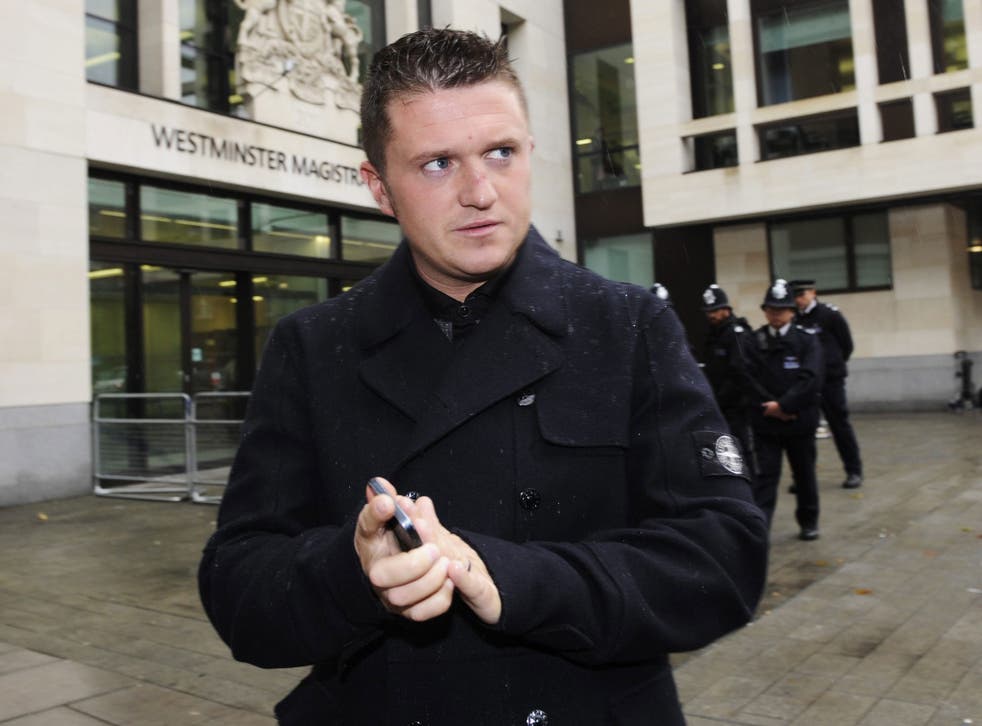 A new dispute has erupted between the London School of Economics (LSE) and the BBC, after former English Defence League (EDL) leader Tommy Robinson turned up unannounced to a lecture on human rights in the Muslim world with a cameraman making a documentary for the corporation.
Mr Robinson's presence at last Wednesday's talk by Karima Bennoune, an Algerian-American professor in international law, was criticised by the head of the LSE's human rights centre, who said it had "risked causing public disruption around a highly controversial figure at an event aimed at opposing violence and extremism".
The BBC was at odds with the LSE earlier this year when the university accused Panorama journalists of putting its students in danger by filming undercover during a study trip to North Korea.
Chetan Bhatt, the director of the LSE's Centre for the Study of Human Rights, said he had consented to a request from a film crew he understood was working for the BBC to attend the lecture as part of a documentary on Maajid Nawaz, the chairman of the Quilliam Foundation, a counter-extremism think-tank which choreographed Mr Robinson's surprise departure from the EDL earlier this month.
"I agreed on condition that they would focus the filming on Nawaz and not obstruct the audience or stewards. At no point was I or any of my colleagues informed that Tommy Robinson was part of this documentary and would be in attendance," said Professor Bhatt.
Jonathan Russell, Quilliam's political liaison officer, who attended the lecture, said he understood Mr Robinson's attendance had been cleared with organisers by Coelus Media, the independent company behind the documentary.
The BBC confirmed Coelus Media and Aaqil Ahmed, the corporation's head of religion and ethics, had discussed a possible documentary about Mr Nawaz and Mr Robinson, the subject of another BBC programme charting his split with the EDL.
It said: "This project is in the very early stages of development by an independent production company, and there was never intention to mislead. If the programme is commissioned, any footage filmed at the LSE on 23 October will not be used."
Coelus Media said it was talking to the BBC and was not prepared to comment.
Mr Robinson, who sat the back of the lecture theatre alongside Kevin Carroll, his cousin and EDL co-founder, told The Independent afterwards: "I've just come along to listen. I wanted to hear first-hand what Muslim women are experiencing. It's interesting to hear how much Muslims are suffering because I've always been focused on us."
Ms Bennoune is a former legal adviser to Amnesty International whose book, Your Fatwa Does Not Apply Here, tells the stories of ordinary people taking a stand against Islamist fundamentalism.
"I didn't know that he was there until afterwards and the EDL and the far right are utterly repugnant to me. I would prefer the story is about the people in my book because he has absolutely nothing to do with them whatsoever," she said.
Register for free to continue reading
Registration is a free and easy way to support our truly independent journalism
By registering, you will also enjoy limited access to Premium articles, exclusive newsletters, commenting, and virtual events with our leading journalists
Already have an account? sign in
Join our new commenting forum
Join thought-provoking conversations, follow other Independent readers and see their replies