Theresa May to warn social care must wait until 2020 for extra funds, despite pledging £20bn for NHS
No large cash injection to tackle the care crisis until the 'forthcoming spending review', prime minister will say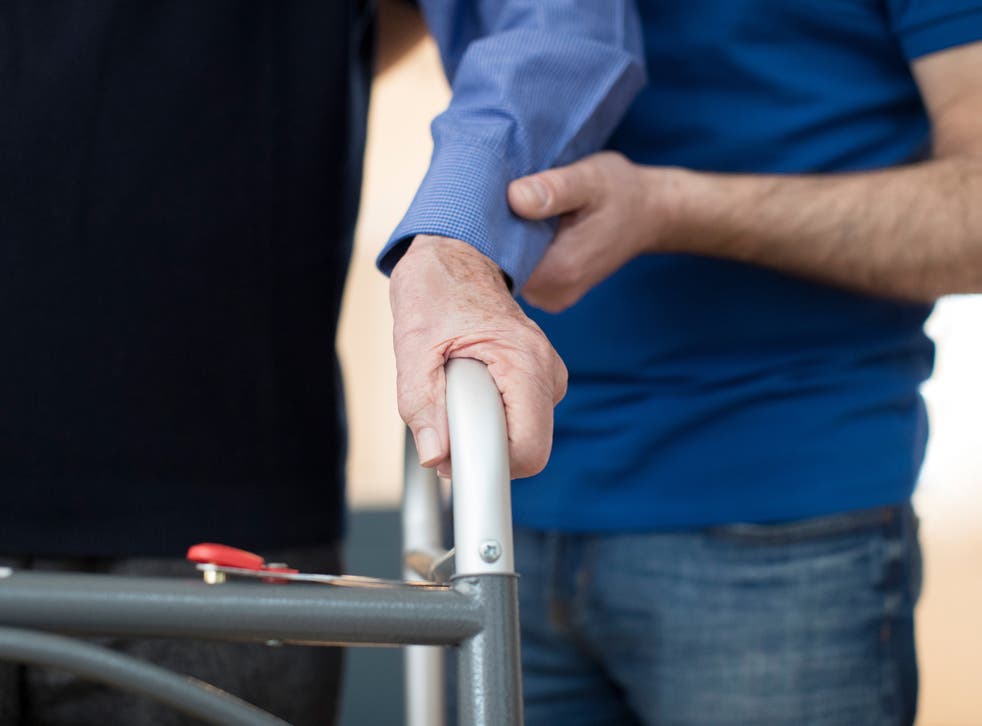 Theresa May will anger social care leaders by warning they will have to wait for desperately needed extra money, despite her promise of a £20bn a year bailout for the NHS.
There will be no large cash injection to tackle the care crisis until the "forthcoming spending review", the prime minister will say – which is not due to kick in until 2020.
Extra money for public health will also be allocated only when all departments are told their spending resources for years beyond 2020, she will confirm in a speech in London on Monday.
The stance will come despite a torrent of criticism of Ms May for giving the NHS the entire amount earmarked for the next five years – despite evidence that failures in social care rebound on the health service.
The Association of Directors of Adult Social Services (Adass) described the lack of money for social care in the eye-catching announcement as "deeply disappointing".
"Putting money into the NHS without putting it into social care is like pouring water down a sink with no plug in," warned Glen Garrod, the organisation's president.
"This week, we have warned that a third of councils have seen care providers close or cease to trade in the past six months – the need for a solution to this is both urgent and immediate."
Genevieve Edwards, a director at the MS Society, said: "We're really worried the plan doesn't include social care. Demand is at an all-time high and needs are not being met.
NHS in Crisis march: in pictures

Show all 25
"There is now a £2.5bn funding gap in social care for next year alone. We welcome plans to reform social care but it's not enough – the future of the system is in crisis."
And Councillor Izzi Seccombe, the Conservative chairman of the Local Government Association's community wellbeing board, said the situation was "hugely disappointing".
Nevertheless, in her speech, the prime minister will say the Treasury is to "set out budgets for both social care and public health as part of the forthcoming spending review", The Independent has been told.
Philip Hammond, the chancellor, has said he will carry out that full review of departmental funding in 2019, setting out the allocations for 2020 and afterwards.
Ms May is not expected to shed any fresh light on which taxes will rise to better fund the NHS, after saying only that "we will be contributing more as a country".
Instead, she will challenge health service leaders to ensure they also "cut waste" when they draw up a new 10-year plan, saying: "This must be a plan that ensures every penny is well spent.
"It must be a plan that tackles waste, reduces bureaucracy and eliminates unacceptable variation, with all these efficiency savings reinvested back into patient care."
And she will underline her personal commitment to the NHS, saying: "It was there for me when I was diagnosed with type 1 diabetes.
"I will never forget the support – not just of my GP and consultants – but also the clinical nurse specialists attached to my local hospital.
"Their advice was critical: enabling me to adjust to the new treatment regime, to manage my condition, and minimise the impact it has on my life."
A green paper on social care will finally be published in the next few weeks, after being delayed when Ms May was wounded by her plan for people to pay more towards their care – dubbed a "dementia tax" by critics.
Register for free to continue reading
Registration is a free and easy way to support our truly independent journalism
By registering, you will also enjoy limited access to Premium articles, exclusive newsletters, commenting, and virtual events with our leading journalists
Already have an account? sign in
Register for free to continue reading
Registration is a free and easy way to support our truly independent journalism
By registering, you will also enjoy limited access to Premium articles, exclusive newsletters, commenting, and virtual events with our leading journalists
Already have an account? sign in
Join our new commenting forum
Join thought-provoking conversations, follow other Independent readers and see their replies