Budget includes £650 million in 'secret cuts' to the NHS, analysis shows
Changes to public sector pensions will leave NHS employers with a hefty bill that will come out of services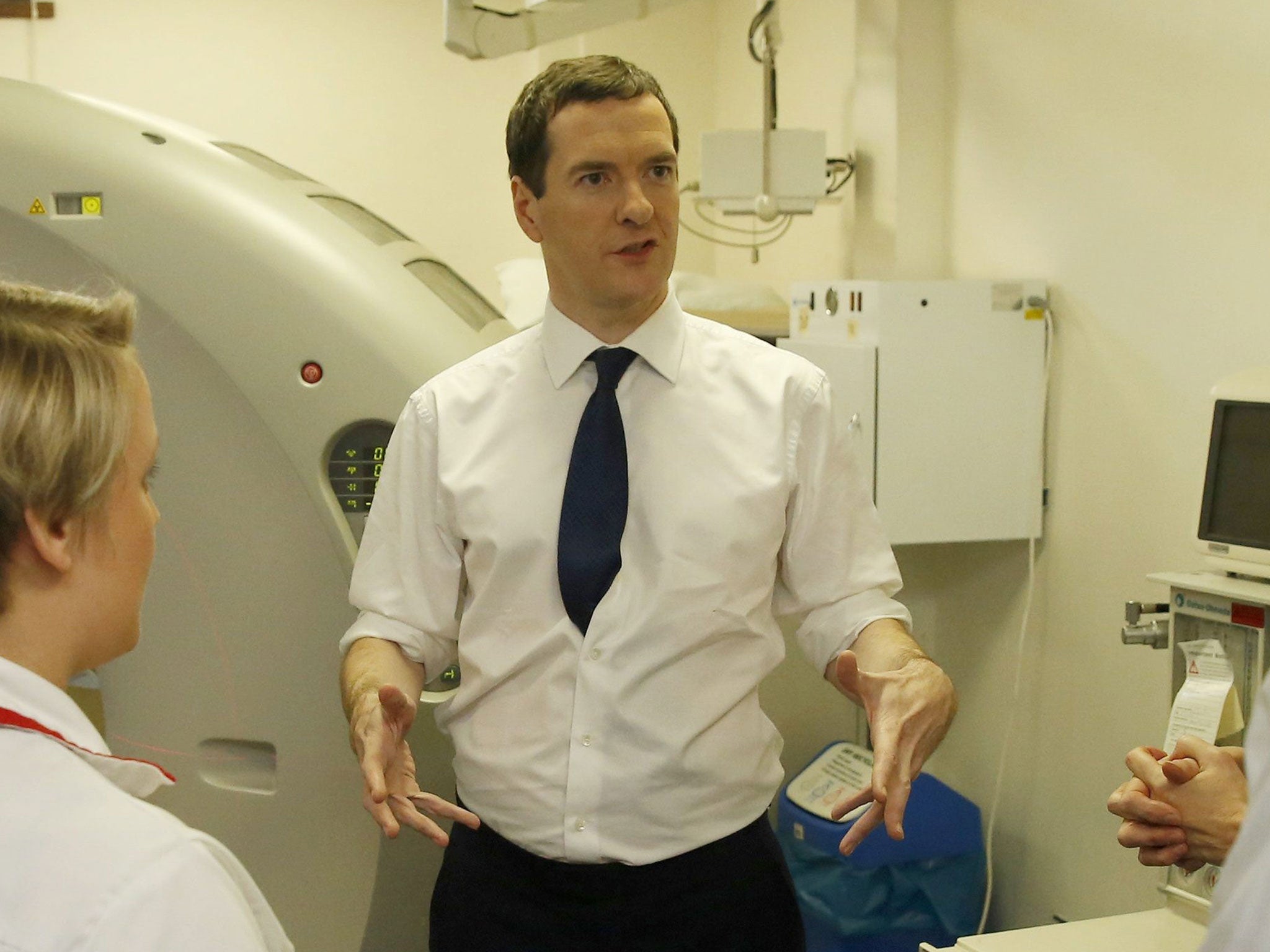 George Osborne made hundreds of millions of pounds in "secret cuts" to the NHS in his Budget, according to the small print of his Budget document.
Research compiled by the Liberal Democrats suggests £650 million was taken out of the health service by changes to public sector pensions that leave employers fielding extra costs.
One of these employers is the National Health Service, the largest public employer in the country – meaning less cash will be available to spend on front line services once the new costs are met.
Liberal Democrat leader Tim Farron said the Chancellor was trying to "pull the wool over people's eyes" but the Government said employers had time to prepare for the extra costs.
"Even by George Osborne's standards, this is a vicious attack on our health service, schools and public services," Mr Farron said.
"He made grand promises about funding the NHS and is now making secret cuts by the back door.
"David Cameron said he would do whatever it takes to fill the NHS black hole, and we've now discovered that actually means cutting £650 million just to help the Chancellor's budget-day balance sheet.
"George Osborne cannot pull the wool over people's eyes. Choosing to ask schools, hospitals, and forces to pay £2 billion extra in pension contributions has a real cost, and vital services will have to pick up the bill.
"The Conservatives simply cannot be trusted to protect the services communities rely on up and down the country."
Osborne announces more cuts
The Chancellor announced that he would change the so-called "discount rate" for the pensions, meaning central government will pay less but front line employers will pay more.
BBC News reports that a total of £1 billion is likely to be taken from health and education combined by the changes.
The additional forced budget pressure on the NHS comes weeks after the Health Foundation warned the NHS's financial position has "substantially deteriorated" in recent years.
All regions of the English NHS have gone from a surplus in 2012/13 to all but one being in overall deficit in 2014/5, according to official figures.
Despite the looming financial crisis, the National Health Service received only brief passing mentions in the Chancellor's Budget speech to the House of Commons on Wednesday.
Mr Osborne said during the address that he was increasing funding for the service.
George Osborne 2016 budget at a glance
Show all 8
"The country will be spending no more than the country raises in taxes," he said of his fiscal targets.
"We are achieving this while at the same time increasing resources for our NHS and schools, building new infrastructure and increasing our security at home and abroad."
A Treasury spokesperson defended the changes: "We're committed to regular revaluation to ensure public sector pension costs are met.
"The Budget announcement means employers have three years to prepare and we think they should be well placed to absorb extra cost of contributions – especially because inflationary pressures are significantly lower than expected when budgets were set at spending review."
Join our commenting forum
Join thought-provoking conversations, follow other Independent readers and see their replies