NHS held back report into unsafe hospitals minutes after email exchange with Jeremy Hunt
The health watchdog NICE had been told by NHS England to suspend its research on safe staffing levels in June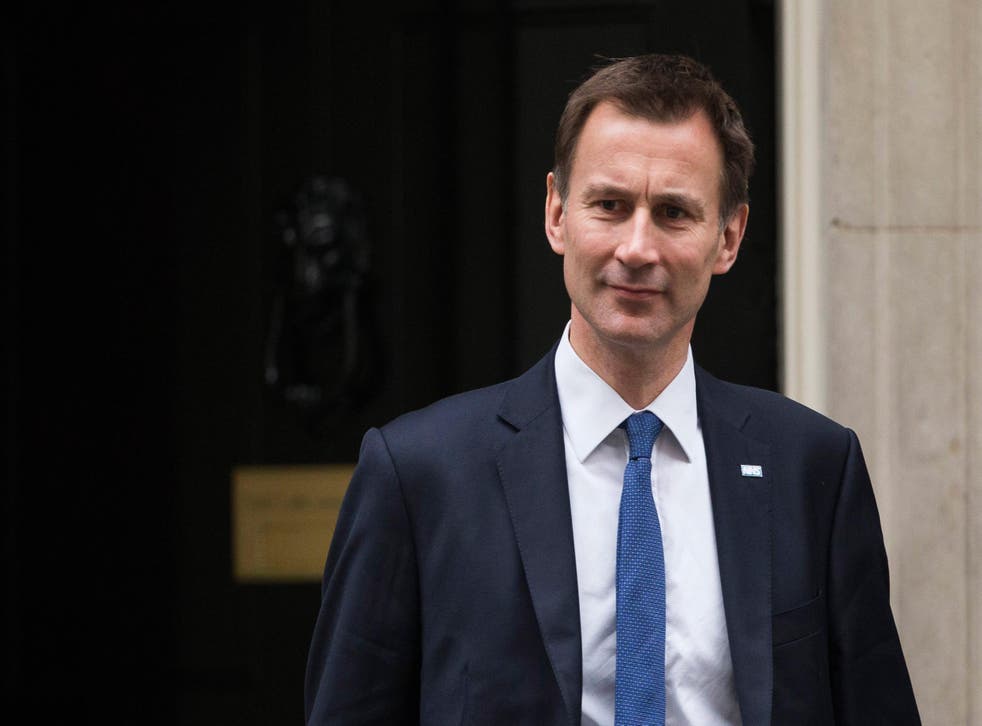 The health watchdog NICE ditched plans to make public its research on safe nurse staffing levels minutes after an email exchange between the organisation's chief executive and Jeremy Hunt's office, it has emerged.
Experts at the National Institute of Health and Care Excellence (NICE) had been due to publish their work on safe staffing levels on NHS A&E departments at the end of July.
But the decision was reversed after emails between Sir Andrew Dillon, NICE's chief executive and the Health Secretary's principal private secretary Kristen McLeod, in which it was agreed that the information should held back till a later date.
The watchdog had been told by NHS England to suspend its research on safe staffing levels in June. The work has been rolled into a wider review led by NHS England, but the country's biggest nursing union raised concerns at the time the move had been driven by "affordability". Low staffing levels have been cited as a problem by inspectors at two thirds of NHS hospitals, but the NHS is currently in the grips of major cash crisis, with a £2bn hospital sector deficit projected for this year.
A senior NICE official said in July that NHS leaders "did not like the answer" they were getting from NICE findings on staffing levels.
The emails, released following Freedom of Information requests by the Health Service Journal reveal that Mr Hunt's office was sent an advance copy of the A&E research on 24th July and told NICE planned to publish on 30th July.
Four days later, Ms McLeod emailed Sir Andrew saying: "I thought it would be helpful to confirm in writing our conversation. We agreed that it could be confusing for staff and the public if NICE were to release one piece of work on safe staffing now without any context and in isolation of any final guidance on safe staffing levels. However, we both agreed that this work should be put in the public domain as soon as is practically possible."
Health news in pictures

Show all 40
Two minutes later Sir Andrew emailed senior members of staff at NICE saying the information would not be published as planned on 30th July. Emails released under FOI had been "heavily redacted" HSJ reported.
The Department of Health has declined to comment on the exchange. Mr Hunt has said that NICE will be able to review the final staffing guidance, which is being worked on by NHS England and the arms-length body NHS Improvement.
Labour's Shadow Health Secretary Heidi Alexander said that Mr Hunt should now release the correspondence with NICE in full.
"If there has been any attempt by ministers or the Department of Health to influence NICE against the publication of this work then that is extremely worrying," she said.
"If Jeremy Hunt really believes in transparency, he should now order the release of all this correspondence in full so that people can judge for themselves whether any inappropriate pressure was put on NICE."
A NICE spokesperson said: "We do not believe the emails show an inappropriate attempt to influence NICE and Andrew Dillon against publishing the safe staffing evidence. The Department of Health expressed its views and these were taken into consideration."
The organization has turned down FOI requests to published its A&E guidance, as well as other safe staffing research.
The spokesperson said: "Publication is likely to give rise to further public interest and generate enquiries about the work, which has the potential to delay NHS Improvement's work. Safe staffing is very much a live issue for the NHS and we believe it's important that NHS Improvement has safe space to develop and reach its own conclusions as it develops its guidelines. Disclosure at this stage would likely make it harder for NHS Improvement to undertake their work."
Register for free to continue reading
Registration is a free and easy way to support our truly independent journalism
By registering, you will also enjoy limited access to Premium articles, exclusive newsletters, commenting, and virtual events with our leading journalists
Already have an account? sign in
Register for free to continue reading
Registration is a free and easy way to support our truly independent journalism
By registering, you will also enjoy limited access to Premium articles, exclusive newsletters, commenting, and virtual events with our leading journalists
Already have an account? sign in
Join our new commenting forum
Join thought-provoking conversations, follow other Independent readers and see their replies