Nick Clegg to announce break from Tories on immigration
Lib Dem leader will stress party's role in ending child detention and pledge to ensure migrants are fairly paid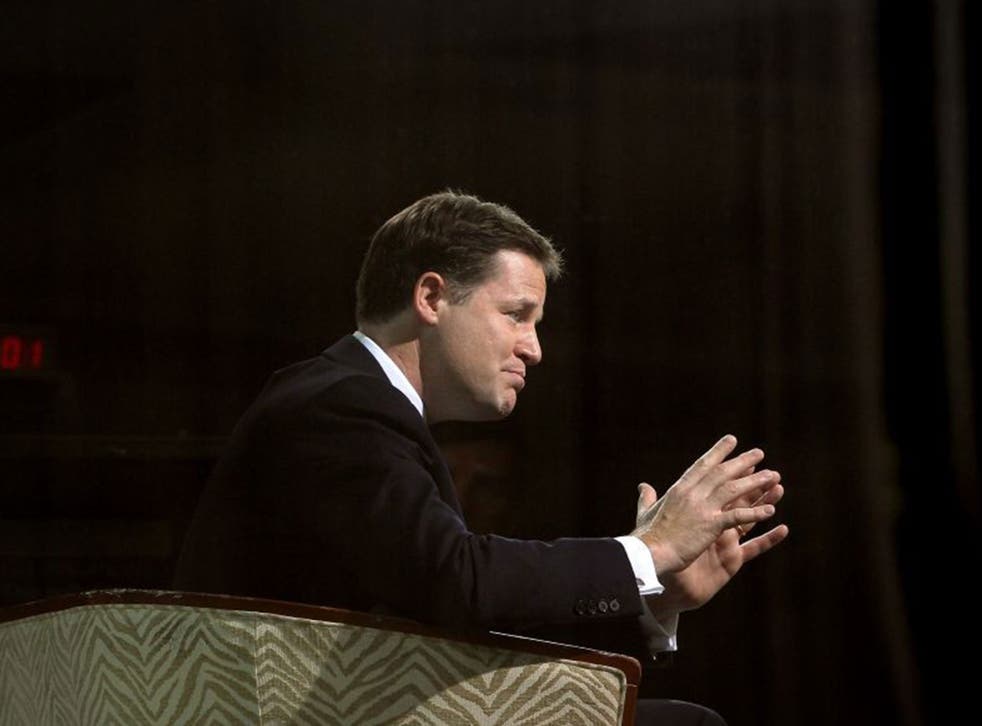 Nick Clegg will attempt to strike free from the Conservatives on immigration this week by declaring that the Liberal Democrats are Britain's "only real internationalist party" – the only one that does not "meet every visitor with automatic suspicion".
In a pointed response to David Cameron's fresh crackdown on immigrants through the benefits system last week, the Deputy Prime Minister will say in a speech that his party has fought to end the "barbaric" practice of child detention, by enshrining the ban in the Immigration Act, and that it wants Britain to be outward facing. "If you come here, if you play your part, Britain will give you a chance," he will say.
The speech by the Lib Dem leader affords an insight into how the two coalition parties will fight the general election on immigration, one of the most divisive issues for all political parties. The political summer has started with all three parties stepping up policy announcements, in the clearest signal that the election campaign is already under way. Immigration is one of the top issues voters raise on the doorstep.
Last week, in a clear pitch to voters who have left the Conservatives for Ukip, the Prime Minister announced a halving from six to three months of the period for which EU migrants can claim benefits in the UK. He declared that he wanted to put "Britain first" and make it clear that the UK is "a country that is not a soft touch".
In his speech, Mr Clegg will emphasise that he favours a "firm but fair, tough but smart" immigration system. The "firm" measures include new plans to crack down on sham marriages, while one of the "fair" policies is to ensure that employers pay migrants at least the minimum wage.
But in remarks intended to differentiate his party from the Conservatives, Mr Clegg will say: "It should come as no surprise that I'm a believer in the benefits of a well-managed immigration system. I lead, in my view, Britain's only real internationalist party. For the Liberal Democrats this nation is always at its best when we are open and outward facing.
"Our brand of patriotism draws immense pride from living in a country which, throughout its history, has always said: if you come here, if you contribute, if you play your part, Britain will give you a chance.
"We don't meet every visitor with automatic suspicion. We believe everyone, no matter where they come from, should be treated with respect. It wasn't the Liberal Democrats, for example, who arranged for vans emblazoned with the words 'Go Home' to prowl around the streets of north London."
He added: "Had Jeremy Browne – the Liberal Democrat in the Home Office at the time – been consulted on this we would have put a stop to it then and there. It was the Liberal Democrats, by contrast, who insisted that the coalition's Immigration Act [would outlaw] child detention: no more putting children stuck in the immigration system behind bars. Labour locked up thousands and thousands of little boys and girls every year. We stopped it as soon as we came into power. We'll leave this Government knowing that no future Labour government – or indeed any government – will be able to do it again."
Aides said Mr Clegg was "extremely proud" of enshrining in law an end to the practice of locking children up for months in "hellholes" like the notorious asylum centre at Yarl's Wood in Bedfordshire.
Some 2,000 sham marriages are reported every year, with criminal gangs charging thousands of pounds to supply "wives"; these are usually vulnerable women from Eastern Europe who are trafficked to the UK as "anchor brides".
Under the sham marriages clampdown, registrars will be expected to tell the Home Office if they suspect anything illegal is going on. The notice period for couples seeking to marry or enter into a civil partnership will be extended from 15 to 28 days. If an alert is raised, proceedings will be paused for up to 70 days for the Home Office to investigate.
Measures to ensure a minimum wage for migrants include raising the number of inspectors whose job is to identify businesses that use workers from abroad as cheap labour. Mr Clegg will say: "Rather than just respond to tip-offs they will proactively go after the worst offending employers, including those who run care homes, recruitment agencies and top-class hotels."
Lords list
Karren Brady, star of BBC's The Apprentice, will be given a peerage when the next appointees to the House of Lords are confirmed this month.
The 45-year-old Conservative Party small business ambassador has long been seen as a potential candidate for a safe Tory seat in the House of Commons, having supported the party since she was 18. Ms Brady, who is vice-chairman of West Ham United and has been dubbed "the first lady of football", is the most eye-catching name on a business-friendly list of appointees to the upper chamber which was part-leaked to Sky News yesterday. Michael Farmer, a Tory donor and former co-treasurer, is also expected to be ennobled.
Sir Stuart Rose, the former Marks & Spencer chief executive, has been lined up as a Conservative peer. There are expected to be about 20 additional members of the House of Lords, three of whom are Labour nominations.
Mark Leftly and Jane Merrick
Join our new commenting forum
Join thought-provoking conversations, follow other Independent readers and see their replies