Nick Clegg backs face-sitting protesters over UK porn ban
Deputy Prime Minister says people should be free to 'get their kicks'
Andrew Grice
Monday 15 December 2014 14:36 Comments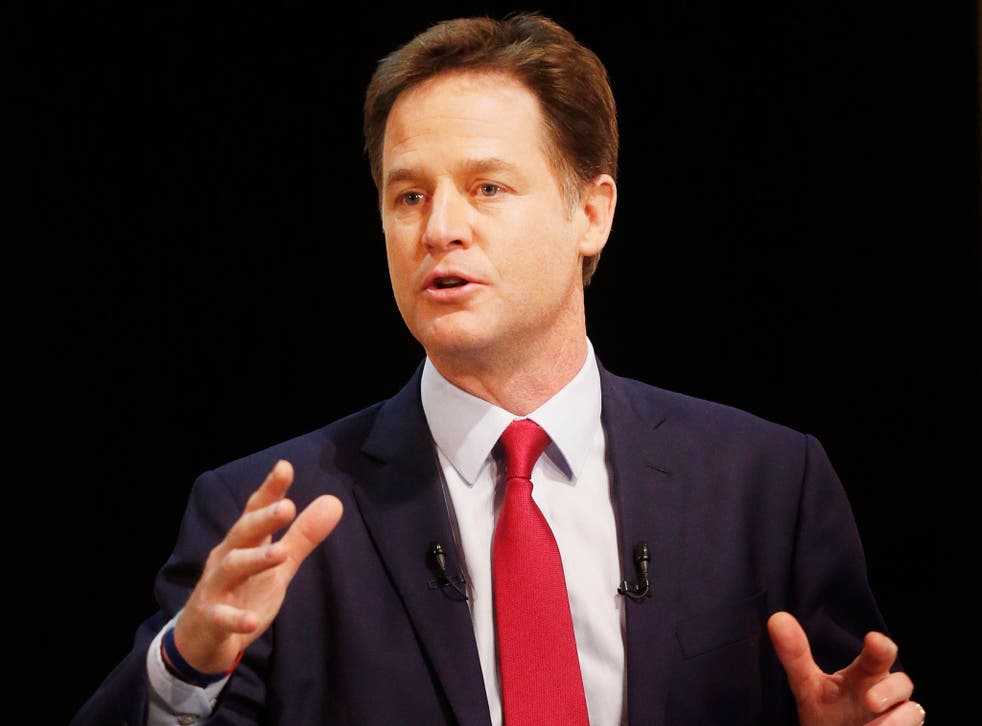 Nick Clegg today backed Liberal Democrat MPs who are opposing a ban on a list of erotic acts being shown in porn because they have been judged "harmful".
Three days after a face-sitting protest outside Parliament against new curbs on what can be shown in internet video porn, the Deputy Prime Minister said the new regulations had not got the balance right, and that the state should not invade the privacy of people's bedrooms.
He told his monthly press conferences that he shared some of the concerns raised by his MPs.
"It is not a prurient judgement of whether we approve or not of someone's behaviour of the privacy of their bedroom. It is not the role of politicians to cast moral judgements on that," he said.
"It's whether we think that in a free society, people should be free to do things that many people might find exotic at mildest or deeply unappetising at worst, but it's their freedom to do so. That seems to me to be is a classic liberal assertion."
The Lib Dem leader added: "Government is not there to stick its nose in the bedroom as long as people are not doing things which are illegal under the law. It's not really for us to judge how people get their kicks, but it is our role to make sure the law is upheld, and that the law does not encroach on private spaces where the law has no role to intrude."
Erotic images through the ages

Show all 11
Julian Huppert, the Lib Dem MP for Cambridge, has tabled an early day motion opposing the Audiovisual Media Services regulation, which states that any online paid-for porn such as Video on Demand (VoD) must adhere to the same rules set out for DVD production. But he has not secured a Commons debate.
Opponents say the new law means spanking, caning, aggressive whipping, penetration by any object "associated with violence", physical or verbal abuse (regardless of whether consent is given or not), urolagnia (known as "water sports"), role-playing as non-adults, physical restraint, humiliation, female ejaculation, strangulation, face-sitting, and fisting are now banned from web porn sold in the UK.
Register for free to continue reading
Registration is a free and easy way to support our truly independent journalism
By registering, you will also enjoy limited access to Premium articles, exclusive newsletters, commenting, and virtual events with our leading journalists
Already have an account? sign in
Join our new commenting forum
Join thought-provoking conversations, follow other Independent readers and see their replies