Nick Clegg condemns 'sneering' Newsnight presenter Jeremy Paxman
Deputy Prime Minister says BBC presenter treats all politicians as 'rogues and charlatans' on weekly phone-in show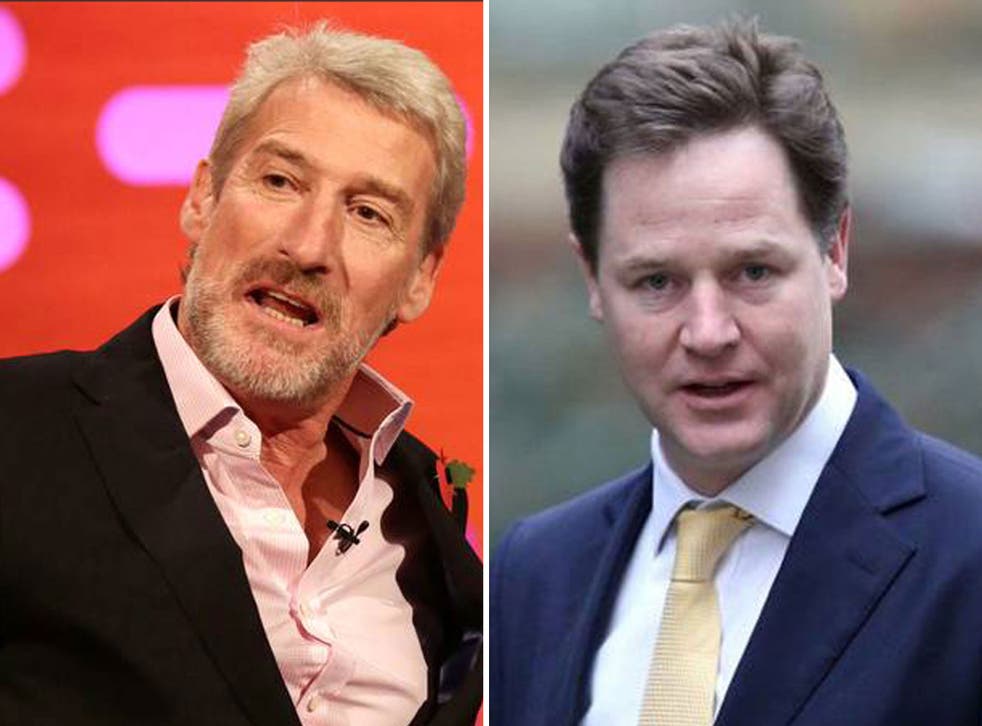 Nick Clegg has launched an attack on Jeremy Paxman, criticising his "sneering" attitude to politics and accusing the Newsnight presenter of treating politicians as "rogues and charlatans".
The comments came after Paxman admitted he had not voted at a recent election because he had found the selection of parties available "unappetising" - although he stressed he later regretted not casting a ballot.
Mr Clegg spoke during his weekly LBC radio phone-in show, where the Liberal Democrat leader described Paxman as "a guy who gets paid a million pounds, thereabouts, paid for by taxpayers", who "lives off politics and [..] spends all his time sneering at politics".
He said: "We know that politics is not perfect, but at the end of the day it is the way that we decide how you pay your taxes, how we support our hospitals, our schools, whether we are going to war or not, how we deal with climate change.
"Of course it is sometimes unedifying, but this idea that you can just sort of sneer at the whole thing, dismiss everyone as being rogues and charlatans and therefore 'I am going to wash my hands of the whole thing' - I think it is a total abdication of responsibility."
The Deputy Prime Minster said he held an "old-fashioned" view that "if you want to improve something, get stuck in and get your hands dirty".
"Don't somehow pretend that you can turn your back on it," he added.
The row was sparked by an interview Paxman conducted with Russell Brand, in which the comedian said he had never voted because he regarded politicians as untrustworthy and irrelevant, before calling for a "revolution" to replace the current political system he considered broken.
Brand had told Paxman: "I don't get my authority from this pre-existing paradigm which is quite narrow and only serves a few people. I look elsewhere for alternatives that might be of service to humanity. Alternate means, alternate political systems."
Brand then told an audience gathered at an event organised by the Huffington Post that during elections "I am not going to turn up and vote like an obedient little prisoner".
He said politicians "don't want you to talk about fracking, they want you to talk about twerking".
Despite challenging and criticising Brand during the interview, the journalist later told the Radio Times he had some sympathy with his position.
"Russell Brand has never voted because he finds the process irrelevant. I can understand that: the whole green-bench pantomime in Westminster looks a remote and self-important echo-chamber. But it is all we have," Paxman said.
He said he did not vote in a recent election "because I thought the choice so unappetising".
"By the time the polls had closed and it was too late to take part, I was feeling really uncomfortable: the person who chooses not to vote - cannot even be bothered to write 'none of the above' on a ballot paper - disqualifies himself from passing any comment at all," he added.
Additional reporting by Press Association
Join our new commenting forum
Join thought-provoking conversations, follow other Independent readers and see their replies