Nick Clegg rejects David Cameron's claim that 'we're all Thatcherites now'
Deputy Prime Minister challenged Thatcher's legacy over apartheid and gay rights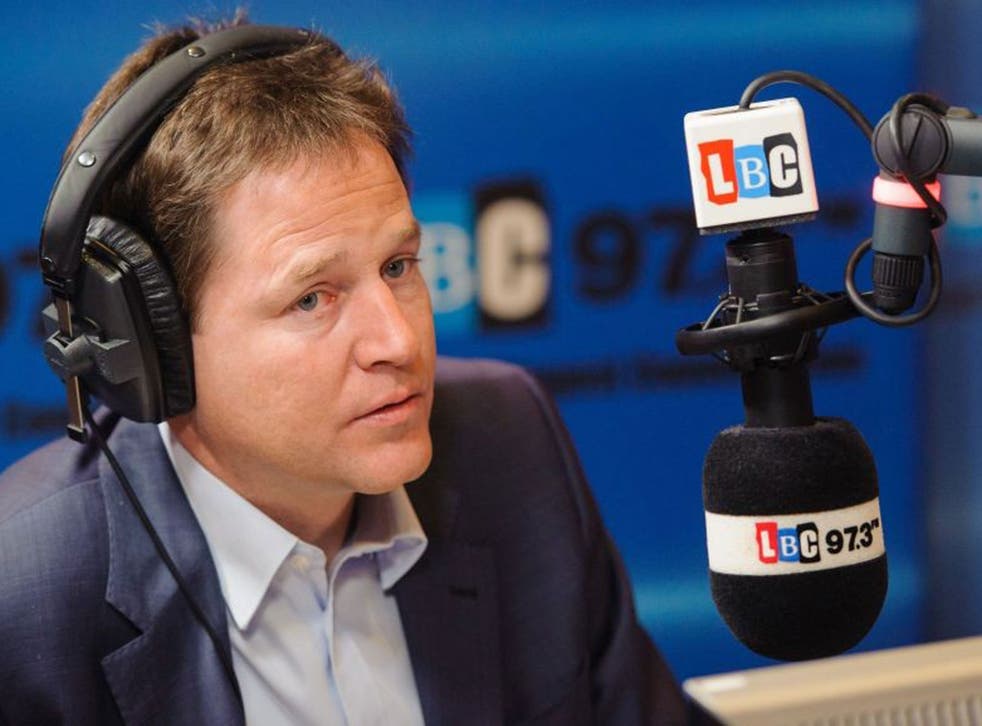 Nick Clegg has distanced himself from the Prime Minister's claim that "we are all Thatcherites now."
David Cameron made the statement yesterday before Baroness Thatcher's funeral, adding: "It is inevitable some people take a different view, but the point about division is important because she was a bold politician who recognised that consensus was failing... she created a new consensus."
But today during his weekly radio phone-in, the Deputy Prime Minister said: "I am not a Thatcherite, I am not a Conservative so I did not agree with quite a lot of what she did.
"But that is not to deny that she had a huge impact on the country - friend and foe have recognised that over the last several days.
"But there were other things, ranging from her attitude towards apartheid South Africa, Section 28, gay rights ... the effect of some of the policies on particular parts of the the country in the North."
Reminded of Mr Cameron's comment, the Deputy Prime Minister said: "He is the leader of the Conservative Party. He is perfectly entitled to say that.
"I certainly wouldn't call myself a Thatcherite. I am a liberal. She wasn't a liberal."
Asked on LBC 97.3 why he thought his coalition partner had made the remark, he said: "I don't know ... I guess perhaps the point that he was making is that quite a lot of the big economic reforms that Thatcher governments introduced - trade union reform, liberalising the economy, boosting the private sector - these big reforms were not put into reverse by subsequent governments."
But Mr Clegg did defend spending public money on the former prime minister's funeral.
Register for free to continue reading
Registration is a free and easy way to support our truly independent journalism
By registering, you will also enjoy limited access to Premium articles, exclusive newsletters, commenting, and virtual events with our leading journalists
Already have an account? sign in
Register for free to continue reading
Registration is a free and easy way to support our truly independent journalism
By registering, you will also enjoy limited access to Premium articles, exclusive newsletters, commenting, and virtual events with our leading journalists
Already have an account? sign in
Join our new commenting forum
Join thought-provoking conversations, follow other Independent readers and see their replies