Nick Clegg's plea to voters: Take another look at the Lib Dems ahead of the general election if you want economic security and political stability
Leader issues warning against Labour, the Tories and 'fringe, nationalist and populist' parties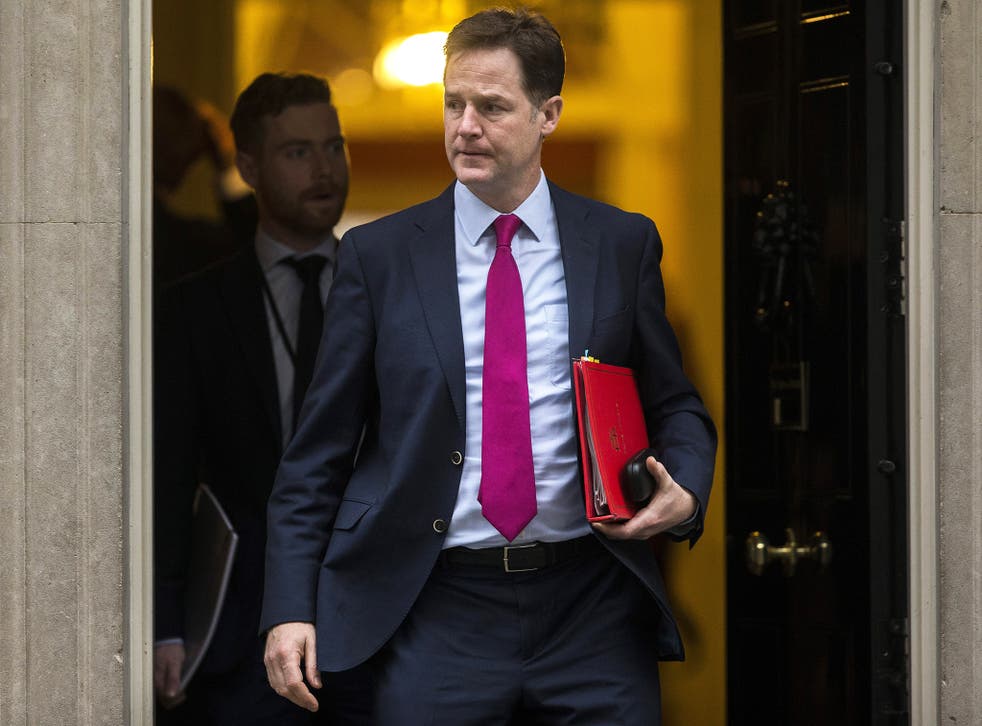 Nick Clegg has appealed to voters not to take a gamble on Ukip, the Scottish National Party or the Greens at the May general election as he pleads for them to take another look at the Liberal Democrats.
Writing on this website, the Deputy Prime Minister argued that his party was the only one capable of stopping Britain "swerving" to the left under Labour or to the right under the Conservatives.
His direct attack on "the fringe parties, the nationalists and the populists" will be seen as an admission that the Lib Dems have lost the "protest vote" since joining the Tories in coalition in 2010.
He admitted: "These parties, of course, have an advantage - one I remember all too well. They can present themselves as the new kids on the block, the outsiders, untarnished by the difficult choices and necessary compromises of government. But think about the risks they pose - to our economy, our living standards and our prosperity - and you will understand why the role of the Lib Dems in 2015 is more important than ever."
Mr Clegg added: "At a time when the politics of division and blame are on the rise, only the Lib Dems can be counted on to defend the values of British liberalism – compassion, fairness and tolerance… a vote for the Lib Dems this May is a vote for economic security against economic turmoil; for political stability against political uncertainty; and for the national interest against sectional self-interest."
Allies denied that Mr Clegg was in a panic over the rise of the smaller parties at a time when the Lib Dems were often bracketed with the Tories and Labour as "the Westminster parties."
Mr Clegg is confident his party can do much better than the opinion polls suggest, and that his message that only the Lib Dems can anchor the next government in the centre ground will play well in the 56 seats they hold.
However, a YouGov survey published today put the Lib Dems in fifth place on 7 per cent, trailing the Greens on 8 per cent, Ukip on 14 per cent, the Tories on 31 per cent and Labour on 34 per cent. Polls in Scotland suggest the rise of the SNP since last September's referendum could threaten several of the Lib Dems' 11 seats there, including Inverness, Nairn, Badenoch and Strathspey, which is held by Danny Alexander, the Chief Treasury Secretary.
Register for free to continue reading
Registration is a free and easy way to support our truly independent journalism
By registering, you will also enjoy limited access to Premium articles, exclusive newsletters, commenting, and virtual events with our leading journalists
Already have an account? sign in
Register for free to continue reading
Registration is a free and easy way to support our truly independent journalism
By registering, you will also enjoy limited access to Premium articles, exclusive newsletters, commenting, and virtual events with our leading journalists
Already have an account? sign in
Join our new commenting forum
Join thought-provoking conversations, follow other Independent readers and see their replies