Nick Clegg urges people to join Labour to stop Brexit
'At a time of national emergency, it is undoubtedly true that what happens within the two larger establishment parties is of the greatest importance'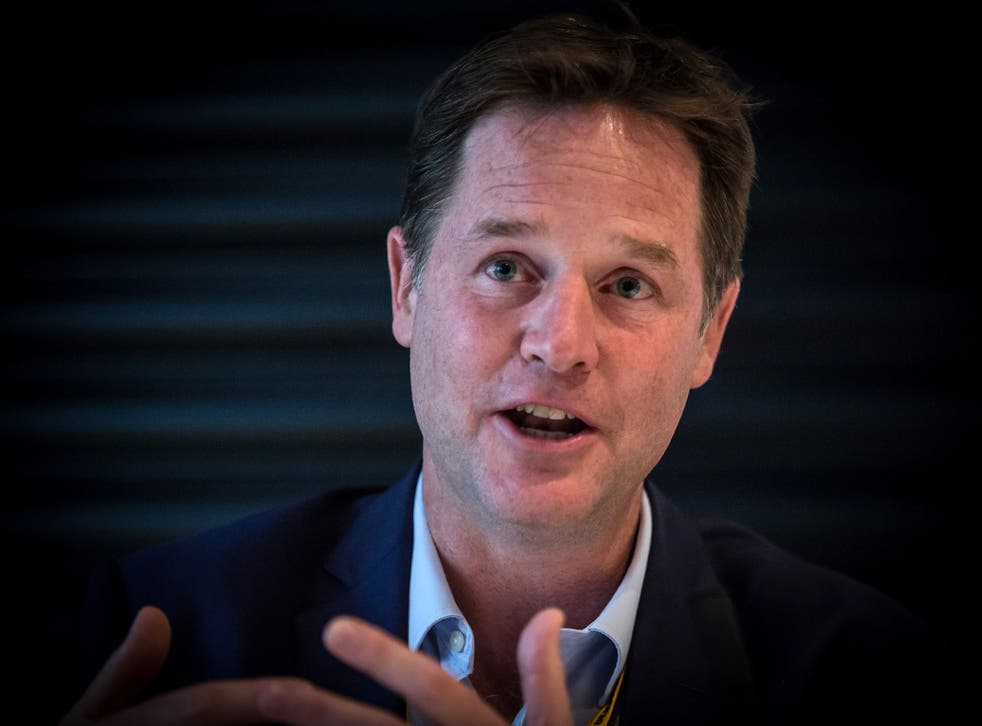 Former Liberal Democrat leader Nick Clegg has said that those opposed to Brexit should consider joining Labour in a bid to prevent it.
In his new book, Mr Clegg – who lost his seat to his Labour opponent at the last election – said it was "a time of national emergency" and that people should put traditional party allegiances to one side in a bid to thwart leaving the European Union.
Joining the Conservatives was "another route to make your views felt", he added.
Although no longer an MP, Mr Clegg has remained a vocal critic of the Brexit decision and the way the Government has handled the negotiations to leave.
Making no apology for his wish to reverse the decision of the electorate in June, 2016, he has called his latest book, How to Stop Brexit.
He admitted it must "seem odd" for a Liberal Democrat to be advocating voting Labour, and said he would not be doing so himself.
The party, now led by Vince Cable, has 14 MPs – up from just eight in 2015 off the back of the much-criticised coalition Government.
But he said that the question of EU membership is of far greater importance than party allegiances as the consequences will last for generations.
Referring to the Labour Party's stronger than expected performance at the general election and the growing popularity of leader Jeremy Corbyn, Mr Clegg suggested people should move away from the smaller parties.
UK news in pictures

Show all 50
"If you are someone who has never joined a party, or perhaps has been inclined to join Labour but has never got round to it, or if you are simply someone who recognises that the importance of Brexit is far greater than an individual," he wrote.
"At a time of national emergency, and for as long as Parliament is dominated by Labour and Conservative MPs, it is undoubtedly true that what happens within the two larger establishment parties is of the greatest importance.
"So if you can't stomach joining the Labour Party, if you are ideologically inclined in a Conservative direction in any event and if you also believe that Brexit is the issue of our times, then joining the Conservatives is another route to make your views felt."
At the last election, around 80 per cent of voters backed the two main parties – the highest proportion since 1970 – with the Greens, Liberal Democrats and Ukip all losing out.
A spokesperson for the Liberal Democrats said: "Nick is a card-carrying Liberal Democrat and of course wants people to join the party – he is making a wider point that pro-Europeans of all political stripes need to stand up and be counted."
Only a handful of Labour MPs were part of the Leave campaign, with the Tories far more divided between Remainers and Brexiteers.
Since the referendum, almost all Conservative MPs have said they now support the decision to leave, while 47 Labour MPs, seven Liberal Democrats and 50 SNP MPs voted against triggering Article 50 to begin the two-year exit process.
Jeremy Corbyn, historically a eurosceptic, has maintained that he accepts the Brexit result and will not try to thwart it if he becomes Prime Minister.
Join our new commenting forum
Join thought-provoking conversations, follow other Independent readers and see their replies