Nick Timothy: Who is Theresa May's 'muse' with great influence at the heart of the Government?
Some Conservative ministers and MPs are already grumbling that the Prime Minister relies too heavily on Mr Timothy
Andrew Grice
Tuesday 04 October 2016 19:15 Comments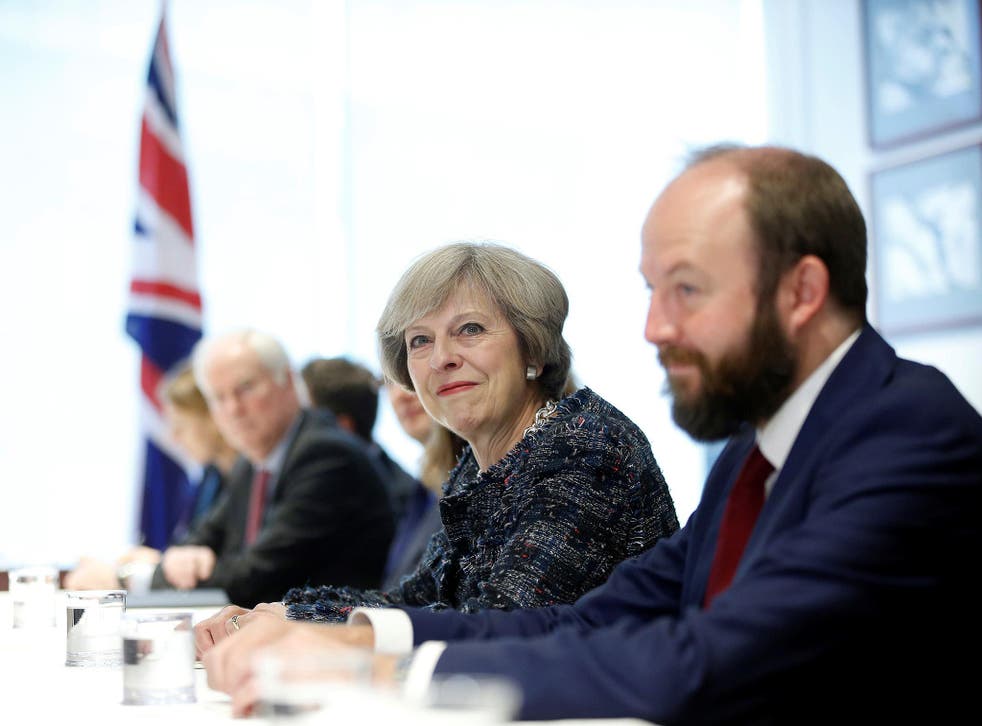 He has been dubbed "Theresa's brain", "May's muse", "Svengali" and, inevitably given his beard, "Rasputin". Nick Timothy, the joint Chief of Staff in Downing Street, shaped Theresa May's thinking while she was Home Secretary and now enjoys huge influence over the Government's policies.
Some Conservative ministers and MPs are already grumbling that the Prime Minister relies too heavily on Mr Timothy and his fellow joint Chief of Staff Fiona Hill, another long-standing May adviser. All leaders rely on trusted allies, but Ms May's inner circle appears to be more tight than most. The two aides upon whom she most relies are strong-willed figures who work as a close-knit team and are utterly determined that her writ will run. That inevitably causes friction when ministers have other ideas.
Mr Timothy hails from a working-class background in Birmingham where, by coincidence, Ms May will spell out her values in her keynote speech to the Tory conference on Wednesday. There is no doubt that they will also be his values.
Some Tories believe the fervent Aston Villa supporter has led the Prime Minister up a blind alley – her controversial promise of a new wave of grammar schools, a personal crusade for him. He became a Conservative at the age of 12 when he realised that his grammar school would be closed by Labour if it won the 1992 general election.
Normally, we don't know much about such backroom advisers, as they like to remain in the shadows. But we do know rather a lot about the thoughts of Mr Timothy, because he was a columnist for the ConservativeHome website when he left the then-Home Secretary's side for a year to run the New Schools Network.
One article summed up Ms May's mantra – to fight "injustice" based on gender, race and sexuality and have "a relentless focus on governing in the interests of ordinary, working people". He rejected what he called the false choice between the former Work and Pensions Secretary Iain Duncan Smith's focus on extreme poverty and David Cameron's social liberalism, mixed with ideas such as "general wellbeing". Instead, he argued, the Tories should champion "people who might be just a little better off, but for whom life is still a struggle". He wrote: "They can't choose to send their kids to a private school when the schools around them are terrible. They are the ones who find themselves out of work, on reduced hours, or with never-ending pay freezes when the economy goes wrong. They find themselves unable to afford the mortgage when interest rates go up."
His words were remarkably similar to those uttered by Ms May outside Downing Street when she became Prime Minister in July. Promising to tackle "burning injustice", she targeted families who were "just managing", saying: "If you're from an ordinary working-class family, life is much harder than many people in Westminster realise. You have a job but you don't always have job security. You have your own home, but you worry about paying a mortgage. You can just about manage but you worry about the cost of living and getting your kids into a good school."
Mr Timothy's views are influencing policies across Government. His belief in greater state intervention than seen in the Cameron-Osborne era was reflected in a new proactive industrial policy. His political hero is Joe Chamberlain, the Liberal Mayor of Birmingham who used civic power to improve the lives of the working classes in the 1870s.
Mr Timothy has backed an investigation into the police's actions during violent clashes at Orgreave during the 1984-5 miners' strike, writing: "If the police preplanned a mass, unlawful assault on the miners at Orgreave, and then sought to cover up what they did and arrest people on trumped-up charges, we need to know." The Government is expected to announce a review of the evidence shortly.
Ms May allies strongly dispute the suggestion that she is a glove puppet being manipulated by her shadowy adviser. "She knows her own mind and doesn't need anyone else to tell her what to think," one said. Ms May, 60, has been around much longer than Mr Timothy, who is 36. Her education policy hardly needed his input because she was a grammar school girl whose school became a comprehensive.
UK news in pictures

Show all 50
Her ministerial allies describe Mr Timothy as bright, "buzzing with ideas" and knowing how to articulate what she thinks because their instincts are remarkably similar. However, they don't always agree: Mr Timothy voted to leave the European Union, while Ms May was a reluctant Remainer. And her close adviser does not always get his own way. He persuaded the incoming Prime Minister to shelve the proposed Chinese-backed Hinkley Point nuclear plant in Somerset. He had previously warned: "The Chinese could use their role to build weaknesses into computer systems which will allow them to shut down Britain's energy production at will." Although the delay – and Mr Timothy's words — strained relations with China, Ms May eventually signed off the £18bn project.
Mr Timothy's past musings may provide some clues to the Government's future actions. Listing what the Cameron administration had not got right, he mentioned "energy policy, house building, high immigration, cuts to tax credits, the protection of pensioner benefits, and the profile of spending cuts" – with some departments facing a 40 per cent cut while others were protected.
He also advocated a very different approach to foreign affairs after Mr Cameron's ill-fated intervention in Libya and Tony Blair's in Iraq. "We need to put trigger-happy liberal interventionism behind us and adopt a more traditional, cautious, realist approach," he said. Ms May's first foreign policy speech could be interesting.
Five things that Nick Timothy said – and then Theresa May said too
"With this approach…the [Tory] party would adopt a relentless focus on governing in the interests of ordinary, working people."
Nick Timothy, March 2016
"Under my leadership, the Conservative Party will put itself – completely, absolutely, unequivocally – at the service of ordinary, working people."
Theresa May, July 2016
"Britain has no industrial strategy other than on paper even for sectors as important to our economy as life sciences. It was only two years ago, remember, that the Government came close to allowing the sale of Britain's second-biggest pharmaceutical company, AstraZeneca, to Pfizer, the US asset-stripping company that wanted the British firm mainly for tax avoidance purposes."
Nick Timothy, April 2016
"Two years ago the Government almost allowed AstraZeneca to be sold to Pfizer, the US company with a track record of asset stripping and whose self-confessed attraction to the deal was to avoid tax. A proper industrial strategy wouldn't automatically stop the sale of British firms to foreign ones, but it should be capable of stepping in to defend a sector that is as important as pharmaceuticals is to Britain."
Theresa May, July 2016
"Writing off a third of our entire population might seem extreme, but it is typical of the political and media classes who know little of life beyond the Circle line, the Underground route that marks the boundaries of London's wealthy centre."
Nick Timothy, April 2016
"If you're from an ordinary working class family, life is much harder than many people in Westminster realise. The Government I lead will be driven not by the interests of the privileged few, but by yours."
Theresa May, July 2016
"The rule fails according to its own objective: it does little to increase the diversity of Jewish, Muslim, Sikh and Hindu schools, because for now at least they are unlikely to appeal to parents of other faiths. But the rule is effectively discriminatory for Roman Catholics: it prevents them from opening new free schools."
Nick Timothy, January 2016 (on the admissions rule which requires new faith schools, when over-subscribed, to limit the number of pupils they accept on the basis of faith to 50 per cent)
"Despite the best intentions, the rule is failing in its objective to promote integration. But it does prevent new Catholic schools opening, because the Catholic Church believes it contravenes its own rules for a Catholic Bishop not to prioritise the admission of Catholic pupils ... So we will remove this 50 per cent rule to allow the growth in capacity that Catholic schools can offer."
Theresa May, September 2016
"There remain a great many things we need to do for Britain, whether we are in or out of the EU. If we behave as though we believe the referendum is more important than every other issue facing the nation, trouble awaits."
Nick Timothy, February 2016
"We will not allow the country to be defined by Brexit; but instead build the education, skills, and social mobility to allow everyone to prosper from the opportunities of leaving the EU."
Theresa May, July 2016
Register for free to continue reading
Registration is a free and easy way to support our truly independent journalism
By registering, you will also enjoy limited access to Premium articles, exclusive newsletters, commenting, and virtual events with our leading journalists
Already have an account? sign in
Join our new commenting forum
Join thought-provoking conversations, follow other Independent readers and see their replies