Nicola Sturgeon assures Scottish voters: 'We'll never ever put the Tories into government'
New head of SNP promises party members that it will not help deliver a Conservative-led coalition if they hold the balance of power in next year's election
James Cusick
,
Jamie Merrill
Saturday 15 November 2014 20:28 Comments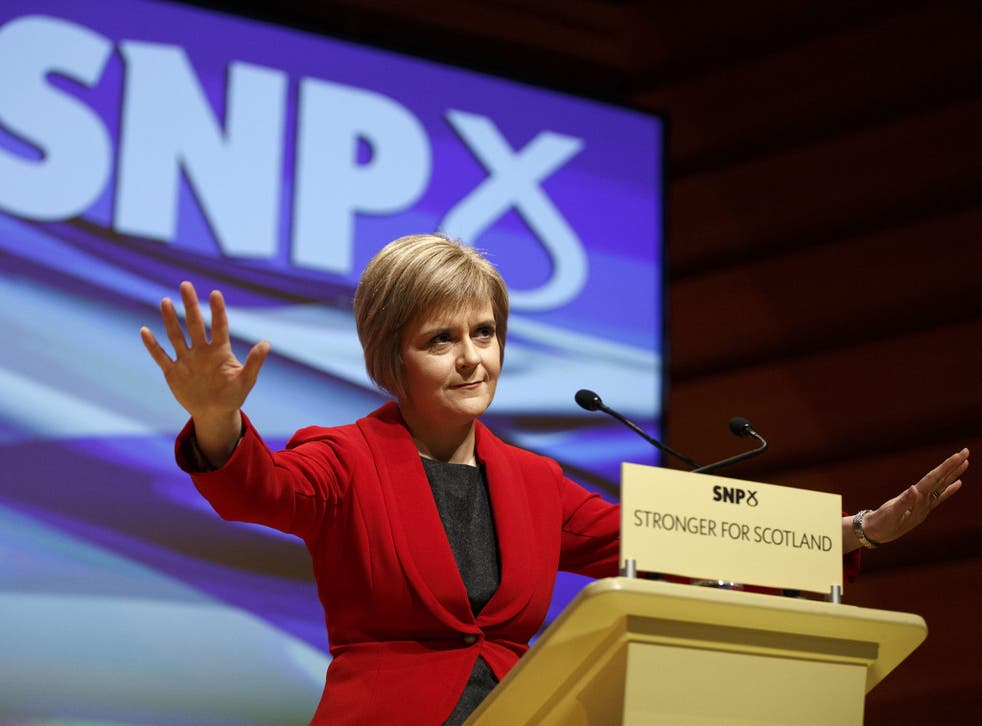 If the SNP hold the balance of power after next May's general election, they will not help deliver another Conservative-led coalition, the new leader of the Scottish nationalists has promised.
In her first major speech since her unopposed election last week, Nicola Sturgeon told the nationalists conference in Perth that she expected Labour would repeat previous warnings that a vote for the SNP next year would only increase the chances of David Cameron remaining in 10 Downing Street.
"That is the biggest con trick in Scottish politics," she told the conference, adding: "We must not fall for it again."
Opinion polls currently predict that Labour could face a near wipe-out in Scotland following a surge in support for the SNP following September's referendum and the majority decision to remain part of the UK.
If Labour fails to deliver a substantial majority of Scotland's 59 MPs, the chances of Ed Miliband becoming prime minister as leader of the largest party in Westminster, would be significantly reduced.
Sturgeon's key message in Perth – although declaring that independence "will be won" and that "We are Scotland's party" – suggests the SNP still fear in the short-term that they may be unable to match their successes in Holyrood elections with a similar performance at the general election.
She told the conference that when Scotland last voted Labour at a UK election, a Tory-led government still happened. "Maybe this time Scotland's votes will count… Scotland could well hold the balance of power with no overall majority. If this happens you won't need to have voted Labour to keep the Tories out. We'll never ever put the Tories into government."
The SNP currently have six Westminster MPs. To make a difference in a hung parliament, analysts suggest the SNP would need to send at least 20 to 25 MPs to Westminster. That would be twice their previous record of 11 MPs achieved at the 1974 October election.
Leanne Wood, the leader of the Welsh nationalists, Plaid Cymru, held out the prospect of an alliance with the SNP, telling the Independent on Sunday that she wanted both parties to come together after the election. The Welsh party currently has three MPs, but believes the success of their Scottish counterparts could rub off in in Wales.
She said: "We've worked very closely with the SNP in Europe and at Westminster for many years." She said the referendum in Scotland had further cemented the relationship between the two nationalist parties, adding: "There's every likelihood that the joint Plaid Cymru and SNP group will be much stronger."
Although the 2015 general election appeared to be Ms Sturgeon's immediate target, the prospect of another fast-tracked referendum on independence, with Holyrood rather than Westminster deciding when it should be held, was offered as a realistic goal.
Register for free to continue reading
Registration is a free and easy way to support our truly independent journalism
By registering, you will also enjoy limited access to Premium articles, exclusive newsletters, commenting, and virtual events with our leading journalists
Already have an account? sign in
Join our new commenting forum
Join thought-provoking conversations, follow other Independent readers and see their replies