Nicola Sturgeon's formal request for second Scottish independence referendum delivered to Theresa May
Scottish MPs vote 69 to 59 in favour of seeking permission for second referendum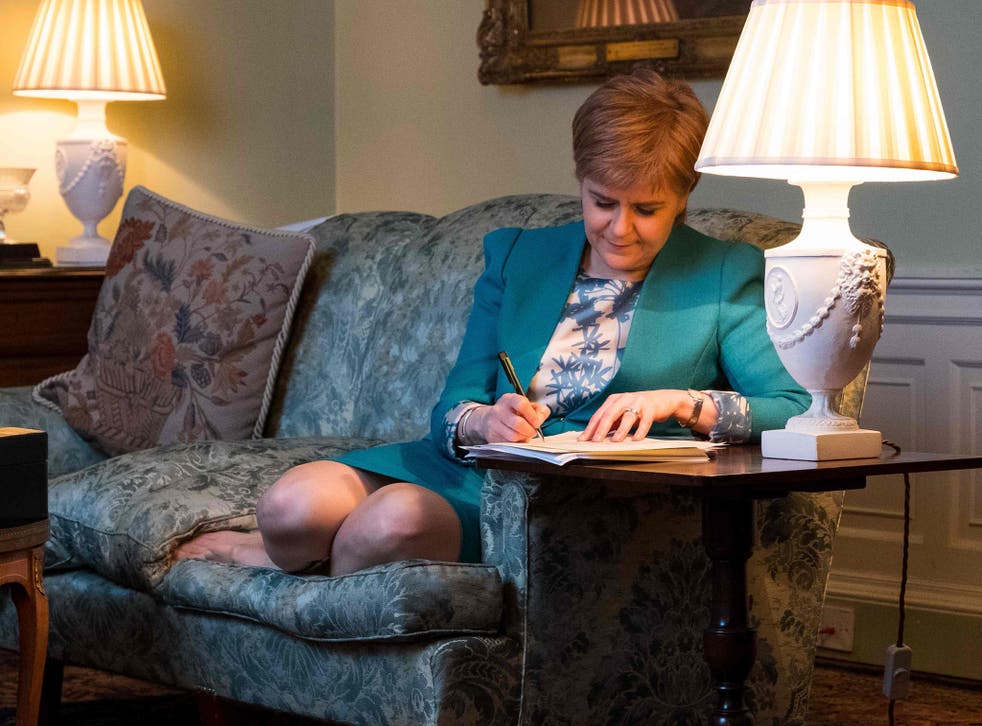 Nicola Sturgeon's formal request for a second Scottish independence referendum has been delivered to Theresa May.
The First Minister wrote the Section 30 letter on Thursday night after MSPs voted 69 to 59 in favour of seeking permission for an independence referendum to happen between autumn 2018 and spring 2019.
Ms Sturgeon said her mandate for a second vote is now "beyond question", warning it would be "democratically indefensible and utterly unsustainable" for Westminster to stand in its way.
David Mundell, Scottish Secretary in Parliament, has already said the Government will reject the request.
The Scottish Government tweeted a picture of the SNP leader with her feet up on a couch in her Bute House residence writing the letter.
The tweet read: "First Minister Nicola Sturgeon in Bute House, Edinburgh, working on final draft of Section 30 letter to Prime Minister Theresa May."
Polls suggest there is no clear preference for independence in Scotland, but 62 per cent of Scottish voters backed keeping the UK in the EU in last year's referendum.
Holyrood backs Nicola Sturgeon's call for second referendum
The SNP manifesto for 2016's Holyrood elections made clear another vote on independence should take place if there was a "material change in circumstances" after the last ballot in 2014.
An example cited was if Scotland was taken out of the EU against its wishes.
How Brexit affected Britain's favourite foods from Weetabix to Marmite

Show all 8
Scottish Conservative, Labour and Liberal Democrat politicians are opposed to another referendum and Ms May has repeatedly claimed "now is not the time" for another vote, suggesting she will reject Ms Sturgeon's request.
Join our new commenting forum
Join thought-provoking conversations, follow other Independent readers and see their replies