Nicola Sturgeon's plans to reduce gap between rich and poor school pupils 'undermined by her party's council cuts'
Exclusive: Children and Young People's Commissioner for Scotland says it would be difficult to eliminate educational attainment gap while reducing budgets
Chris Green
Scotland Editor
Wednesday 17 February 2016 22:27 Comments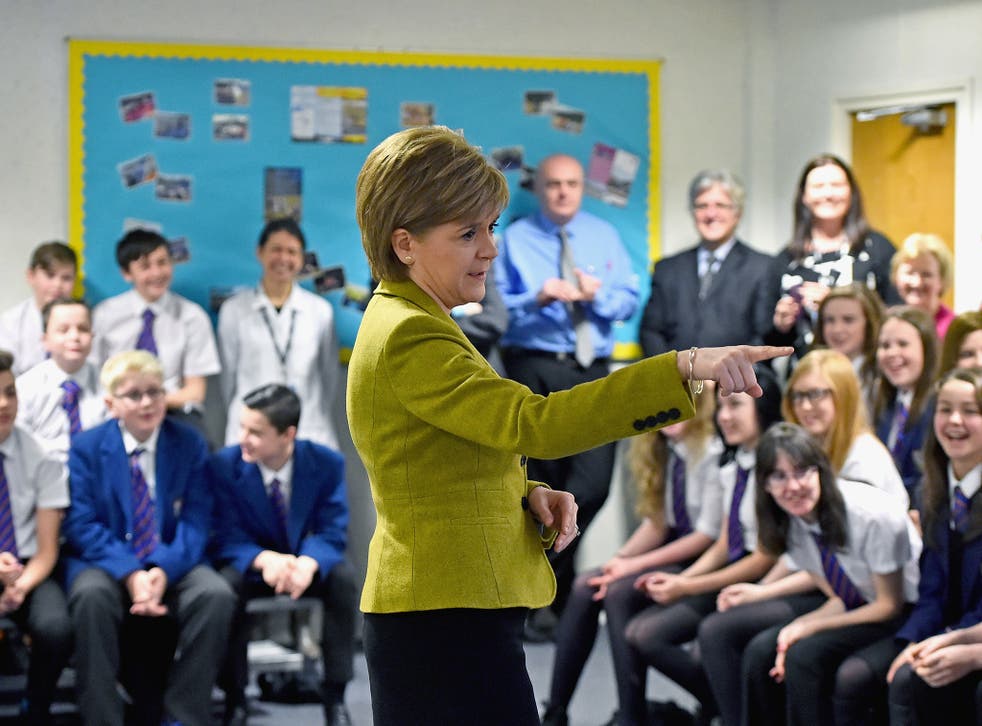 Nicola Sturgeon's flagship education policy of reducing the gap between rich and poor school pupils is likely to be undermined by her Government's recent multi-million pound cuts to Scotland's councils, the country's independent expert on children has said.
Tam Baillie, the Children and Young People's Commissioner for Scotland, told The Independent it would be "very difficult" for the First Minister to achieve her goal of eliminating the educational attainment gap at the same time as reducing local authority budgets by up to £350 million.
While he said he was a "supporter" of the Scottish Government's attempts to completely close the gulf between rich and poor pupils, he questioned whether this was "realistic" given the scale of Westminster-led austerity which was likely to plunge thousands more children into poverty.
Last month Ms Sturgeon said "substantial progress" must be made on eliminating the attainment gap within the next decade, and the SNP Government is reintroducing national school tests in an attempt to identify struggling pupils earlier. But Mr Baillie said cuts to local councils could result in these efforts being fruitless.
"It remains to be seen where those cuts will have an impact," he said. "There are certain protections about teacher numbers, but it's not just about teachers, there's all sorts of other support needs that are required. Nobody really has got a proper picture of how the local authorities will go about saving that money, but if as they say it will affect support services to our most vulnerable families, then we have to be concerned about the impact that will have on children's attainment."
He added that the SNP's commitment to improving early years education and gathering data about pupil performance were "all fine", but had to be accompanied by adequate support services if the attainment gap was to be closed. "If that's the bit that's under pressure then that's going to make the ambition very difficult to achieve," he said.
Mr Baillie also said he doubted whether the new powers contained in the Scotland Bill would be enough to allow the Scottish Government to counter the effects of Westminster policies. The Institute for Fiscal Studies has predicted that up to 100,000 more children will be living in poverty in Scotland in 2020 than there were in 2012, if current trends continue.
"Even with all these additional powers, and even if we exercise them in a respectful, dignified way, we've still got central UK policies where some of the predictions are of 100,000 additional children experiencing poverty," he said. "While we may be able to ameliorate the impact of poverty on children's lives in Scotland, central Government policies may be pulling in the other direction."
A spokesperson for the Scottish Government said its £100 million Attainment Scotland Fund was improving the chances of 54,399 children in 300 schools. "Despite a 9 per cent cut to our Budget as a result of the UK Government's continuing austerity programme, the Scottish Government has always treated local government very fairly," they added. "We absolutely agree with Mr Baillie that the UK Government's welfare cut is making child poverty worse - that's why we are spending £104m in 2015/16 to mitigate the worst aspects of welfare reform."
Register for free to continue reading
Registration is a free and easy way to support our truly independent journalism
By registering, you will also enjoy limited access to Premium articles, exclusive newsletters, commenting, and virtual events with our leading journalists
Already have an account? sign in
Join our new commenting forum
Join thought-provoking conversations, follow other Independent readers and see their replies