Nicola Sturgeon tells David Cameron: Terms of Scottish referendum will be 'breached' if you take us out of the EU
First Minister tells SNP conference that an 'Out' vote in the EU referendum would 'materially and fundamentally change the circumstances' and would lead to an 'unstoppable demand' for a second vote on Scottish independence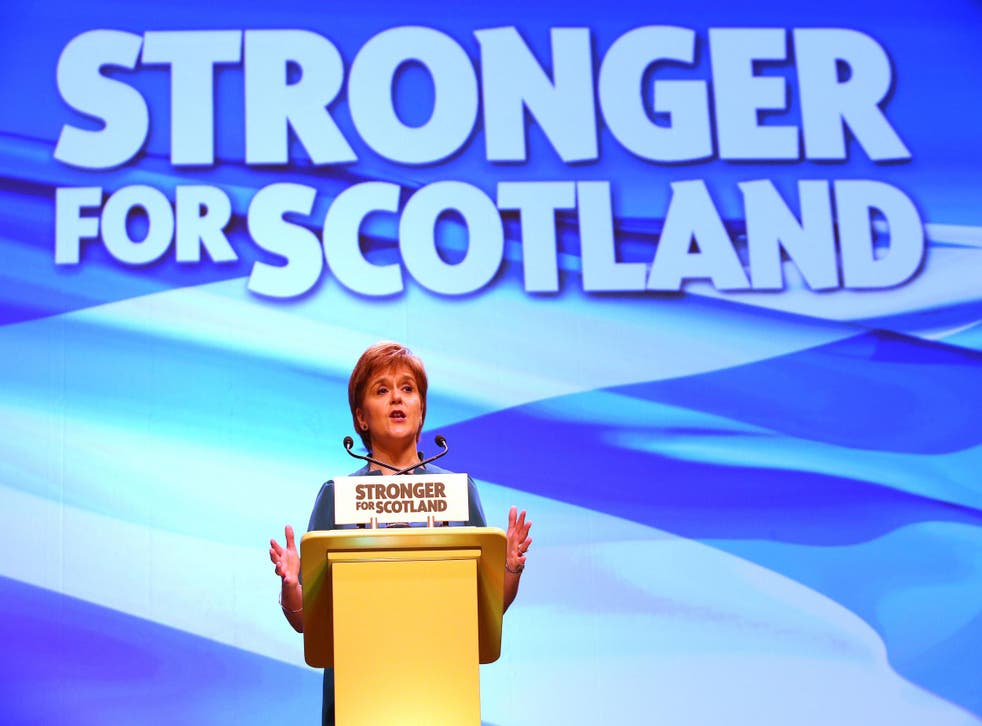 Nicola Sturgeon has told David Cameron that if Britain votes to leave the European Union he will have "breached" the terms of last year's Scottish independence referendum.
The First Minister told SNP members at the party's conference in Aberdeen that it would be wrong to call a second referendum unless there was "strong and consistent evidence" that a significant number of No voters had changed their minds on independence.
But she added that an 'Out' vote in the EU referendum would "materially and fundamentally change the circumstances" and said demand for a second vote on Scottish independence referendum would be "unstoppable".
Addressing the biggest ever SNP conference, Ms Sturgeon told delegates that calling a second referendum without evidence of a change in attitudes or circumstances would "not be respecting the decision" of Scottish voters last year.
Instead the SNP must "campaign harder than we have ever done" to "build the case [for Scottish independence] and make it even stronger".
"We have to convince those we didn't convince last year," she said. "And we have to persuade a majority of Scots of what we believe to be true. Independence is the best future for our country."
She predicted that support for independence would grow as the Government presses ahead with renewing Britain's Trident nuclear weapons deterrent, as the impact of further austerity takes effect and the Government's "failure to honour in full" the vow for more powers for the Scottish Parliament.
Ms Sturgeon added: "If there is strong and consistent evidence that people have changed their minds and that independence has become the choice of a clear majority in this country, then we have no right to rule out a referendum and we won't do that either.
"No one has the right to stand in the way of democracy. So, those will be the principles that guide us - respect and democracy."
However she said there was one issue that stood apart from any other that could have a major impact on any decision on another independence vote.
She said: "Of course, there is one issue that could so materially and fundamentally change the circumstances in which people voted last year, that it deserves to be considered on its own merits. That is, of course, the EU.
"So let me say this to David Cameron: Last year, you told the Scottish people that the only way to protect our EU membership was to vote No. It was one of the central issues of your campaign.
"If you try to take Scotland out of the EU against our democratic wishes, you will be breaching the terms of last year's vote.
"And, in those circumstances, you may well find that the demand for a second independence referendum is unstoppable."
Register for free to continue reading
Registration is a free and easy way to support our truly independent journalism
By registering, you will also enjoy limited access to Premium articles, exclusive newsletters, commenting, and virtual events with our leading journalists
Already have an account? sign in
Register for free to continue reading
Registration is a free and easy way to support our truly independent journalism
By registering, you will also enjoy limited access to Premium articles, exclusive newsletters, commenting, and virtual events with our leading journalists
Already have an account? sign in
Join our new commenting forum
Join thought-provoking conversations, follow other Independent readers and see their replies