Nicola Sturgeon mocks Theresa May's coughing fit during conference speech
SNP leader brandishes pack of Strepsils as she takes to the stage a week after Prime Minister's keynote address was marred by throat problems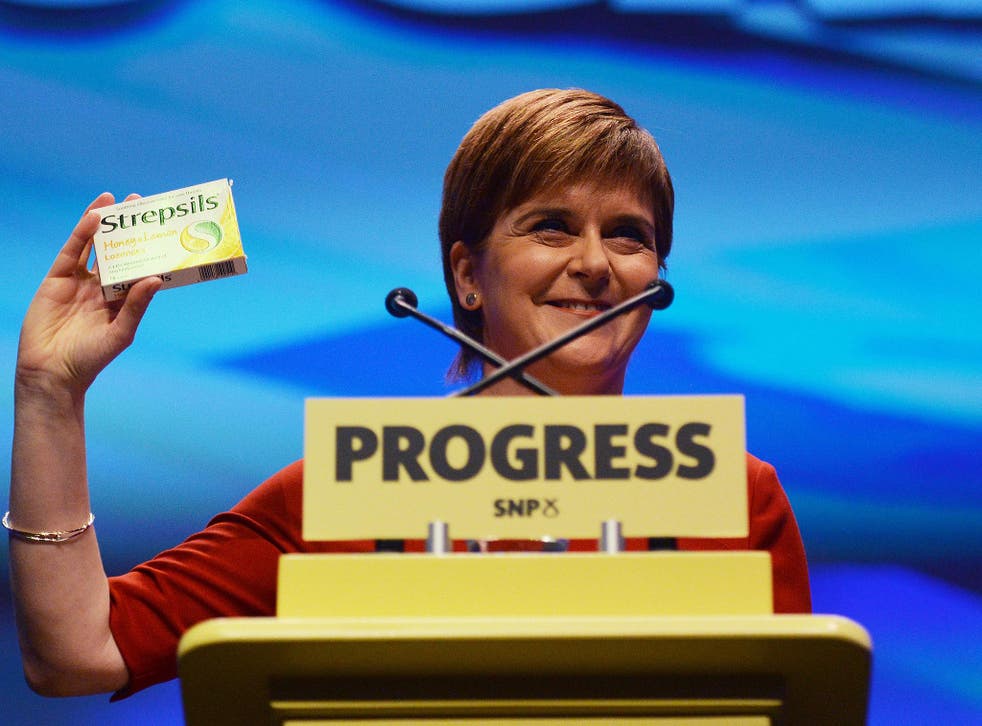 Nicola Sturgeon has mocked Theresa May by turning up for her speech at the Scottish National Party (SNP) conference armed with a packet of Strepsils.
The SNP leader joked that she had "come prepared" as she addressed party activists at the gathering in Glasgow.
She said: "At the risk of tempting fate, I've come prepared", before passing the pack of throat lozenges to Scotland's Finance Secretary, Derek Mackay, and asking him to look after it for her.
The joke received a hearty round of applause from the conference hall.
Last week, Theresa May's keynote speech at the Conservative Party conference was dramatically overshadowed by a persistent cough that forced her to keep stopping for water. At one stage the Chancellor, Philip Hammond, had to pass her a lozenge. The Prime Minister was also confronted by a protester holding a P45 and was left embarrassed as the lettering on the signs behind her fell off as she spoke.
During her own speech, Ms Sturgeon attacked Ms May and her government.
She said: "There is a bankruptcy at the heart of this Tory Government. It is a moral one."
Listing what she said were a string of Conservative failings, she continued: "The rape clause, the misery being caused to so many by the shambles that is Universal Credit, treatment of disabled people so appalling that the UN brands it a human catastrophe – and all the while tax cuts handed to those who earn the most.
"That is Tory austerity: heartless, shameful, self defeating. For the sake of decency, austerity must end, and it must end now."
Theresa May's 'disastrous' conference speech – in pictures

Show all 8
She also called the Scottish Conservatives a "policy vacuum", adding: "The racism, misogyny and sectarianism within their ranks has been on full, ugly display.
"The disgusting views that have been expressed by too many Tory politicians have no place in public life.
"It's time [Scottish Conservatives leader] Ruth Davidson found some backbone and kicked the racists and bigots out of her party."
Announcing a raft of policies, Ms Sturgeon confirmed that the Scottish government will set up a publicly-owned, not-for-profit energy company by 2021. It will also double spending on childcare, bring forward plans to provide free sanitary products in schools, colleges and universities, and exempt care leavers from paying council tax.
Register for free to continue reading
Registration is a free and easy way to support our truly independent journalism
By registering, you will also enjoy limited access to Premium articles, exclusive newsletters, commenting, and virtual events with our leading journalists
Already have an account? sign in
Register for free to continue reading
Registration is a free and easy way to support our truly independent journalism
By registering, you will also enjoy limited access to Premium articles, exclusive newsletters, commenting, and virtual events with our leading journalists
Already have an account? sign in
Join our new commenting forum
Join thought-provoking conversations, follow other Independent readers and see their replies