Nigel Farage unveils 100 MP candidates for the Brexit Party but refuses to name any of them
New outfit ready to field candidates in every Westminster constituency within days, says Farage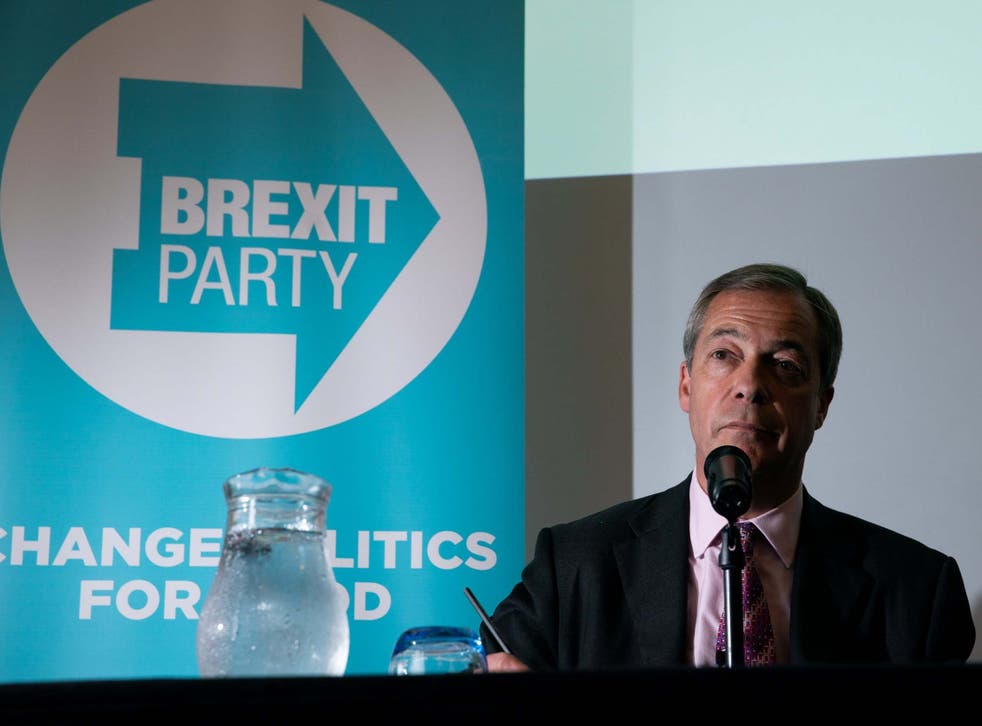 Nigel Farage has unveiled 100 parliamentary candidates for the Brexit Party but refused to name any of the would-be MPs.
The Brexit Party leader paraded the new recruits at a 5,000-strong rally in Birmingham, where he said his new outfit would be ready to field candidates in every Westminster constituency within days as it prepares for a general election.
Mr Farage introduced the party's first 100 candidates to party faithful at a raucous event, with the line-up said to include teachers, an economist and a forklift truck driver.
The decision to keep their identities under wraps raised questions over potential concerns on vetting the candidates' social media history after several embarrassing incidents.
Catherine Blaiklock, the party's first leader, was forced to resign over Islamophobic messages, while treasurer Michael McGough was removed over antisemitic online posts.
Farage launches his new Brexit Party: in pictures

Show all 10
A spokesman said the party wanted to wait to unveil their names when the full 650 candidates could be announced later this month.
The Brexit Party is scrambling to line up candidates in time for the culmination of the Conservative leadership contest at the end of July, when a new prime minister will be appointed.
The party is expecting a surge in support off the back of the announcement of the first wave of candidates, with teams working hard to vet all of the candidates by the time a new Tory leader is in place, a spokesman said.
In a speech to activists, Mr Farage: "This fine group of people are but a start.
"By the end of next week we will have 650 approved prospective parliamentary candidates.
"There is a big message that Westminster needs to hear – we are not a protest movement."
Pointing to the recent Peterborough by-election, Mr Farage said: "There are many seats in the country, especially many Labour-held seats in the country, where we are now the challenger – where only we can beat the Labour Party."
The Brexit Party leader said the electorate could not trust Boris Johnson, who is widely considered the frontrunner to succeed Theresa May.
He said: "Two or three times in his column in The Telegraph he wrote about that treaty that it would be a disaster for British democracy, that it would lead to us being a vassal state, that it would become a slave state, and twice he voted against it.
"And on the third time of asking, he voted for it.
"Boris, why should we trust you when you tell us we are leaving on 31 October, come hell or high water and then the next day you confuse us all by saying it's a million to one chance against us leaving with no deal?"
Register for free to continue reading
Registration is a free and easy way to support our truly independent journalism
By registering, you will also enjoy limited access to Premium articles, exclusive newsletters, commenting, and virtual events with our leading journalists
Already have an account? sign in
Register for free to continue reading
Registration is a free and easy way to support our truly independent journalism
By registering, you will also enjoy limited access to Premium articles, exclusive newsletters, commenting, and virtual events with our leading journalists
Already have an account? sign in
Join our new commenting forum
Join thought-provoking conversations, follow other Independent readers and see their replies