Nigel Farage set to be first UK politician to meet Donald Trump after shock election victory
The two men formed a relationship during the Republican candidate's White House run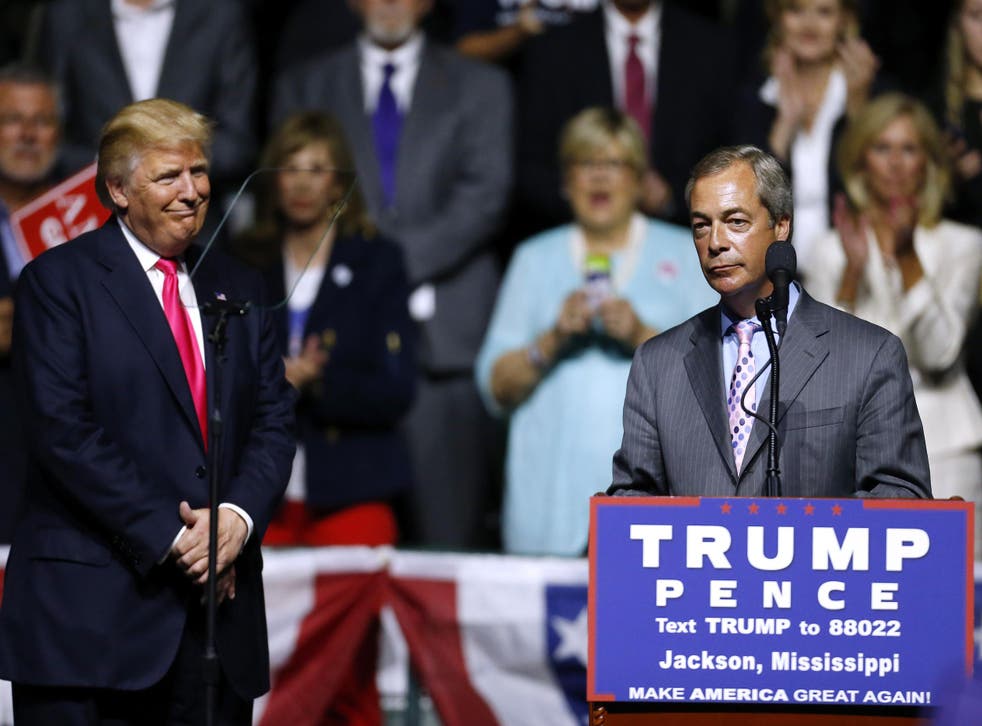 Ukip's Nigel Farage is heading to the United States this weekend where he will probably become the first British politician to meet Donald Trump since his shock election victory.
A senior party insider told The Independent that Mr Farage would travel to the US after visiting Barcelona this week, heightening speculation that he may be about to take a role with Mr Trump.
During the presidential campaign the Ukip man was praised by Mr Trump at a rally, while the Republican President-elect and his allies have hailed Brexit during their campaign and borrowed the "take back control" slogan of the drive to quit the EU in which Mr Farage played a leading role.
Speaking this morning the Ukip interim leader said: "Today, the establishment is in deep shock. Even more so than after Brexit."
He added: "I commend Donald Trump for the courage with which he has fought this campaign and I look forward to a closer relationship between the US and the UK. We now have a president who likes our country and understands our post-Brexit values.
UK Politician Nigel Farage Teams Up With Trump Against Clinton
"Prepare for further political shocks in the years to come."
The party insider said Mr Farage would travel to Florida to give a speech and then on to New York. While a meeting with Mr Trump is not yet set in stone, Mr Farage will be seeing senior figures in Mr Trump's team and is likely to meet the President-elect.
Mr Farage was invited to attend a Trump rally in Jackson, Mississippi, on 25 August by the state's governor, Phil Bryant, and was invited on stage to address the crowd. The presidential candidate introduced him saying: "On 23 June, the people of Britain voted to declare their independence – which is what we're also looking to do, folks – from their international government."
Nigel Farage compares Donald Trump to a silverback gorilla in the second presidential debate
Ukip's interim leader refused to directly endorse Mr Trump, but said: "I could not possibly tell you how to vote in this election, but, you know, I get it. If I was an American citizen, I wouldn't vote for Hillary Clinton if you paid me. In fact, I wouldn't vote for Hillary Clinton if she paid me."
Speaking in New York today, Trump-ally Sarah Palin underlined the link between Brexit and Mr Trump's campaign, saying: "See, Great Britain, America, See how we're hookin' up now? We're going rogue and the people are going to take back control."
US Election night in pictures

Show all 24
She added: "We've got to take care of what's going on here within our borders just like you all have done especially recently."
Asked whether he would accept a job under Mr Trump, Mr Farage told ITV's Agenda programme on Monday, "we'll just have to see". He then joked: "If he did offer me a job I would quite like to be his ambassador to the European Union. I think I would do that job very well. "
Then on LBC Radio he said: "Is he going to offer me a job? I'm hoping he might do."
Join our new commenting forum
Join thought-provoking conversations, follow other Independent readers and see their replies