Nigel Farage goes on warpath in Heywood and Middleton by-election
It's a tank on Labour's lawn before a by-election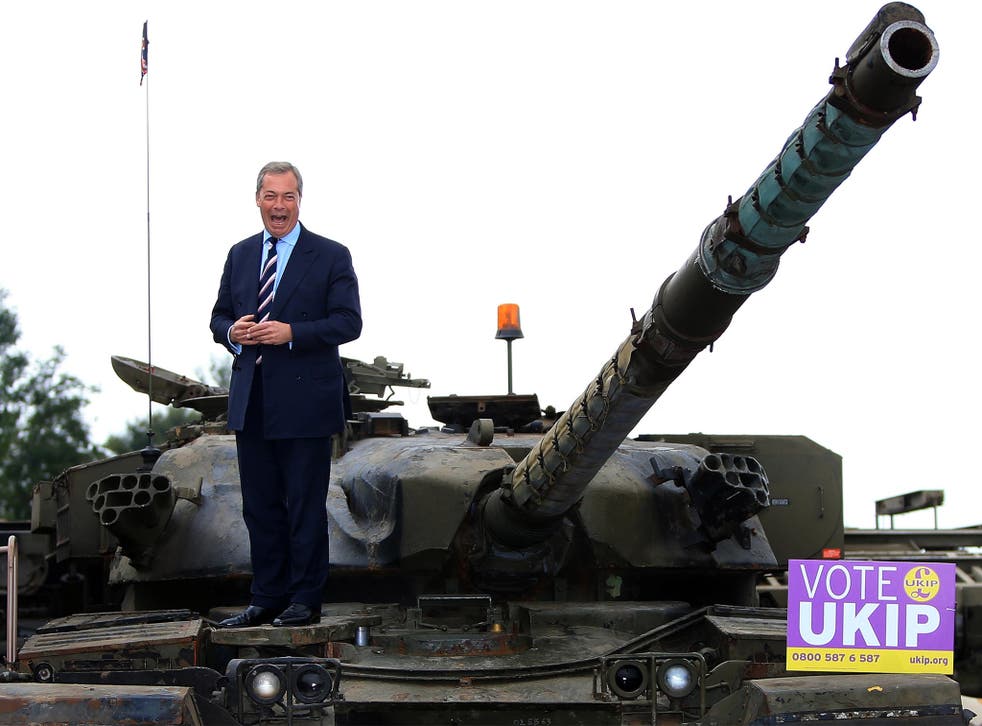 There was little in the way of subtlety to Nigel Farage's message.
Just moments after declaring that he no longer did political stunts and sinking a couple of quick-fire lunchtime pints, the Ukip leader leapt aboard the Chieftain Mark 10, which spent its working life facing down the threat of Soviet T72s as part of the British Army on the Rhine.
"We are parking our tanks on Labour's lawn – that's the message and that's the picture you wanted," he said, during a visit to a local supporter who has amassed a small museum of military vehicles
Mr Farage was perhaps understandably coy about comparisons with the iconic 1986 image of a tank-driving Mrs Thatcher in full Cold Warrior mode.
But it is all too clear who he is really gunning for in this once tribally loyal Labour seat of Heywood and Middleton, which goes to the polls on Thursday. "We want Labour people who feel let down and think we are speaking for them to vote for us. We want Labour people who want [Ed] Miliband to be gone by Christmas as leader, and we want Conservatives to understand that if they split our vote here we won't be able to beat Labour," he said.
According to the most recent opinion polls, Ukip is unlikely to pull off a truly seismic by-election victory in Greater Manchester this week. But coming second will provide a launch pad for the general election and reinforce claims that the party is now the official opposition along much of the M62 corridor.
Mr Farage believes Labour is buoyed by support from Lib Dem defectors, but that its traditional vote is coming over to him.
Yet, in contrast to Clacton-on-Sea, where the party is cruising to a comfortable victory, it is trailing Labour in Heywood and Middleton by around 20 points.
But while the towns are geographically far apart, the two seats are both full of the kind of white, working-class, older voters to whom the Ukip message is proving so attractive. Mr Farage said Ukip was fighting both campaigns with the same message. But there are differences. In this northern seat, exploiting the perceived weakness of the Labour leader, public outrage over the Rochdale grooming scandal – much of which took place in Heywood – and continuing disquiet over immigration are regarded as the keys to success.
The greatest contempt is reserved for Mr Miliband. Sitting in the bar of The Gardeners Arms, already halfway through his second pint, he throws down the gauntlet. "Why don't we go into a working men's club in Newcastle on Friday night and see who gets on the best?" he asked. "I don't think he connects with Labour voters at all."
Ukip has been harried hard by Labour over its deputy leader and local MEP Paul Nuttall's musings on the future of the NHS in which he welcomed the "whiff of privatisation" in recent reforms, and suggested "the very existence of the NHS stifles competition" in healthcare.
To highlight the differences between the parties, Mr Miliband made another visit to the constituency yesterday, meeting a group of supporters who were having trouble making appointments with their GPs. The Labour candidate, Liz McInnes, spent 33 years in the NHS working as a healthcare scientist.
But Ukip would rather shine a spotlight on the Labour-run Rochdale council's role in the grooming scandal and failures over the Cyril Smith affair.
John Bickley, a Ukip candidate who came second in the recent Wythenshawe by-election, has written a letter to everyone in the constituency blaming "the political class", and singling out Labour's not wanting "to rock the multi-cultural boat".
Ukip territories: north and south
Heywood and Middleton might be hundreds of miles from Clacton-on-Sea but the two constituencies contain many of the same kind of voters who have helped turn Ukip into an electoral phenomenon.
The Essex seaside town was a magnet for retirees from London in the 1960s and 70s and today a third of the population receive state pensions. It boasts in Jaywick the poorest local authority area in England, where 62 per cent of working-age adults are on benefits.
Heywood and Middleton, meanwhile, has also seen better days economically. The former mill towns separated by the M60 motorway witnessed much less immigration than other parts of Rochdale. It is overwhelmingly white working class and its Asian population stands at 4 per cent compared to 24 per cent in the neighbouring boroughs.
Incomes have stagnated in both constituencies while the local populations have seen their respective nearby cities – London and Manchester – boom.
Register for free to continue reading
Registration is a free and easy way to support our truly independent journalism
By registering, you will also enjoy limited access to Premium articles, exclusive newsletters, commenting, and virtual events with our leading journalists
Already have an account? sign in
Register for free to continue reading
Registration is a free and easy way to support our truly independent journalism
By registering, you will also enjoy limited access to Premium articles, exclusive newsletters, commenting, and virtual events with our leading journalists
Already have an account? sign in
Join our new commenting forum
Join thought-provoking conversations, follow other Independent readers and see their replies