Nigel Farage leaves notes from Ukip conference keynote speech on lectern
The scrawled notes were the base for his 34-minute speech in Doncaster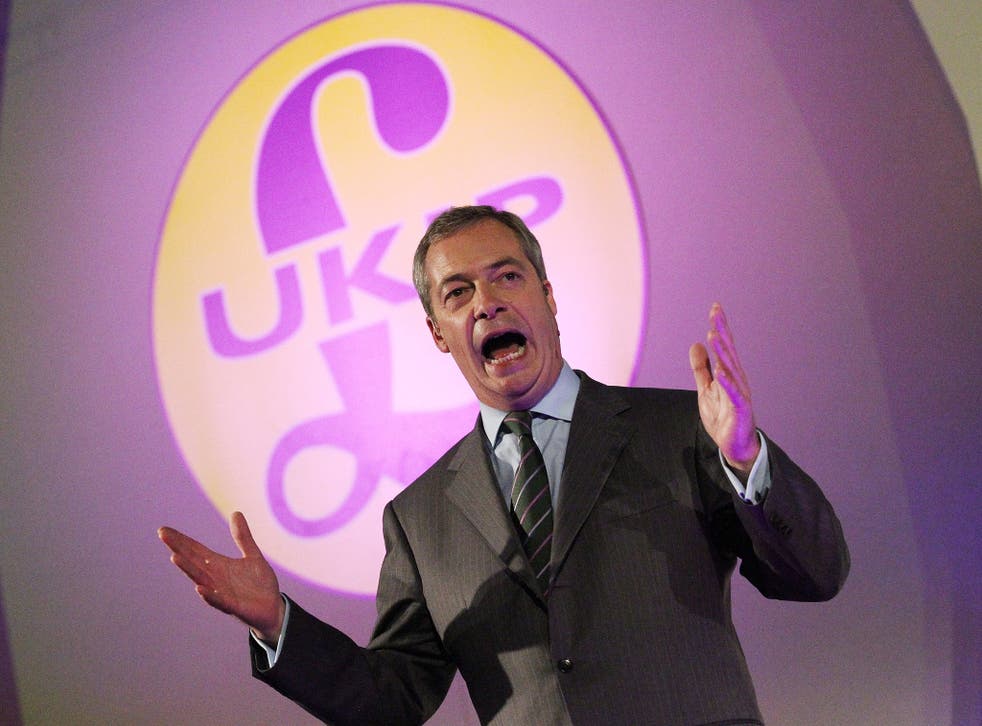 Days after Ed Miliband fluffed his lines at the Labour Party conference, Nigel Farage has offered an insight into his own public speaking technique - by leaving his speech notes on a lectern.
The Ukip leader delivered his speech at his party's conference in Doncaster on Friday in just 34 minutes and his notes were equally brief.
The two pages of scrawled points and cues were picked up by a Sky News journalist after Mr Farage left the podium.
They revealed key points including "Douglas Carswell (the defected former Tory MP) – brave October" and "whatever policies – immigration no.1 issue".
Much of the writing was illegible but it did seem to follow the rough outline of Mr Farage's actual speech, which was greeted with cheers and loud applause from the enthusiastic Ukip supporters gathered at Doncaster Racecourse.
He told activists the party was not about "left and right" but "right and wrong", outlining policies aimed at traditional Labour voters, including a "luxury goods" tax, removing income tax for minimum wage earners and abolishing inheritance tax.
The many faces of Nigel Farage

Show all 11
Mr Farage claimed that Ukip posed a threat "not just to the Conservative Party, as the papers would have you believe, we pose a threat to the entire British political class". "I'll drink to that," he added.
Just hours before delivering the keynote speech, Mr Farage told LBC radio he had not yet written it.
"I've been so busy this week I haven't yet had time to even sit down and write the speech," he said. "That's going to happen at lunchtime. I'll work it out later."
Here are some excerpts deciphered from the notes (emphasis by Mr Farage):
CONFERENCE SPEECH
1 YEAR ON VICTORY [ILLEGIBLE] WE DID IT
NOT EASY ESTABLISHMENT CLOSED RANKS
PAUL SYKES CAMPAIGN - STICK WITH US
EXPERTS SAID MELT AWAY - NOT
VOTING CHANGE + NEW BRAND POLITICS
Rejection of failure
DOUGLAS CARSWELL - BRAVE OCTOBER
Labour areas too - HEYWOOD + [ILLEGIBLE] JOHN [ILLEGIBLE]
DONCASTER MILIBAND ONE PARTY-STATE CORRUPTION
Voting system, child abuse - FAILURE
WE WILL BE OPPOSITION NORTH - TARGET SEATS
ROAD TO THE MANIFESTO - NOT A ONE MAN BAND
Tax - minimum wage, NHS, DEFICIT
FOREIGN POLICY FAILURE PAST - NON INTERVENTIONIST
LIBYA, SYRIA, BOMB AGAIN - NO PLAN
CAN'T WIN BOMBING
CAMERON - threat to [illegible] BRITAIN - might reprisal
WAR HOME FRONT - NEED FIGHT
5th column, radicalisation schools + PRISONS
SHARIA LAW
ONE UNITED UP
Second page
HOME FRONT TIME OF CHANGE
Scottish referendum [illegible] change - ENGLAND VOICE
UK IMPOTENT SCHOOLS, hospitals
WHATEVER policies - IMMIGRATION NO. 1 ISSUE
Numbers out of control, [illegible] GDP, Peterborough
This must change - ONLY UKIP ANSWER
We now represent hopes many people country,
UKIP positive political movement - WANT change
[illegible] Clegg - People's Army - see positive - tomorrow
Polling - just how well we are doing
[illegible] splitting vote
Going to win seat
VOTE UKIP GET UKIP
Hold balance for referendum
Register for free to continue reading
Registration is a free and easy way to support our truly independent journalism
By registering, you will also enjoy limited access to Premium articles, exclusive newsletters, commenting, and virtual events with our leading journalists
Already have an account? sign in
Register for free to continue reading
Registration is a free and easy way to support our truly independent journalism
By registering, you will also enjoy limited access to Premium articles, exclusive newsletters, commenting, and virtual events with our leading journalists
Already have an account? sign in
Join our new commenting forum
Join thought-provoking conversations, follow other Independent readers and see their replies