Nigel Farage branded 'poppy-less popinjay' for skipping Remembrance Sunday to visit Donald Trump
Labour accused the former Ukip leader of hypocrisy after he appeared in Mr Trump's golden elevator without a poppy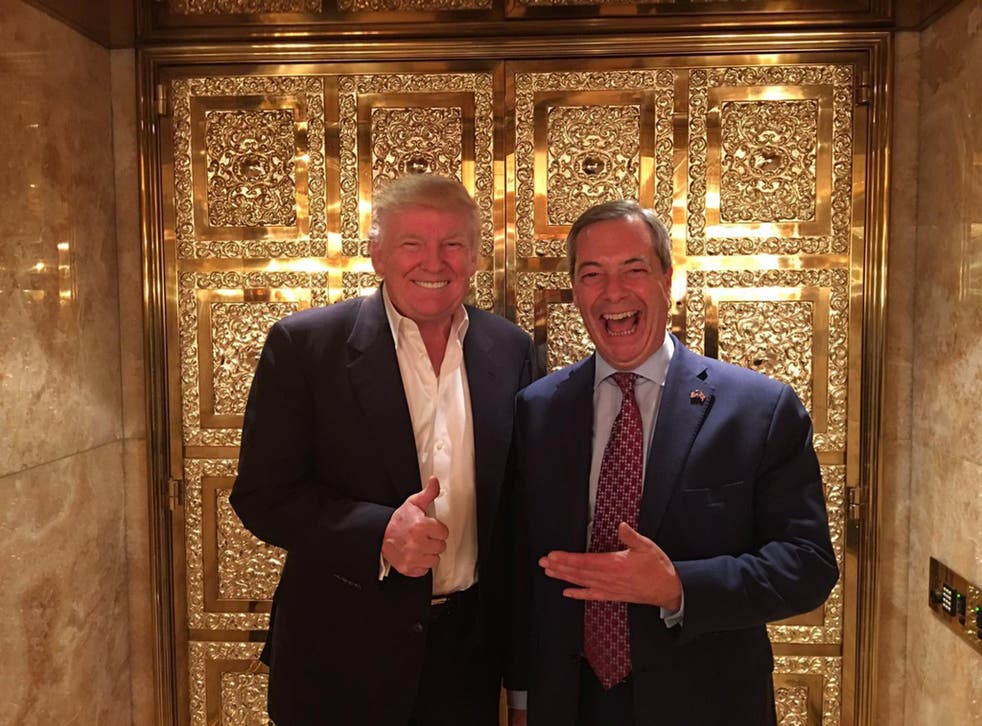 Labour has branded Nigel Farage a "poppy-less popinjay" after the Ukip politician skipped Remembrance Sunday services in Britain so he could go to America and meet Donald Trump.
Carwyn Jones, the Labour first minister of Wales, said Mr Farage was "conspicuous by his absence" from services despite his party appropriating Battle of Britain imagery and rhetoric during his campaigns against the EU.
Mr Farage was hailed as the first British politician to meet the new US President-elect this weekend, and was pictured, poppy-less, with him on Remembrance weekend in a golden elevator at Mr Trump's headquarters.
Ukip defended Mr Farage's decision not to wear a poppy during the visit, arguing that it would have been inappropriate for the former leader to wear the commemorative flower in the circumstances.
In an angry statement issued on Monday morning, Labour's Mr Jones said: "I will never insist that anyone must wear a poppy, or attend remembrance events.
"This is a free country, and people choose to remember in different ways. But hypocrisy is something else altogether. You don't get to appropriate the Battle of Britain in your campaign literature, only to prioritise transatlantic photo-opps a few months later.
"Mr Farage likes to play by a different set of rules, this much is true. But in what universe do we let go, without comment or censure, the pictures of this grinning poppy-less popinjay in a gold lift with Donald Trump?
Nigel Farage jokes about Donald Trump groping Theresa May
"Lauded on Fox News as some latter day revolutionary, Mr Farage basked in the warm glow of right-wing acceptance. But make no mistake – he made a choice between two things this weekend.
"A choice between standing shoulder to shoulder with fellow Brexit in solemn remembrance, or to go on a jolly to the States to pick up a bit of reflected glory. He chose the latter. No other part leaders would get away with this, we shouldn't let Mr Farage."
A Ukip spokesperson however hit back at Mr Jones's criticism, arguing that to have worn a poppy in the United States on the Sunday would have amounted to "virtue signalling".
"Mr Jones is probably unaware that in the US, the 11th is the day of commemoration. For Mr Farage to have worn a poppy on Sunday 13th would have been an egregious example of virtue signalling. Something normal for the likes of Mr Jones, but an anathema to Mr Farage," he said.
"Mr Jones's statement reads more like the 'look-at-me' vapourings of the Lib Dems than the words of a serious man. It's sad to see how the Labour Party has fallen."
A Ukip source said Mr Farage took Remembrance Day very seriously, regularly toured First World War battlefields and studied the conflict's history, and that it was understood to be a "serious breach of protocol" to wear a poppy in the circumstances.
Despite the spokesperson's criticism of wearing a poppy in the US, millionaire Ukip donor Arron Banks was however pictured alongside Mr Farage in the US wearing the symbol of remembrance.
Mr Farage met Mr Trump on Saturday and then toured US TV studios the following day. He could be seen wearing an enamel badge featuring the British and American flags on both occasions but did not wear a poppy.
Nigel Farage's most controversial moments

Show all 12
In 2014 the then Ukip leader protested about being "snubbed" from the Cenotaph wreath-laying ceremony on Remembrance Sunday, suggesting that he cared very deepy about attending.
"We're not invited and I could say to you that personally I would like to be because this is a subject that I care very deeply about," he told LBC Radio at the time.
Mr Farage gave a speech during one of Mr Trump's campaign rallies and has since welcomed his election, arguing that he would be a "good president". Downing Street this morning dismissed Mr Farage"s close contact with Mr Trump, telling reporters that there was "no third person in the special relationship".
Register for free to continue reading
Registration is a free and easy way to support our truly independent journalism
By registering, you will also enjoy limited access to Premium articles, exclusive newsletters, commenting, and virtual events with our leading journalists
Already have an account? sign in
Join our new commenting forum
Join thought-provoking conversations, follow other Independent readers and see their replies