Nigel Farage resignation: Ukip MEP Paul Nuttall most likely candidate to take over as leader
The MEP for the North West of England used Nigel Farage's resignation as an opportunity to discuss his own career progression within the party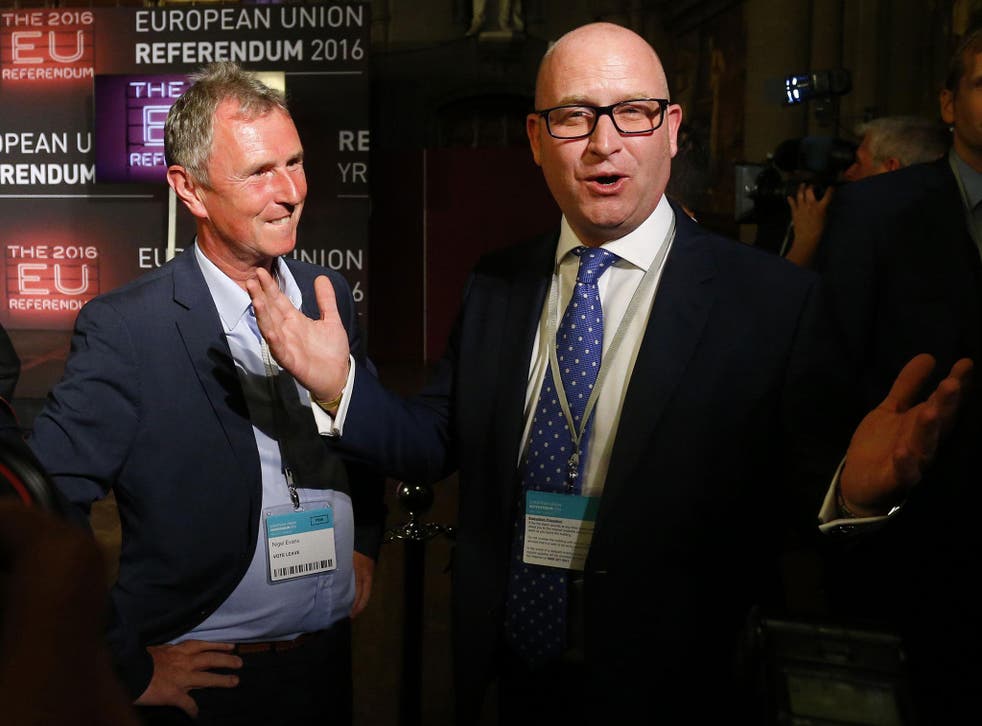 Ukip MEP Paul Nuttall appears to be the most likely front runner to replace Nigel Farage as leader of the party.
Following Mr Farage's shock resignation on Monday morning, Mr Nuttall gave an interview to the press to discuss his own career progression within the party.
The deputy leader and MEP for the North West of England said that Labour party's collapse would give Ukip a great opportunity to build ground and transform public opinion towards Ukip.
His unifying presence within the party makes him the most likely leader, unlike MP Douglas Carswell and Suzanne Evans, whose divisive opinions have resulted in friction between party members in recent months.
Steven Woolfe, Ukip MEP and Spokesman on Migration and Financial Affairs, and MEP for the South West of England Diane James, have also been named as potential candidates.
London mayoral candidate Peter Whittle was initially thought to be in the running, but ruled himself out shortly after Farage's resignation.
Nigel Farage's most controversial moments

Show all 12
Douglas Carswell, the party's only MP, told the BBC that the chances of his standing as leader were "somewhere between nil and zero".
Sources say Suzanne Evans is unlikely to throw her hat in the ring, since she is ineligible for the leadership race after being disciplined by Ukip and losing her role as Deputy leader.
During a speech in London on Monday, Mr Farage, who was elected as an MEP for the party in 1999, said he had never wanted to be a career politician and was standing down.
Farage resigns as Ukip leader
"I now feel that I've done my bit, that I couldn't possibly achieve more," the 52-year-old added.
After two stints as party leader, Mr Farage said: "I won't be changing my mind again, I assure you".
"I have decided to stand aside as leader of Ukip. The victory for the Leave side in the referendum means that my political ambition has been achieved. I came into this business because I wanted us to a self-governing nation, not to become a career politician."
Mr Carswell reacted to Mr Farage's announcement by sharing a smiling emoji with sunglasses on Twitter. The MP for Clacton-on-Sea has famously bad relations with the party leader and called on Mr Farage to resign last year.
Just last week Mr Farage suggested Mr Carswell could be removed from the party. Speaking about the MP on LBC radio, Mr Farage said: "What would he know?"
"We find somebody inside our party who doesn't agree with anything the party stands for, it's a very odd state of affairs."
His comments came after Mr Carswell attacked the former party leader over his controversial "Breaking Point" posters.
Mr Farage had previously announced his resignation in May 2015, after he failed to win a seat in the Commons – only to change his mind days later.
Mr Carswell told The Spectator's Coffee House blog: "I'm inconsolable. Nigel deserves a lot of credit for getting the referendum and I wish him well."
Register for free to continue reading
Registration is a free and easy way to support our truly independent journalism
By registering, you will also enjoy limited access to Premium articles, exclusive newsletters, commenting, and virtual events with our leading journalists
Already have an account? sign in
Register for free to continue reading
Registration is a free and easy way to support our truly independent journalism
By registering, you will also enjoy limited access to Premium articles, exclusive newsletters, commenting, and virtual events with our leading journalists
Already have an account? sign in
Join our new commenting forum
Join thought-provoking conversations, follow other Independent readers and see their replies