Nigel Farage MP? Ukip leader takes first step towards Parliament as he is elected as party's candidate for South Thanet
The Kent seat is currently held by the Conservatives
Kunal Dutta
Wednesday 27 August 2014 19:13 Comments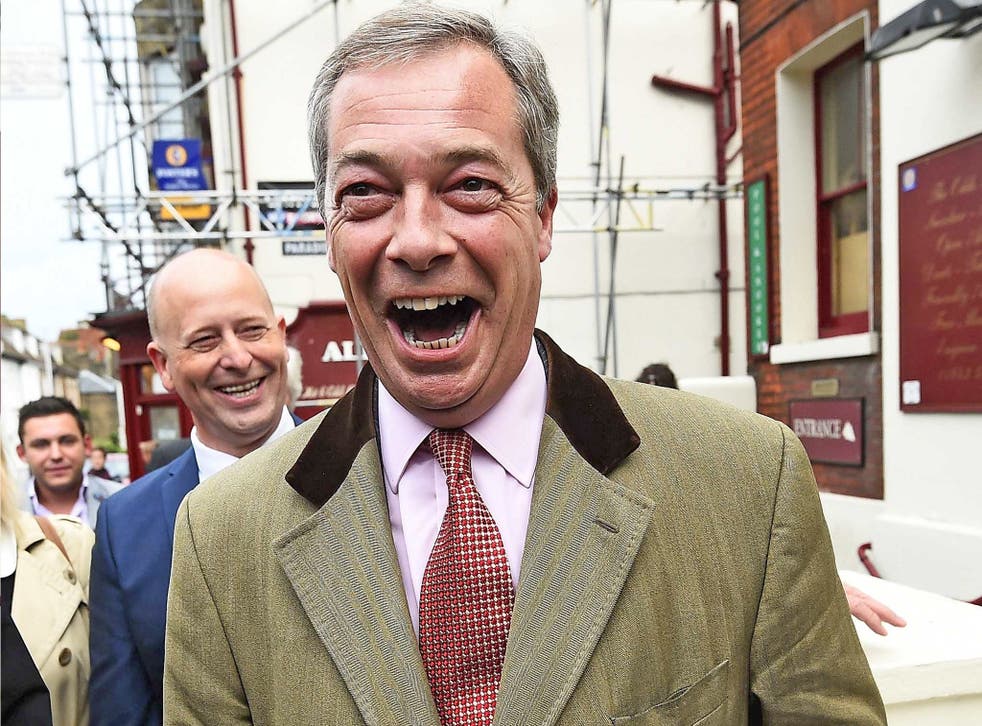 Nigel Farage will fight a former Ukip member in next year's general election after he was selected as his party's candidate for the Kent constituency of South Thanet.
The Ukip leader, who beat three other candidates during hustings in Ramsgate on Tuesday night, will face Conservative candidate Craig Mackinlay at next year's general election. Mr Mackinlay is a former Ukip member who defected to the Tories in 2005.
South Thanet, one of 12 seats that the Eurosceptic party are thought to be targeting next year, offers UKIP its best chance of getting an elected MP into parliament.
The other Tory held seats in eye of Ukip are reportedly: Thurrock (92 majority at the 2010 general election), Great Yarmouth (4,276), Forest of Dean (11,064), East Worthing and Shoreham (11,105), Sittingbourne and Sheppey (12,383), Boston and Skegness (12,426), Aylesbury (12,618), North Thanet (13,528).
The two Lib Dem seats, Sky News said, was Eastleigh (1,771 majority at the byelection) and Portsmouth South (5,200 majority at the general election); while the one Labour seat is Great Grimsby (714).
Ukip gaffes and controversies

Show all 18
Mr Farage predicted opposition parties would now send their "heavy artillery" in a bid to defend the South Thanet currently held by the Tories. "Somebody said I'm David Cameron's worst nightmare," Mr Farage said. "Well, that's not good enough. I want to be Ed Miliband's worst nightmare, too."
A Labour Party spokesman said: "Ukip don't share Britain's values. Whoever's name they put on the ballot paper, the truth about Nigel Farage and his party is that they would go even further than the Tories, with policies which would be bad for hardworking people. A vote for them is a vote for higher taxes for working families, huge giveaways for the rich, scrapping rights at work and charges to see your GP."
Register for free to continue reading
Registration is a free and easy way to support our truly independent journalism
By registering, you will also enjoy limited access to Premium articles, exclusive newsletters, commenting, and virtual events with our leading journalists
Already have an account? sign in
Join our new commenting forum
Join thought-provoking conversations, follow other Independent readers and see their replies