Nigel Farage says Uber drivers are 'not our people'
Exclusive: The former Ukip leader made the comments to cricket fans while waiting for a black cab outside Lord's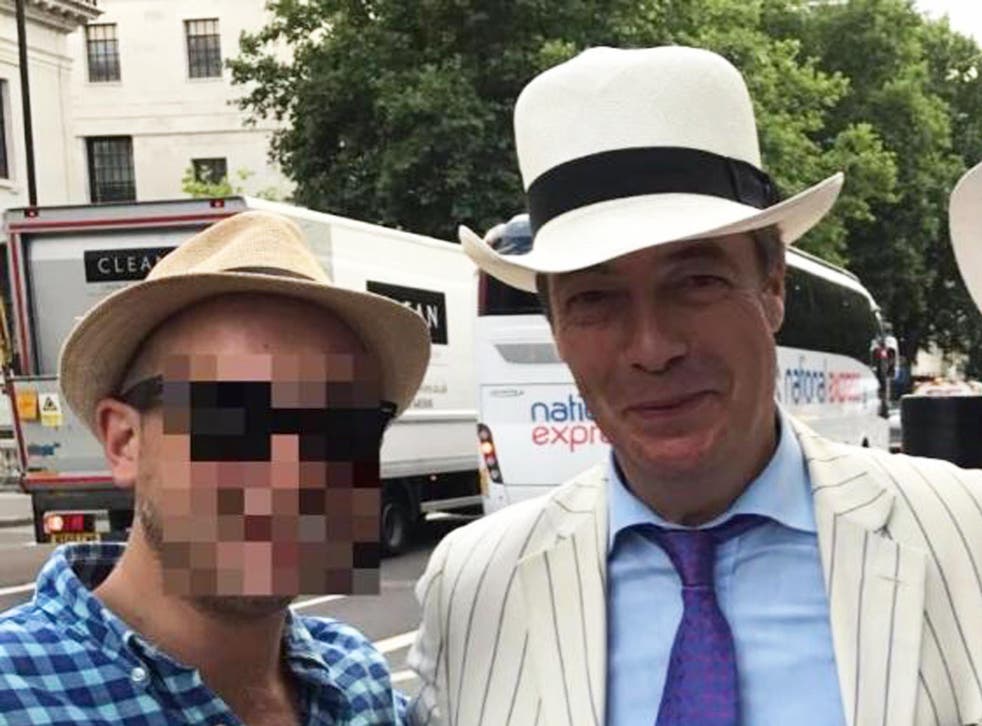 Nigel Farage has been accused of making xenophobic comments about Uber drivers, while waiting for a taxi outside Lords' cricket ground.
According to cricket fans who spoke to and posed for photographs with the former Ukip leader after the third day of the Test Match with South Africa last Saturday as he was trying to hail a black cab, Mr Farage said he wouldn't take an Uber as, "they're not our people."
One fan who spoke to him told The Independent: "We saw him waiting for a long time at the zebra crossing on the way down to Hyde Park. My friend asked him for a picture, and asked him what he was waiting for. He said: "I'm trying to get a black cab. It's so hard getting a black cab near Lord's."
Nigel Farage filmed saying he might have to arm himself and join the frontline if Brexit is thwarted
The person who spoke to him, who asked for his name not to be revealed, said: "I asked him why he didn't get an Uber," and he smiled and said, 'Well, they're not our people are they.'
"We were pretty shocked. We couldn't really think of any meaning other than that it was a racist comment about Uber drivers."
Asked about the incident, Mr Farage told The Independent: "I don't think I would have said that.
"I am a big supporter of London black cabs. I always try and get them when I can, especially for short journeys. They are having a rotten time at the moment.
"If what this person is saying is that I wouldn't get an Uber because, well, the drivers are not British , I wouldn't have said that. You get good Ubers and bad Ubers. I use Uber. I used Uber last week."
Asked repeatedly if he denied saying that Uber drivers are "not our people," Mr Farage only repeated that he is a "big supporter of black cab drivers."
The former Ukip leader and key figure in the EU referendum is no stranger to controversial comments.
In May 2014 Mr Farage was accused of a "racial slur" against Romanians after he suggested he would be concerned living next to a house of them. "I was asked if a group of Romanian men moved in next to you, would you be concerned? And if you lived in London, I think you would be," he told LBC radio during an interview.
He has also defended one of Ukip's candidates, who used the word "ch**ky" to describe a Chinese person.
Mr Farage said: "If you and your mates were going out for a Chinese, what do you say you're going for?"
When he was told by the presented that he "honestly would not" use the slur, Mr Farage replied: "A lot would".
In his 2014 conference speech he declared parts of Britain as being "like a foreign land".
He told his audience in Torquay that parts of the country were "unrecognisable" because of the number of foreigners there.
Mr Farage has also previously said he felt uncomfortable when people spoke other language on a train.
Join our new commenting forum
Join thought-provoking conversations, follow other Independent readers and see their replies