Nigel Farage to stay on as Ukip leader after party rejects resignation
U-turn comes after Farage tendered his resignation on Friday, insisting he was a 'man of his word' after pledging to stand down if he failed to become an MP
Matt Dathan Comments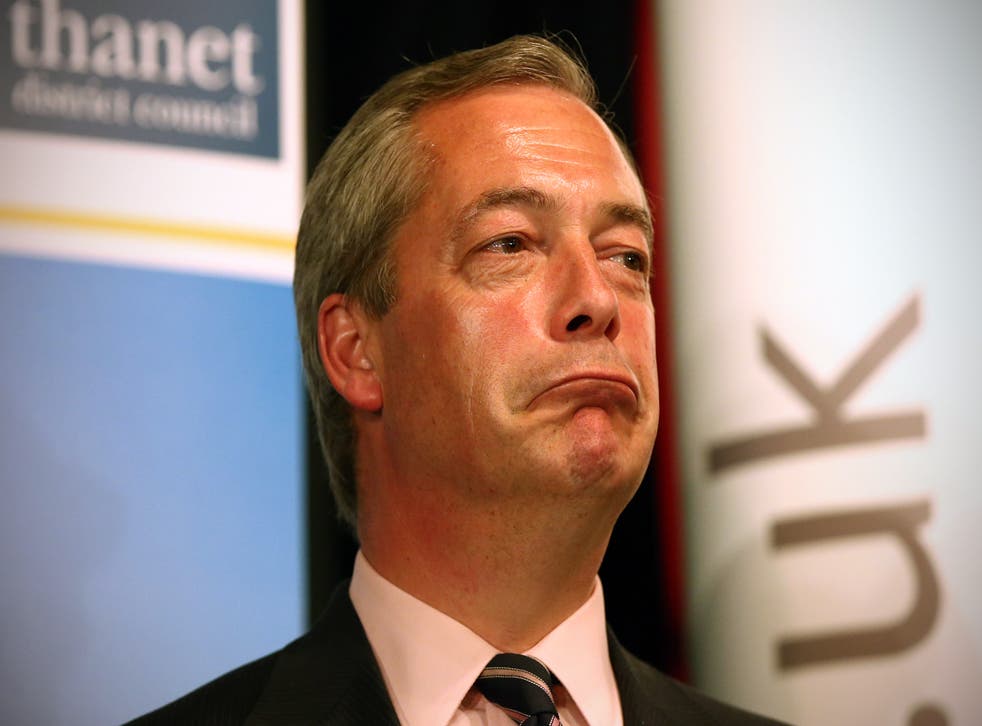 Nigel Farage will stay on as Ukip leader, despite announcing he would stand down after failing to be elected as an MP in last week's election.
His resignation was "unanimously rejected" by Ukip's National Executive Committee after canvassing the views of Ukip members, who "overwhelmingly" wanted him to remain in place.
Mr Farage has now withdrawn his resignation and will continue as leader of Ukip, the party announced.
It comes just days after saying he was "a man of my word" when he confirmed he was standing down after failing to win the South Thanet constituency.
In March, when he originally pledged to stand down if he failed to enter Parliament, he said it would be "frankly not credible" to continue to lead the seat if he was not an MP and said Ukip would lose its credibility if he continued to lead the party without a Westminster seat.
Sources close to Mr Farage today claimed Mr Farage took "a lot of convincing" to change his mind.
Best General Election 2015 quotes

Show all 10
Ukip's chairman Steve Crowther said part of the reason for keeping him on as leader was due to the Conservative party announcing it was to immediately press ahead with plans to hold a referendum on Britain's membership of the European Union.
The referendum campaign has already begun this week and we need our best team to fight that campaign led by Nigel. He has therefore been persuaded by the NEC to withdraw his resignation and remains leader of UKIP," a statement from Ukip's chairman, Steve Crowther, said.
Announcing the decision, Mr Crowther said: "As promised, Nigel Farage tendered his official resignation as leader of UKIP to the NEC.
"This offer was unanimously rejected by the NEC members who produced overwhelmingly evidence that the UKIP membership did not want Nigel to go.
"The NEC also concluded that UKIP's general election campaign had been a great success.
"We have fought a positive campaign with a very good manifesto and despite relentless, negative attacks and an astonishing last minute swing to the Conservatives over fear of the SNP, that in these circumstances, 4 million votes was an extraordinary achievement.
"On that basis Mr Farage withdrew his resignation and will remain leader of UKIP."
Announcing his plans to quit in March, Mr Farage said: "The consequences of me failing to secure a seat for myself in the Commons would be significant for both myself and the party.
"It is frankly just not credible for me to continue to lead the party without a Westminster seat.
"What credibility would Ukip have in the Commons if others had to enunciate party policy in Parliament and the party leader was only allowed in as a guest?
"Was I supposed to brief Ukip policy from the Westminster Arms? No – if I fail to win South Thanet, it is curtains for me. I will have to step down."
As soon as the U-turn was announced Mr Farage received a barage of backlash on Twitter, with many pointing to his reasoning for standing down to claim Ukip had little credibility left, while others said it would boost the campaign to remain in the European Union.
Meanwhile he was mercilessly mocked by others:
Register for free to continue reading
Registration is a free and easy way to support our truly independent journalism
By registering, you will also enjoy limited access to Premium articles, exclusive newsletters, commenting, and virtual events with our leading journalists
Already have an account? sign in
Join our new commenting forum
Join thought-provoking conversations, follow other Independent readers and see their replies