Nigel Farage: Vladimir Putin is the world leader I most admire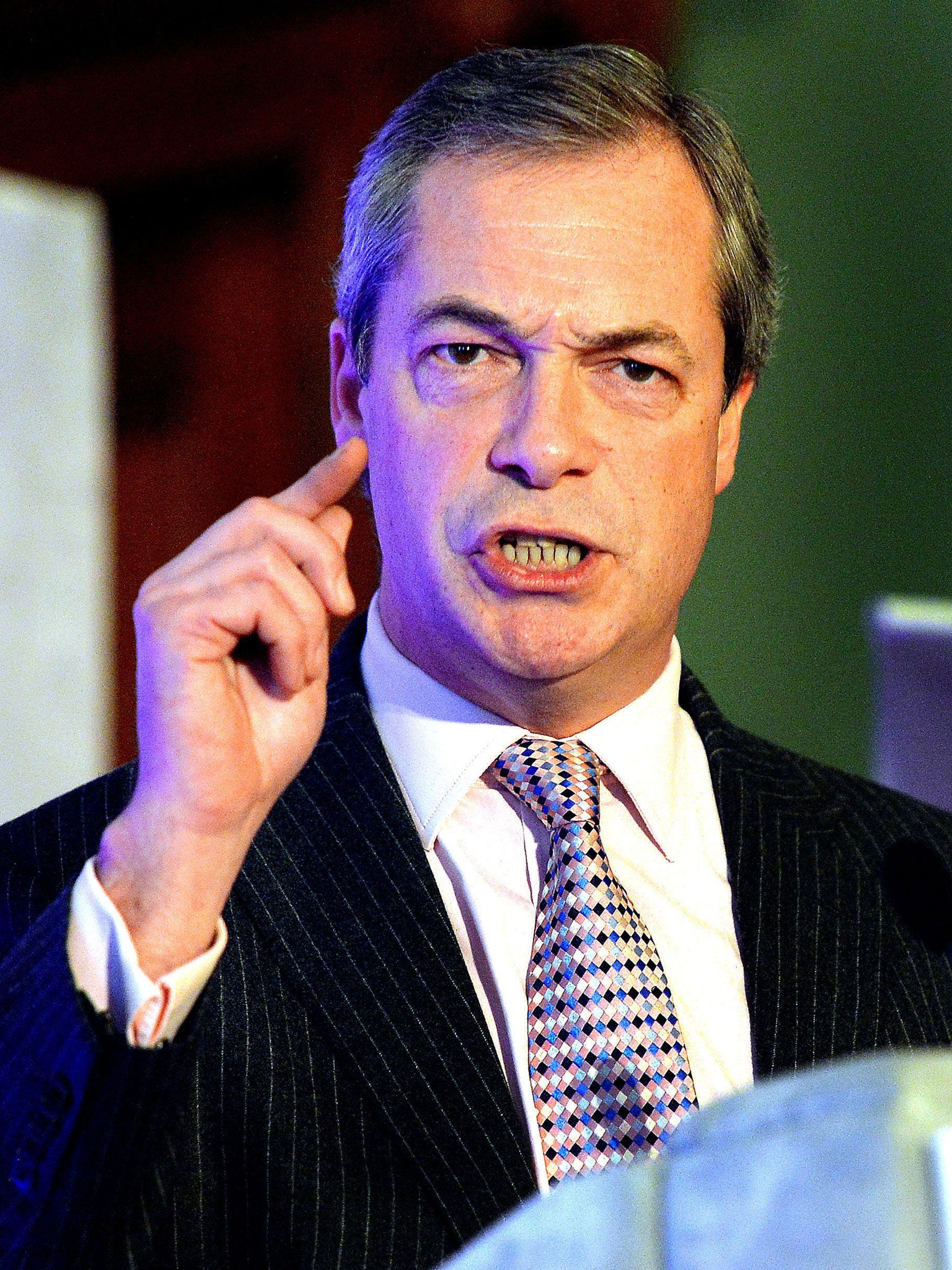 Nigel Farage has named Vladimir Putin as the world leader he most admires. He praised the Russian president's skills as an "operator", citing his "brilliant" handling of the civil war in Syria.
The Ukip leader's comments emerged days after he provoked anger by accusing the European Union of having "blood on its hands" for encouraging the turmoil in Ukraine, which led to Russia's annexation of Crimea.
Mr Farage was asked by GQ magazine's new interviewer Alastair Campbell, Tony Blair's former spin chief, which world leader he most admired. "As an operator, but not as a human being, I would say Putin," he replied. "The way he played the whole Syria thing. Brilliant. Not that I approve of him politically. How many journalists in jail now?"
Moscow is closely allied to the Syrian dictator Bashar Assad and has supplied arms to his regime. It blocked moves to sanction him at the United Nations, but also took the lead in a brokering a deal under which Syria agreed to surrender its chemical weapons.
The remarks echo a clash with Deputy Prime Minister Nick Clegg in last week's head-to-head debate in which the Ukip leader stressed he did not approve of Crimea's annexation, but lambasted EU leaders for being "weak and vain" over Ukraine and Syria. He added: "If you poke the Russian bear with a stick, he will respond."
Mr Farage later rejected accusations that he was siding with Mr Putin, but stood by his claim that the EU provoked the crisis by "destabilising" Ukraine.
The Deputy Prime Minister is expected to return to the theme on Wednesday in his second televised debate with the Ukip leader.
A Lib Dem minister said: "Farage has taken Putin's side in the most outrageous land-grab in modern times and he must be held to account for that."
Elsewhere in the interview – the first conducted by Mr Campbell for GQ – Mr Farage used highly undiplomatic language about the German Chancellor Angela Merkel who received the red carpet treatment on a visit to London this month.
The Ukip leader said: "She is incredibly cold. I always say - I agree this is a bit rude - but whatever you think of the public image of Merkel, in private she is even more miserable. I warm to more extrovert people."
He claimed to see little to choose between the leaders of Britain's three major parties, insisting he did not "give a damn" whether David Cameron or Ed Miliband triumphs in next year's general election.
He said Mr Cameron was "a perfectly nice fellow who stands four-square for nothing", Mr Miliband was a "nice chap, not very worldly - I would love to see him in a working men's club in Newcastle" and Mr Clegg was a "very nice guy, just wrong".
Join our commenting forum
Join thought-provoking conversations, follow other Independent readers and see their replies