Brexit: John McDonnell demands Government offers Nissan assurances to entire manufacturing sector
'We cannot have a situation where the government are simply going factory-by-factory'
Ashley Cowburn
Political Correspondent
Saturday 29 October 2016 22:07 Comments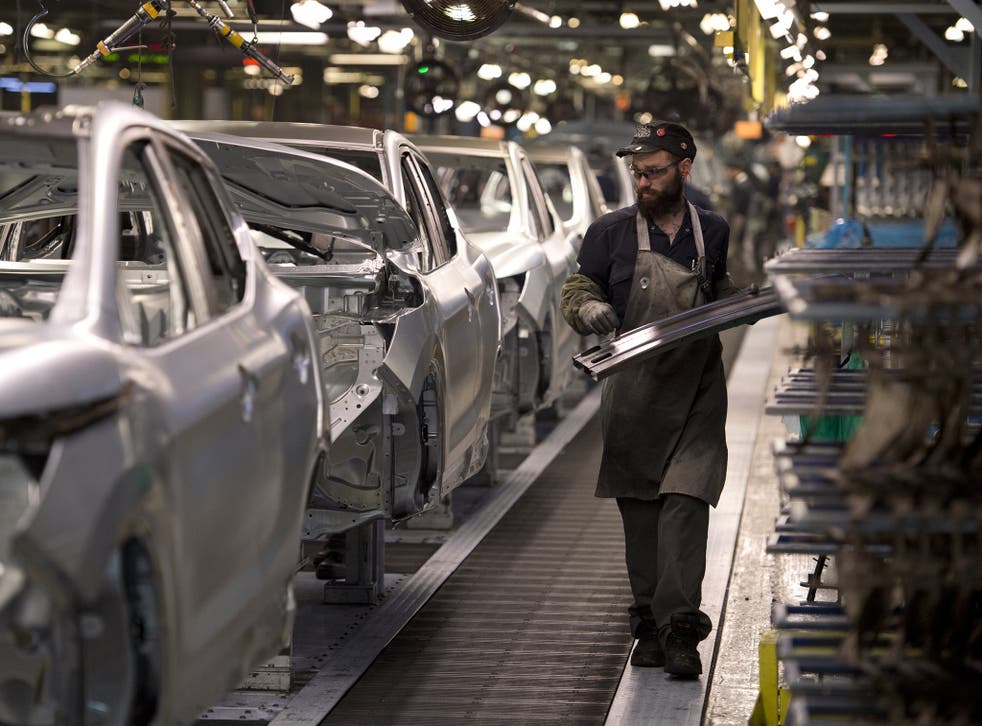 John McDonnell, the shadow Chancellor, has demanded the Government extend assurances provided to Nissan to the entire manufacturing sector.
It comes amid mounting speculation the Government gave a compensation deal to the company as the executive of the Japanese car giant met Theresa May earlier this week in Downing Street. On Thursday business minister Greg Clark refused six times to say what post-Brexit financial help Nissan has been promised to build its new cars at its flagship Sunderland plant.
Two former business ministers, who have negotiated with the company previously, have said they believe Nissan must have been told Britain would remain a part of the EU customs union or offered some sort of mitigation to announce it would continue to invest.
Downing Street, however, insists that Nissan has not been offered any form of "compensation package" and that ministers had simply assured the company of the Government's determination to secure the best deal possible after Brexit.
Mr McDonnell said he welcomed the decision by Nissan to back the "hard work and dedication" of the workforce at the Sunderland plant. "But there are other plants in the car industry whose workers will be holding their breath hoping that their jobs are also safe following the Tories' shambolic handling of Brexit."
The shadow Chancellor added: "The trade unions are right to demand clarity from government. It is unforgivable that the Tories can clearly act to safeguard jobs in our manufacturing industries, as proven by their deal with Nissan, but are refusing to do so. This is something which is deeply concerning many thousands of dedicated workers as we approach the Christmas period."
What experts have said about Brexit

Show all 11
"That is why it is vital we get clarity from the government as to what reassurances they have given Nissan, and how they can extend them to the rest of the industry and manufacturers across the country.
"We cannot have a situation where the government are simply going factory-by-factory, we need the same assurances given to the sector and manufacturing as a whole to safeguard jobs and the local communities who are being left stranded by this government."
His call came in response to Unite the trade union announcing it would pressing Ms May to ensure that whatever assurance had been given to Nissan would apply across the manufacturing sector.
"Our members at car and other manufacturing plants across the country rightly are looking for the same job security that appears to have been secured at Nissan through government intervention and investment guarantees," said Unite assistant general secretary Tony Burke.
He added: "We need similar arrangement across the manufacturing sector to protect workers and secure these crucial high skill, decently paid jobs.
Labour shadow Business Secretary Clive Lewis said the public – and the many other businesses and employees facing turbulent times ahead – have the "right to know what Nissan was offered to stay in the UK. Secret backroom deals are unfair, unsustainable, and are no way to run an economy."
Ministers were elated after Nissan announced it would build its next-generation Qashqai in Sunderland, as well as add production of the new X-Trail SUV model. Ms May also hailed it as "fantastic news", adding: "This vote of confidence shows Britain is open for business and that we remain an outward-looking, world-leading nation."
Register for free to continue reading
Registration is a free and easy way to support our truly independent journalism
By registering, you will also enjoy limited access to Premium articles, exclusive newsletters, commenting, and virtual events with our leading journalists
Already have an account? sign in
Join our new commenting forum
Join thought-provoking conversations, follow other Independent readers and see their replies