Government spends £2.6m renovating No 9 for White House-style televised briefings, figures show
PM's press secretary Allegra Stratton will host the question-and-answer sessions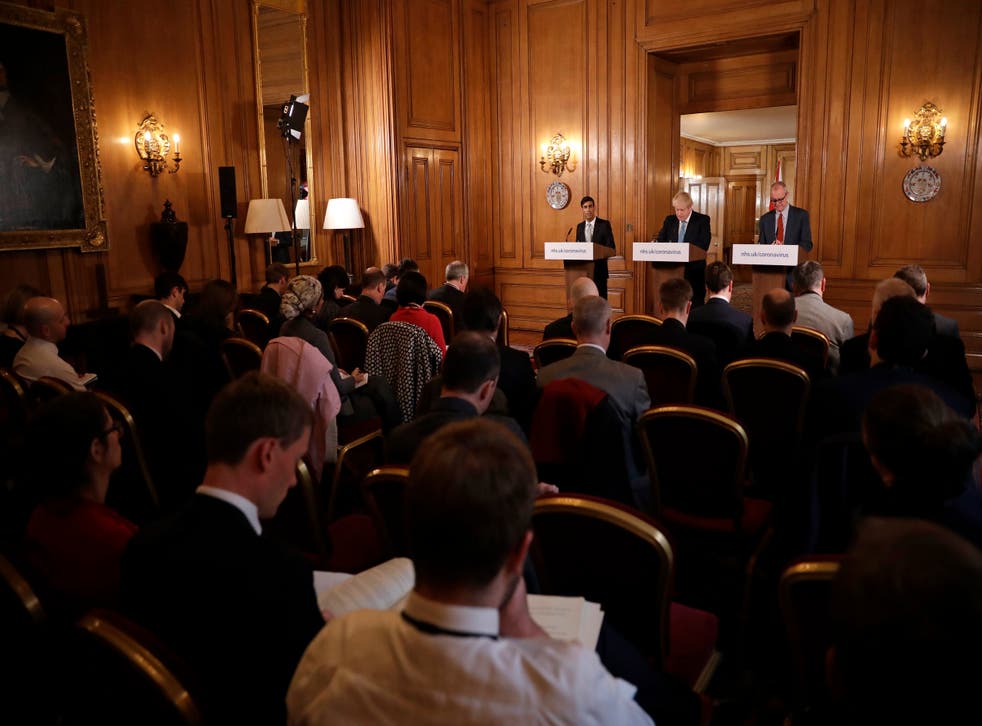 Boris Johnson's government has spent over £2.6m converting No 9 Downing Street into a media suite in order to host White House-style briefings, new figures reveal.
It comes after former journalist Allegra Stratton was appointed as the prime minister's press secretary to front the televised briefings last year, but the government was forced to delay the question-and-answer sessions due to the pandemic.
In response to a freedom of information request to thePress Association, the Cabinet Office issued a breakdown of the costs for the refurbishment to the old courtroom totalling over £2.6m, largely excluding VAT.
A government spokesperson argued the taxpayer bill was in the public interest as it will "increase public accountability transparency" and enable daily broadcasting by news organisations within the Grade 1 listed building.
A breakdown of the costs showed £1.8m was set aside for the "main works" while £198,023 was spent on "long lead items" and £33,394 on "broadband equipment".
The spokesperson added: "The government is establishing facilities within 9 Downing Street which will be used for daily broadcasting by a number of news organisations.
"This will necessarily require one-off capital works, including audio-visual equipment, internet infrastructure, electrical works and lighting. Such spending on maintenance and technical facilities reflects that 9 Downing Street (the Privy Council Office) is a Grade 1 listed building."
But Labour's deputy leader Angela Rayner questioned the prime minister's priorities for spending millions on "vanity projects" amid outrage and the threat of industrial action over proposals to give NHS staff a pay rise of just 1 per cent.
Accusing the government of "picking the pockets of NHS workers", she added, "It would take around 100 years for a newly qualified nurse to get paid this kind of money."
Last year, the prime minister said the government was going to "have a go" at the televised sessions after millions tuned in to the daily briefings fronted by cabinet ministers in the initial months of the coronavirus crisis.
Successive US administrations have used televised press briefings from the White House for many years with Washington-based journalists, and presidents have often made appearances at them.
During Donald Trump's administration, notable holders of the post included Sarah Huckabee Sanders and Sean Spicer, who used his debut briefing to accuse reporters of "false reporting" as he attempted to claim Mr Trump's 2017 inauguration drew "the largest audience ever to witness an inauguration, period, both in person and around the globe".
Earlier this year, the newly-elected president Joe Biden appointed Jen Psaki as his press secretary, who told journalists at her first briefing she intended to help bring "truth and transparency back to government".
When the Westminster briefings eventually launch, Ms Stratton, who also worked as chancellor Rishi Sunak's director of communications, will rapidly become one of the most recognisable faces in government as she defends key government policies.
The job, which was advertised by the Conservative Party, said applicants needed to be an "experienced and confident media operator who would enjoy working on camera with senior ministers, political advisers, officials and journalists".
It added the press secretary would represent the government to an "audience of millions on a daily basis, across the main broadcast channels and social media, and have the chance to influence and shape public opinion".
The prime minister's former director of communications, Lee Cain, oversaw the recruitment process, but reportedly disagreed with Mr Johnson's decision to offer the role to Ms Stratton, before resigning alongside Dominic Cummings last year.
As a political appointee, Ms Stratton will be able to take aim at opponents' policies, including those of the Labour leader Sir Keir Starmer, whose team were considering their own monthly press conferences before the third national lockdown.
Downing Street has previously said the daily, off-camera briefing with the prime minister's official spokesperson, who is a civil servant, will continue with Westminster reporters alongside the new televised conference hosted at No 9.
Join our new commenting forum
Join thought-provoking conversations, follow other Independent readers and see their replies