No Brexit deal would be a 'very, very bad outcome', Chancellor warns
But Philip Hammond said no deal was still better than a deal designed to 'punish' the UK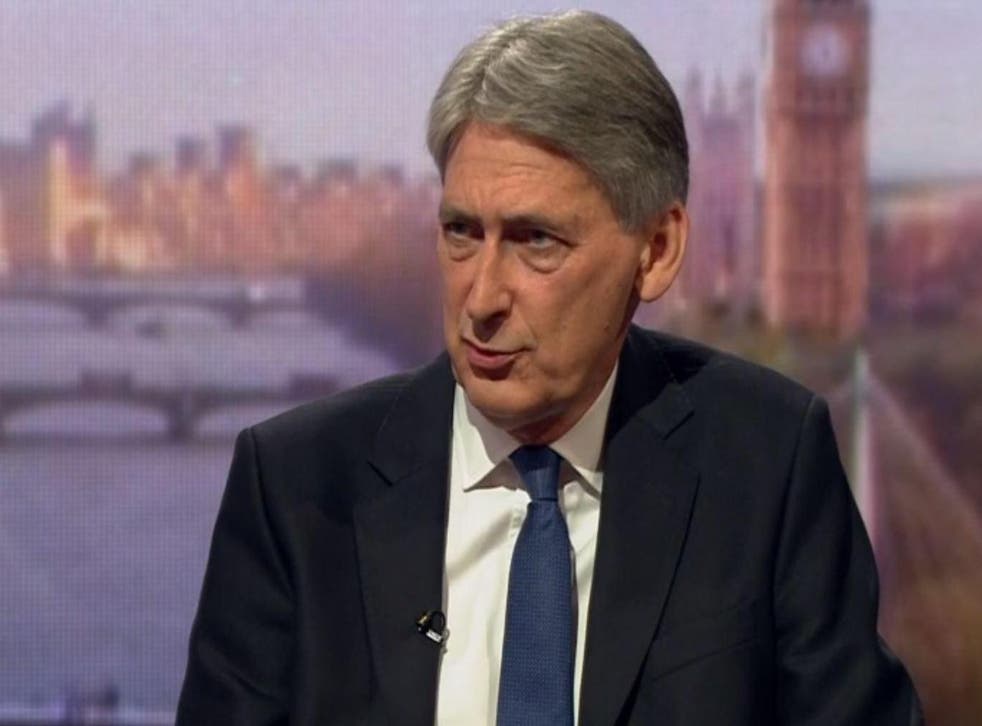 Chancellor Philip Hammond has said that leaving the EU without any deal on trade would be "a very, very bad outcome" but maintained that there are other outcomes that could be worse.
On BBC1's Andrew Marr Show, he said it would be better to leave with no deal than to accept a "deal deliberately structured to suck the lifeblood out of the UK economy over a long period of time".
Negotiations with Brussels begin tomorrow, despite the Prime Minister losing her majority in an election she had said was specifically about acquiring a mandate for her Brexit policy.
Mr Hammond said the UK would definitely be leaving both the EU single market and the customs union, but said that a transitional deal to enable a smooth exit from both was highly desirable.
"It's a statement of common sense that if we are going to radically change the way we work together, we need to get there via a slope, not a cliff edge," he said.
Appearing on same programme, Labour's Brexit spokesman Sir Keir Starmer said Britain would definitely leave the EU, and that doing so would prevent it continuing as a full member of the single market. He said membership of the customs union should remain "on the table". Membership of the customs union makes it impossible for countries to sign free trade deals with other, non-EU countries, whose products may not meet European standards.
Sir Keir added: "I think the Prime Minister has got us into a complete mess. She's got no mandate here and she's got no authority abroad and the negotiation starts tomorrow."
The Chancellor also said he would have liked to have been allowed to play a bigger part in the general election campaign, and that the campaign should have had a much greater focus on the economy.
The Chancellor was barely visible during the disastrous seven-week campaign, and was expected to be sacked had Theresa May won the large majority she was anticipating.
He told the BBC's Andrew Marr: ""It's true that my role [in the campaign] was not the one I would have liked it to be.
"The end result is that in my judgement we did not talk about the economy as much we should have done."
He said more time should have been spent "taking apart" Labour's economic plans, the consequences of which he said would be "catastrophic".
Mr Hammond made only two public appearances throughout the seven-week campaign. Since the election result, Nick Timothy, Sir Lynton Crosby and other senior campaign officials have sought to blame one another for the absence of leading Conservatives from the campaign.
Asked how long Mrs May had left in No 10, Mr Hammond replied: "I think what the country needs now is a period of calm while we get on with the job at hand."
Join our new commenting forum
Join thought-provoking conversations, follow other Independent readers and see their replies