Ed Miliband rules out EU referendum: Eurosceptics accuse Labour of 'shoddy compromise'
John Mills, the home shopping entrepreneur, insisted there should be in/out vote 'regardless of future events'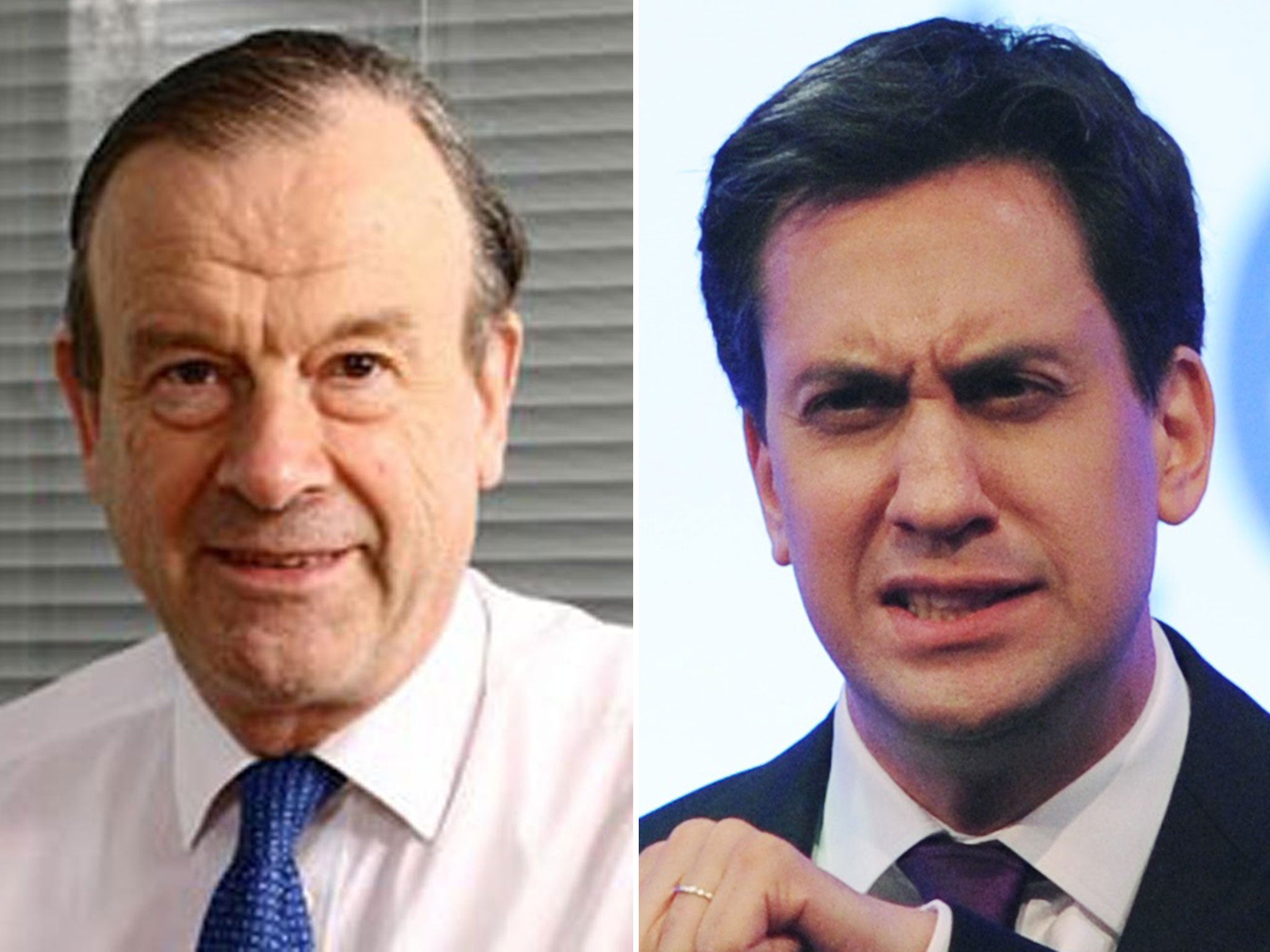 Ed Miliband has faced a backlash from Labour Eurosceptics after effectively ruling out a referendum unless Brussels makes a grab for fresh powers, something he made clear was "unlikely" before 2020.
The Labour leader said his priorities for government would be dealing with the "cost-of-living crisis", the NHS and creating jobs, "not a damaging debate about leaving the EU".
Although he stressed his determination to reform the EU if elected in 2015, and pledged a legal lock that would guarantee an in/out vote if Westminster was asked to hand over more control, he was attacked by one of his MPs as a "shoddy compromise" that would be "impossible to sell" to voters.
Labour backbencher Graham Stringer was scathing about the stance.
"I think it's a shoddy compromise really, between those people in the Parliamentary Labour Party who want a referendum because the vast majority of the electorate want it, and those people desperate not to have a referendum," he said.
"I think the public are very clear that they want a referendum. This is so ambiguous as to be impossible to sell on the doorstep."
Party donor John Mills, the JML home shopping entrepreneur and chair of Labour for a Referendum, insisted there should be an in/out vote "regardless of future events".
He said: "While Ed Miliband's pledge of an in-out referendum is a welcome one, there is often disagreement over what constitutes a 'transfer of powers' from Britain to the EU.
"The British people still feel short-changed, for instance, by the absence of a referendum on the Lisbon Treaty, which sent substantial powers to Brussels without public consultation.
"I want to see a Labour government in 2015 and, as the party that trusts the people, I think we should recognise that the growth of the EU's influence over Britain in the past 40 years warrants a referendum regardless of future events."
Labour former minister Gisela Stuart told the BBC Radio 4 Today programme: "What Ed Miliband has now said quite clearly is that he does see circumstances, which may arise sooner than we think if there are treaty changes in relation to the euro which will be required, that will mean a transfer of power."
Labour MP John Mann said he still hoped Mr Miliband would go further and commit to an in/out referendum.
"Certainly I've polled very (extensively) Labour voters in my area and, without question, they're more hostile than they were to the European Union - significantly more so - and I think that we need to be in touch and we need to be trusting the people," he told BBC Radio 4's World Tonight.
Former foreign secretary Jack Straw, seen as a Eurosceptic in the Labour ranks, said: "This offers reassurance not only to business and millions of workers whose jobs depend on Europe but also allays the fears of those who are uncomfortable with moves towards ever closer union."
Mr Miliband's intervention, in an article for the Financial Times, puts an end to speculation that the Opposition could match David Cameron's promise to hold a decisive poll by 2017.
Within minutes of the piece being published, the Prime Minister responded that the only way of securing an in/out referendum was to back the Conservatives.
Mr Miliband, who will flesh out his position in a keynote speech later, acknowledged that people had "concerns" about the EU and said Labour's "agenda for change" would seek to return "more control to national parliaments".
"It is important to emphasise that there are no current proposals - from either the EU or any member state - for a further transfer of powers from Britain," he said. "Therefore it is unlikely there will be any such proposals in the next parliament.
"But the British people know that the history of the EU, as well as uncertainty about precisely what a changing Europe and further integration in the eurozone might involve, means that a further transfer of powers remains possible.
"So, in a speech today, I am announcing that the next Labour government will legislate for a new lock: there would be no transfer of powers from the UK to the EU without a referendum on our continued membership of the EU. This would not just be a referendum on the narrow question of whether to allow a transfer of powers from Britain to Brussels; as we have seen in other countries, such votes are too easily ignored.
"This position, setting out the conditions in the next parliament under which a Labour government would hold an in/out referendum, offers the British people a clear choice at the next election."
Shadow foreign secretary Douglas Alexander acknowledged that a referendum was "possible but unlikely" under the Labour policy.
"It is an agenda for reform in Europe, not immediate exit from Europe," he told the Today programme.
The legal lock proposed by Mr Miliband would effectively upgrade the one introduced by the Coalition which guarantees a referendum before any powers are transferred.
Labour's new position aligns it very closely with the Liberal Democrats on Europe, offering common ground for any potential negotiations about forming a joint government in 2015.
PA
Join our commenting forum
Join thought-provoking conversations, follow other Independent readers and see their replies