Northern Ireland bans on abortion and same-sex marriage will stay, say Boris Johnson and Jeremy Hunt
Rivals for No 10 insist only the Northern Ireland Assembly – which has been suspended for two-and-a half-years – can change laws
Rob Merrick
Deputy Political Editor
Tuesday 02 July 2019 19:09 Comments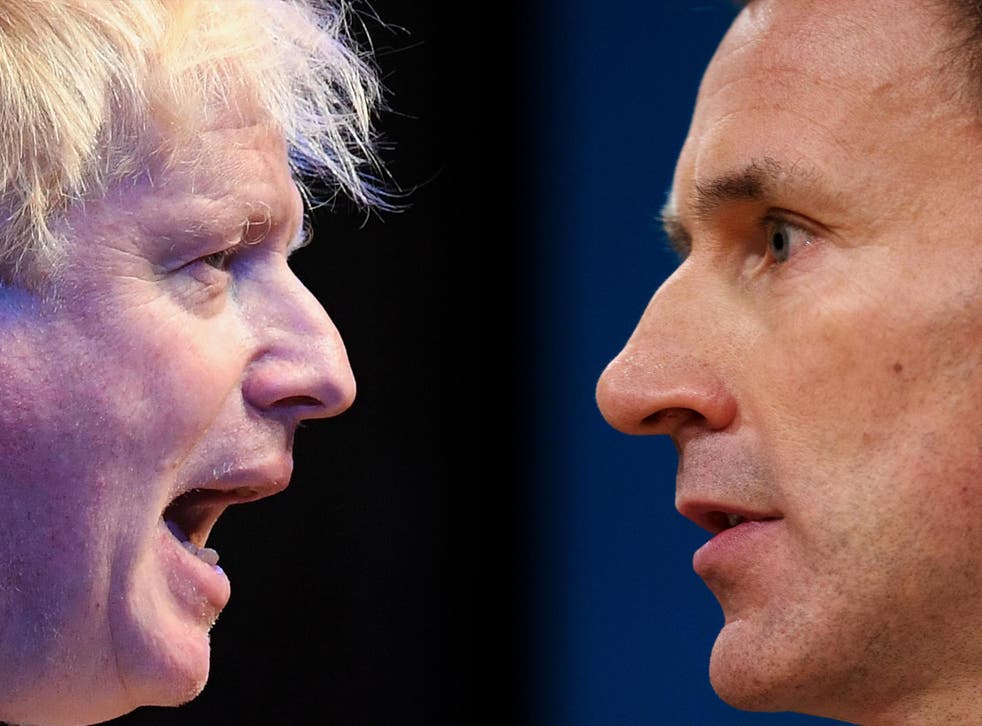 The Conservative rivals for No 10 have been criticised after saying the bans on abortion and same-sex marriage in Northern Ireland will remain in place whoever wins the leadership race.
Both Boris Johnson and Jeremy Hunt insisted only the Northern Ireland Assembly – which has been suspended for two-and-a half-years – should consider changes to the law.
"This is for the people of Northern Ireland and their politicians," Mr Johnson, the clear leadership favourite, told a hustings of local Conservative members in Belfast.
Mr Hunt said he backed liberalisation "in both of those areas", but added: "This is a devolved matter and I think the best way to resolve this is to get the assembly back up and running."
The two candidates were criticised for "choosing politics over the lives of women" by the founder of the London-based charity Abortion Support Network.
Their stance comes two months after Theresa May was strongly criticised for failing to act, despite a United Nations ruling, over an abortion law that was spreading "confusion and fear".
Northern Ireland abortion protest in Westminster

Show all 7
"It's disappointing but unsurprising that, once again, people in power are choosing politics over the lives of women who need an abortion," said Mara Clarke, the network's founder.
"The abortion law in Northern Ireland is older than the light bulb, and it's disgraceful that the leader of any political party thinks it's acceptable to perpetuate the inequality that still exists there."
Stella Creasy, a Labour MP and campaigner on the issue, said: "Both these men want to be prime minister of the UK but are happy to treat some UK citizens as second class because it's politically expedient."
Talks aimed at kick-starting the assembly resumed in May, in response to the murder of journalist Lyra McKee in Londonderry, but have failed to achieve a breakthrough.
Powersharing broke down in January 2017 over the "cash for ash" scandal involving payments for renewable heart schemes, making it impossible for Northern Ireland to legislate.
Quizzed on the impasse, Mr Hunt said: "These are deeply personal issues. If I was Northern Irish, I would want the law changed in both of those areas."
The foreign secretary was reminded that Ms McKee's partner had said the biggest tribute to her would be for the UK parliament to intervene on same-sex marriage.
But he replied: "This is a devolved matter and I think the best way to resolve this is to get the assembly back up and running and to establish a consensus in the province so that we can go forward."
Mr Johnson said: "To risk sounding like a cracked record, I hope the government of Northern Ireland can be resumed as soon as possible so this issue can be decided in the forum where it properly belongs, in other words at Stormont."
Ms May was accused of "hiding behind the DUP" (Democratic Unionist Party) by refusing to act – following the £1.2bn deal for the Northern Ireland Unionists in return for propping up the Tories in power.
Register for free to continue reading
Registration is a free and easy way to support our truly independent journalism
By registering, you will also enjoy limited access to Premium articles, exclusive newsletters, commenting, and virtual events with our leading journalists
Already have an account? sign in
Join our new commenting forum
Join thought-provoking conversations, follow other Independent readers and see their replies