Tear up Northern Ireland Protocol or risk return to violence, former first minister David Trimble warns
Pressure piled on on Boris Johnson to act with incendiary claim that province has been 'annexed by the EU'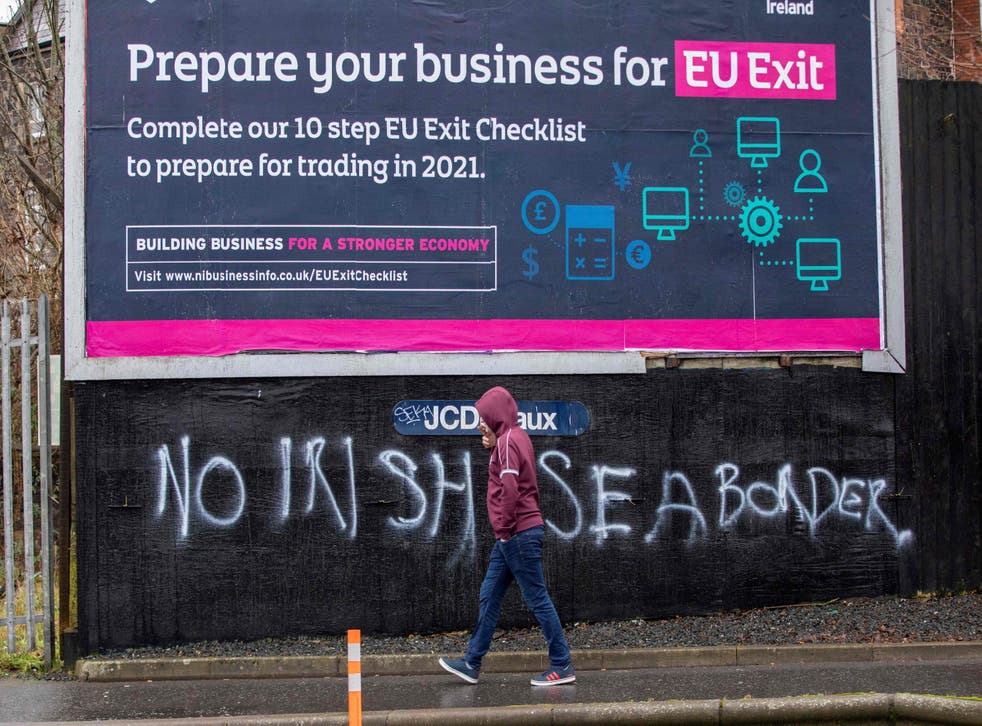 Violence could return to Northern Ireland unless the Brexit borders agreement with the EU is torn up, former first minister David Trimble is warning.
The former Ulster Unionist Party leader piled pressure on Boris Johnson to act by claiming the daunting new Irish Sea checks meant the province had been "annexed by the EU and is subject to EU laws".
Arguing the Northern Ireland Protocol had sparked "genuine grievances", Lord Trimble said: "There is real potential for those who have engaged in past violence to take action again into their own hands."
He accused the prime minister and Brussels of "playing fast and loose with the hard won arrangements in the Good Friday Agreement" – which had promised people "the final say" over any change in their status.
"Not only do I personally feel betrayed, but the majority unionist population in Northern Ireland feel betrayed too," the peer added.
The attack comes after Michael Gove ruled out scrapping the Protocol and backed off demands that the EU make immediate and significant changes, ahead of another meeting next week.
However, the Cabinet Office minister has now been replaced by the hardline David Frost as the pointman with Brussels, fuelling expectations of a much tougher approach.
Last month, food inspections were suddenly suspended at Belfast and Larne ports following an "upsurge in sinister and menacing behaviour in recent weeks".
Graffiti appeared attacking the Protocol – which has created a customs border in the Irish Sea, pushed up prices and threatened supplies – and describing port staff as "targets".
Some Tory backbenchers are pressing for the Protocol to be scrapped, former party leader Iain Duncan Smith branding it a "terrible disaster".
But the government is only pressing for agreed changes and for 'grace periods' before full checks are imposed to be extended to 2023 – something Brussels has rejected.
Michel Barnier hit out at the government as he insisted the withdrawal terms it sought – not the checks on Irish Sea trade – were to blame for empty shelves in supermarkets.
Ministers had not "correctly explained" the consequences to businesses, he said, and those rules must be respected.
Ulster Unionists stand accused of campaigning for Brexit without acknowledging, or understanding, the risk of destabilising peace in Northern Ireland.
But Lord Trimble, writing in The Irish Times, said:"Rather than the NI Protocol protecting the GFA, the fact is it is pulling it apart.
"I fear that tensions are once again starting to rise. We have already seen the threats to inspectors at NI ports.
"The democratic mandate of the Stormont Parliament has been called into question. People's livelihoods and the NI economy are reeling from the Protocol's pettifoggery."
Join our new commenting forum
Join thought-provoking conversations, follow other Independent readers and see their replies