Northern Ireland First Minister, Peter Robinson, 'incandescent with rage' at Hyde Park bombing suspect debacle
His threat followed a strong reaction among unionists and some victims' groups to a London judge's dismissal of all charges against John Downey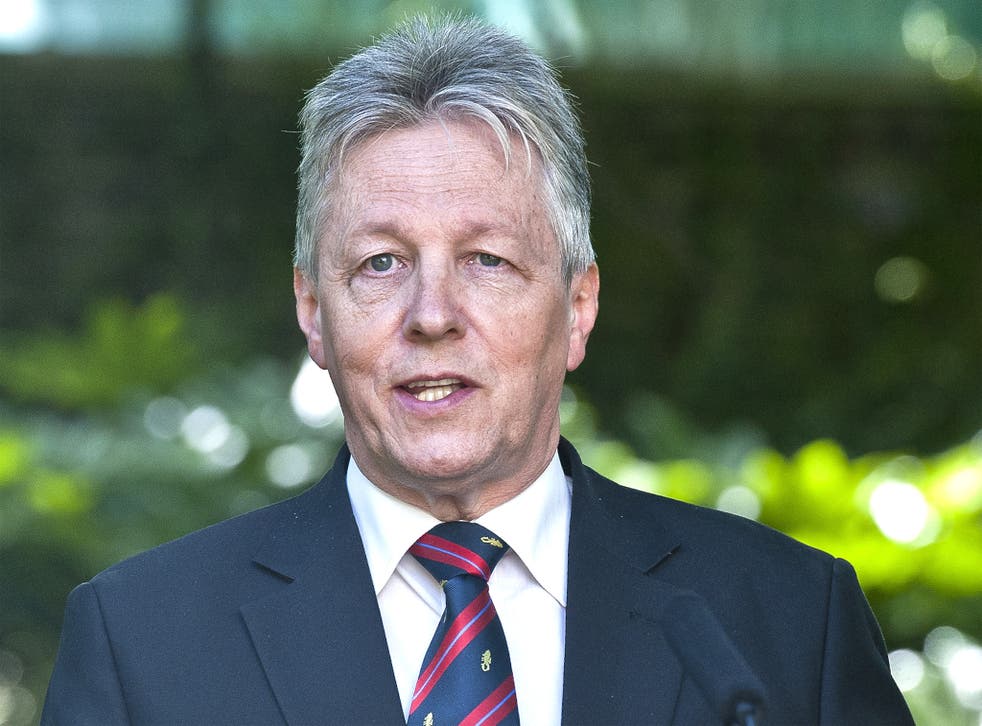 A threat by Northern Ireland First Minister Peter Robinson to resign over the collapse of the murder case against republican John Downey has brought warnings from his party that politics in Belfast is in crisis.
Describing himself as "incandescent with rage", Mr Robinson launched a fierce attack on the British Government, saying he would step down unless a full judicial inquiry is established.
He said he was "not prepared to be a stooge for Westminster", and demanded both an inquiry and the rescinding of letters sent to around 200 republicans assuring them they would not be prosecuted.
His threat followed a strong reaction among unionists and some victims' groups to a London judge's dismissal of all charges against Mr Downey, who was accused of murdering four soldiers who died in the IRA's 1982 Hyde Park bombing but walked free after it emerged he had received an immunity letter due to a police error.
The court case revealed that about 200 assurances had been given to "on the run" republicans declaring they were not wanted by police in Britain. It emerged that 38 such letters had been sent out by the current Government.
The authorities and former Labour Northern Ireland Secretary Peter Hain defended the practice, but Prime Minister David Cameron told the Commons that Mr Downey should not have received the letter and that a "dreadful mistake" had been made.
He added: "It was important to Sinn Fein because they needed to bring all active republicans along with them behind the peace process. With some freed but others potentially facing arrest and prosecution, the whole process could have been badly disrupted."
Mr Hain argued in a Guardian blog: "A process was put in place. It was not something casual. Names submitted were painstakingly assessed according to robust procedures." Abnormal measures had been necessary to normalise Northern Ireland "just as bringing closure to other bitter conflicts around the world has required governments to do controversial and difficult things". Now, he added, "almost universal peace and stability has replaced the hideous horror of the past".
Unionists reacted angrily to the scheme – which few knew was in existence, or that it had existed for many years, or that it had benefited so many suspects.
Mr Robinson accused the Government of treating the Belfast administration "in a despicable way", saying he felt deceived. His threat to resign attracted much attention in Belfast, but there was little initial sense of alarm in political circles.
Responding to his comments Martin McGuinness, the Sinn Fein Deputy First Minister, tweeted: "My unionist colleagues need to calm down. We've all come a long way. No sensible person will thank anyone for threatening the institutions."
Sinn Fein's Gerry Kelly urged Westminster "not to try to unpick the agreement despite what the electioneering unionists are at now".
Elections to both Europe and local councils, due in May, are expected to be hard fought between the Democratic Unionist Party and its major rival for the Protestant vote, the Ulster Unionist Party.
In condemning Westminster, both parties took the opportunity to take sideswipes at each other, each claiming the other bore responsibility for the on-the-run arrangements.
Northern Ireland Secretary Theresa Villiers said: "There is no doubt that finding a way forward will be more difficult now... but I continue to encourage the parties to do so."
Join our new commenting forum
Join thought-provoking conversations, follow other Independent readers and see their replies