Northern Ireland to let teachers decide GCSE grades after A-level algorithm fiasco
But government in England still yet to make move or set out appeals process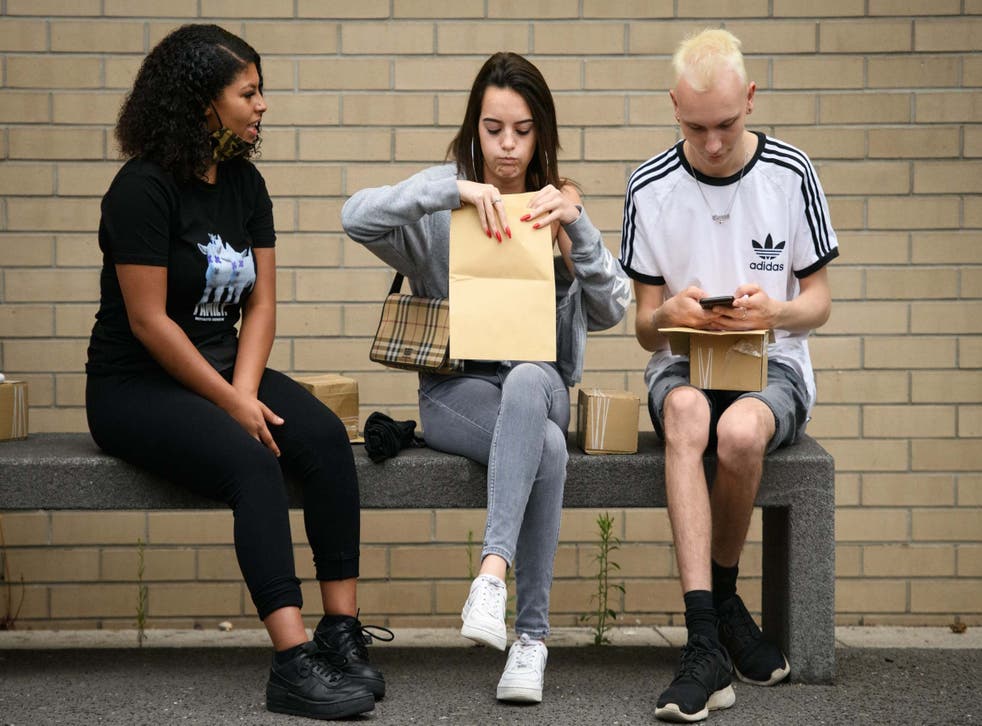 Northern Irish GCSE students will be given grades decided by their teachers after an outcry over the use of an algorithm to award marks for A-level.
Peter Weir, the education minister for the Northern Ireland executive, announced the move just days before the publication of results on Thursday, but said the change would not cause a delay.
As in other parts of the United Kingdom, students in NI complained after more than a third of predicted A-level grades were downgraded.
It comes as a new analysis of grades in England shows that marks awarded to A-level pupils at sixth-form colleges this year were sent below their average in recent years.
There are concerns that the algorithm for awarding A-level grades penalises pupils at larger institutions, such as colleges, by "moderating" their grades more harshly than smaller institutions.
"Having received advice from CCEA and listened to the concerns of school leaders, teachers, parents and young people, I have decided that all GCSE candidates will now be awarded the grades submitted by their centre," Northern Ireland education minister Mr Weir said.
"Standardisation is normally a key feature of awarding qualifications in Northern Ireland and across the UK. However, these are exceptional circumstances and in exceptional times truly difficult decisions are made."
But the Northern Ireland executive has so far resisted reversing its decision to award A-levels based on algorithmic moderation. Stormont is set to be recalled from its summer recess to debate the issue.
In England, the government has said it is drawing up an appeals process for A-level students who feel they have been given the wrong grade. In Scotland education secretary John Swinney reverted all grades to those recommended by teachers after days of protest.
Explaining his decision to make changes for GCSEs but not A-levels, Northern Ireland's Mr Weir added: "I am conscious that for GCSEs, unlike at A-level, we do not have system level prior performance data for this group of young people.
"I want to encourage as many young people as possible to remain in education or training post-16 and to know they have another opportunity to engage with education. I am also mindful that unlike A-level, many GCSE pupils will not have access to previous public examination outcomes to inform any appeals process.
"I have, therefore, acted now in advance of the publication of GCSE results to ease anxieties, reassure young people and their families and ensure that every individual candidate receives a grade that recognises the work they have done."
He added that "with regards to A-levels and AS qualifications, unlike GCSEs, they were standardised on the basis of candidates' prior performance in public examinations".
"I would encourage those pupils dissatisfied with their result to contact their school or college to work through the appeals process, which is free this year."
In England, almost 40 per cent of A-level grades were cut to below teachers' productions. Research by the the Sixth Form Colleges Association shows that colleges were hit hardest, with concerns that independent schools with smaller cohorts benefited the most from the system.
The SFCA said it looked at 65,000 exam entries in 41 subjects from colleges and determined that grades were 20 per cent down on the most recent three years for comparable students in those colleges.
The organisation says its analysis of 41 subjects did not find any where the results were above the average from the previous three years.
Ofqual, the exam regulatory, "not only failed to produce broadly similar results, but has in fact produced worse results in every single subject" the association said.
Ofqual says the objective of its standardisation process is to ensure that "national results are broadly similar to previous years". Opposition leader Sir Keir Starmer has told Boris Johnson that he needs to take "personal responsibility" and "fix" the situation.
UK news in pictures

Show all 50
The prime minister has however defended his approach, telling students: "Where pupils are disappointed, where they feel that they could have done better, where they feel that there's an injustice been done to them, there is the possibility of appeal and they can re-sit, they can take a re-sit this autumn as well.
"But looking at the big picture, I think overall we've got a very robust set of grades, plus you've got the situation in which more pupils than ever before are getting their first choice course at university and more kids from disadvantaged backgrounds going to university."
No details of the appeals system have yet been published. A Department for Education spokesperson said on Sunday night that "Ofqual continues to consider how to best deliver the appeals process to give schools and pupils the clarity they need".
Join our new commenting forum
Join thought-provoking conversations, follow other Independent readers and see their replies