Northern Ireland power-sharing: DUP leader Arlene Foster says no agreement reached and Stormont talks will continue over summer
Stalemate continues as recriminations over lack of settlement begin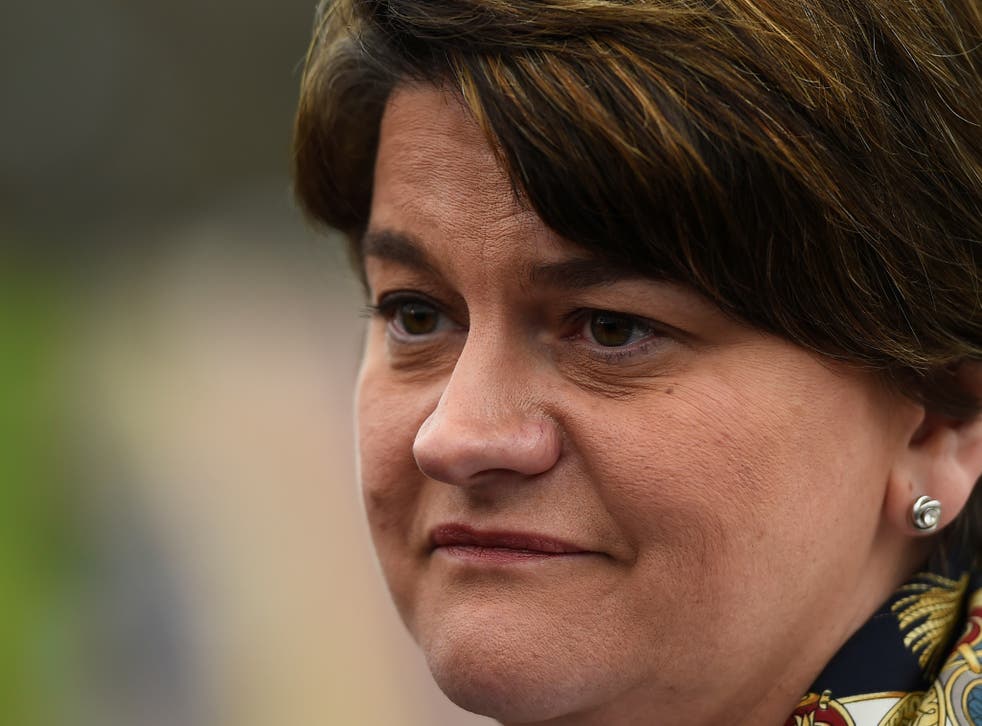 No deal has been reached to restore Northern Ireland's power-sharing agreement at Stormont and talks will continue over the summer, DUP leader Arlene Foster has said.
Negotiations had been due to expire last week but were extended by Northern Ireland Secretary James Brokenshire in an attempt to give the parties more time to reach a deal.
However, Ms Foster, who recently agreed to prop up Theresa May's minority Government in Westminster, said no agreement had been reached and suggested the issue may not be resolved until the autumn.
"We are disappointed we don't have an agreement this afternoon," Ms Foster said. "We are going to keep working at it through the summer and hopefully we can come to an agreement later on in the year.
"We are certainly up for an agreement, we are up for devolution."
Talks will continue over the summer but at a reduced intensity, with full negotiations likely to resume in the autumn.
Both sides have blamed each other for the stalemate. DUP representatives have criticised what they call Sinn Fein's "excessive demands", while Sinn Fein's Stormont leader Michelle O'Neill claimed the Conservatives' deal with the DUP was one of the main reasons that efforts to establish a new administration have floundered.
"What this constitutes is a monumental failure on behalf of Theresa May," she said.
"She has set back decades of work that has been done here throughout the years and it's a consequence, as we all know, of the DUP supporting the Prime Minister and the Prime Minister in turn supporting the DUP."
Northern Ireland: A land still troubled by its past

Show all 2
A number of sticking points between the DUP and Sinn Fein remain, including differences over a possible Irish language act that would protect the rights of Irish speakers in Northern Ireland. The DUP has also refused to support calls to legalise same-sex marriage in Northern Ireland.
The devolved institutions imploded in January when Mrs Foster was forced from office after Sinn Fein's then Deputy First Minister, the late Martin McGuinness, quit.
That was in protest at the DUP's handling of the renewable heat incentive (RHI), a botched scheme that left the administration facing a £490m overspend.
Mr McGuinness's move triggered March's snap Assembly poll and subsequent months of faltering negotiations to restore a devolved government.
Additional reporting by agencies.
Register for free to continue reading
Registration is a free and easy way to support our truly independent journalism
By registering, you will also enjoy limited access to Premium articles, exclusive newsletters, commenting, and virtual events with our leading journalists
Already have an account? sign in
Register for free to continue reading
Registration is a free and easy way to support our truly independent journalism
By registering, you will also enjoy limited access to Premium articles, exclusive newsletters, commenting, and virtual events with our leading journalists
Already have an account? sign in
Join our new commenting forum
Join thought-provoking conversations, follow other Independent readers and see their replies