Northern Ireland latest: Arlene Foster says there is 'no prospect' of deal to restore Stormont government
DUP leader says 'serious and significant' differences remain between her party and Sinn Fein, quashing hopes a deal was close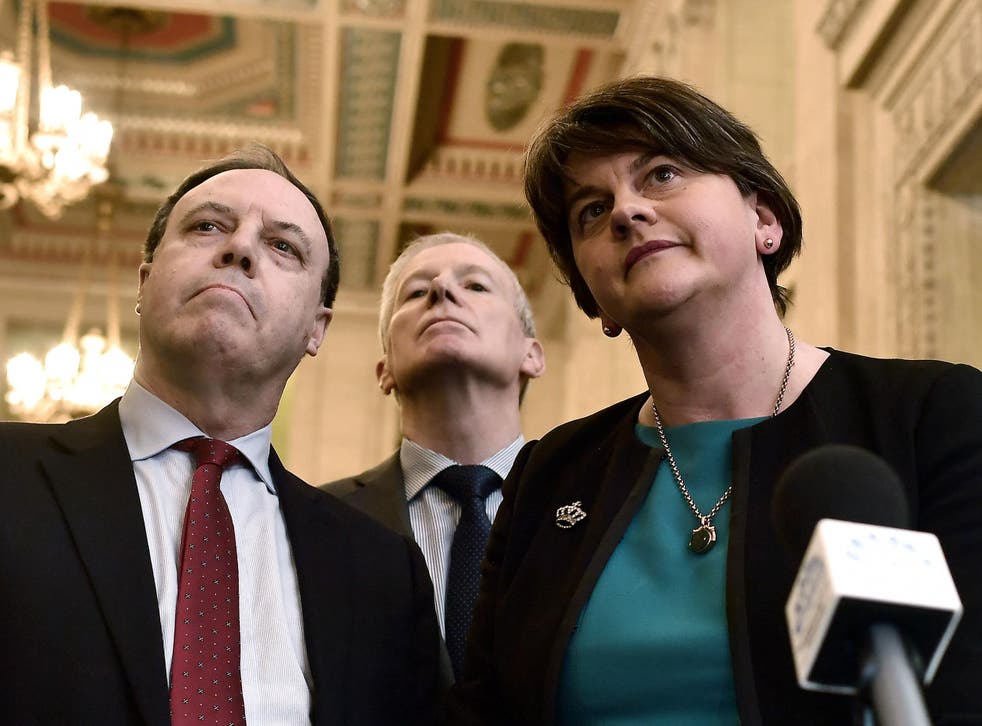 There is currently "no prospect" of an agreement to restore power-sharing in Northern Ireland, Arlene Foster has said.
The Democratic Unionist Party (DUP) leader called on the UK Government to reassert direct rule over the region after admitting there are still "serious and significant differences" between her party and Sinn Fein.
Northern Ireland has now been without a regional government for more than a year.
Ms Foster's stark warning comes after weeks of talks aimed at breaking the impasse between the parties.
It will be seen as a blow to Theresa May, who travelled to the region on Monday in an attempt to help seal a deal after it was widely reported that an agreement was close.
The Prime Minister suggested at the time that only "one final push" was needed to reach a deal.
Leo Varadkar, the Irish Prime Miniser, also cancelled other plans in order to travel to Northern Ireland to try to help broker an agreement.
However, Ms Foster said the negotiations "have been unsuccessful".
The DUP and Sinn Fein have been unable to reach a compromise on the issue of an Irish language act, she said.
Sinn Fein wants new legislation to boost the legal status of Gaelic and pave the way for it to be introduced on street signs and in public bodies such as courts. The DUP is opposed to such a move.
Ms Foster said: "For almost four weeks, we have been engaged in intensive negotiations with Sinn Fein. We have attempted to find a stable and sustainable basis for restoring devolution. Those discussions have been unsuccessful.
"Despite our best efforts, serious and significant gaps remain between ourselves and Sinn Fein especially on the issue of the Irish language.
"I have made it consistently clear that unionists will not countenance a stand-alone or free standing Irish language act. Sinn Fein's insistence on a stand-alone Irish language act means that we have reached an impasse."
Loughs, Brexit and fishermen in Northern Ireland

Show all 14
The DUP leader insisted her party was willing to "reach an accommodation" on the issue of language and other cultural matters but said the current proposals were not "fair and balanced".
She added: "I respect the Irish language and those who speak it but in a shared society this cannot be a one-way street. Respect for the unionist and British identity has not been reciprocated."
DUP negotiator Simon Hamilton said Ms May's visit had got in the way of talks.
"I think the visit of the Prime Minister and the [Irish] Taoiseach acted as a bit of a distraction at the beginning of the week," he said. "I don't think it was entirely helpful in getting us to reach a successful conclusion but regardless of the intervention, unsuccessful as it was of both prime ministers, significant and serious gaps remain between ourselves and Sinn Fein."
Northern Ireland has now been without a devolved government since January 2017, when power-sharing at the Stormont assembly collapsed.
It was thought an agreement was imminent after Karen Bradley, the new Northern Ireland Secretary, brought all the parties together for fresh talks in a bid to break the impasse.
With the deadlock still in place, however, Ms Foster said it was time for the UK Government to take control of Northern Irish affairs.
She said: "In our view, there is no current prospect of these discussions leading to an executive being formed.
"It is now incumbent upon Her Majesty's Government to set a budget and start making policy decisions about our schools, hospitals and infrastructure. Important decisions impacting on everyone in Northern Ireland have been sitting in limbo for too long."
Theresa May says she has urged Northern Ireland's political leaders to make 'one final push'
Ms Foster said she hoped power-sharing could be restored but concluded "that is not possible at this time".
She added: "Restoring a sustainable and fully functioning devolved government will remain our goal but we will not accept a one-sided deal."
As recriminations began, Sinn Fein accused the DUP of "collapsing" the talks.
Its deputy leader, Michelle O'Neill, said: "Sinn Fein over the past 13 months worked to restore the institutions on the basis of respect, integrity and equality for all sections of society.
"Sinn Fein engaged, we worked in good faith, we stretched ourselves. We had reached an accommodation with the leadership of the DUP.
"The DUP failed to close the deal. They have now collapsed this process."
Calling on the DUP to "reflect on its position", she added: "These issues are not going away."
Ms Bradley said the talks had made "substantive progress" but the current phase "has reached a conclusion".
She said "the basis for an accommodation still exists" but, raising the prospect of direct rule being reintroduced, said "challenging decisions" would now have to be taken by the UK Government.
"I would urge everyone to reflect on the circumstances which have led to this and their positions, both now and in the future," Ms Bradley added.
Register for free to continue reading
Registration is a free and easy way to support our truly independent journalism
By registering, you will also enjoy limited access to Premium articles, exclusive newsletters, commenting, and virtual events with our leading journalists
Already have an account? sign in
Register for free to continue reading
Registration is a free and easy way to support our truly independent journalism
By registering, you will also enjoy limited access to Premium articles, exclusive newsletters, commenting, and virtual events with our leading journalists
Already have an account? sign in
Join our new commenting forum
Join thought-provoking conversations, follow other Independent readers and see their replies