Not just Nigel Farage? Ukip unveils new top team to combat 'one-man band' image
Nigel Morris
Tuesday 03 June 2014 11:13 Comments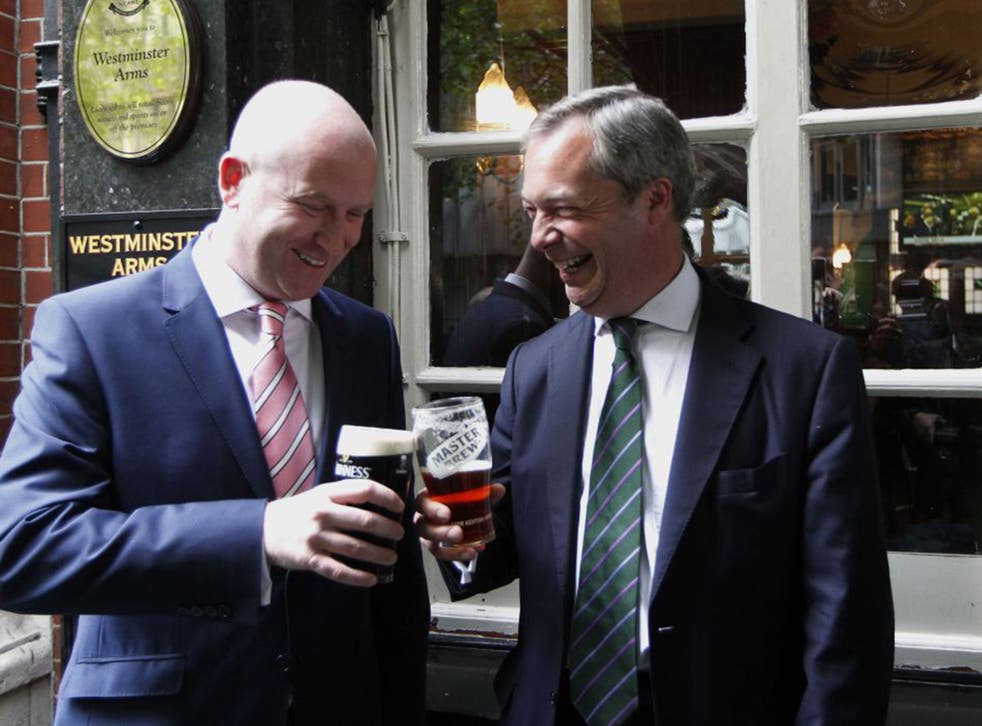 Once the Newark by-election result is declared on Thursday night, Nigel Farage is about to retreat in the background. Or at least that is his intention.
The Ukip leader has acknowledged his party has the problem of being perceived as a "one-man band" and needs to introduce more of its leading figures to the public.
With that in mind, he is about to appoint a series of spokesmen (or women, but the party prefers the non-PC term) to make the Ukip case in the run-up to next year's general election.
His new top team is expected to comprise around a dozen men and women covering such areas as defence, health and jobs, although Ukip will stop short of calling it a "Shadow Cabinet".
At the same time, the party will step up work on a general election manifesto to be launched at its conference in Doncaster in September. It is certain to be shorn of the wilder commitments that adorned previous Ukip policy documents.
Ukip's rising stars

Show all 7
In making the appointments, Mr Farage has to tackle a second reputational problem. One party source admits: "We know a lot of voters still see us as a party of angry middle-aged men in blazers. Those people still exist but you are going to see less of them. We are determined to promote people more reflective of society."
That means voters will see fewer of the middle-aged, and older, white men who have previously made up the bulk of the party's public face.
Neil Hamilton, Ukip's deputy chairman, is among those who will be sidelined.
New faces: Ukip's rising stars
Suzanne Evans
A Tory defector who has only been in the party for a year. She was rapidly appointed national communities spokesman.
A former BBC reporter who now runs a PR agency, she has won plaudits within the party for her confidence in front of the camera.
Steven Woolfe
A barrister from Manchester whose father was mixed-race and mother was white. He was invited to become financial services spokesman before he had even joined Ukip.
Now an MEP, his ethnicity and northern upbringing are in strong contrast to the Ukip stereotype.
Patrick O'Flynn
A former Daily Express journalist who became Ukip's director of communications and was a strategist behind the Euro-elections campaign.
An experienced performer on television who is close to Mr Farage. With his media background he could become a culture spokesman.
Amjid Bashir
A restaurateur of Pakistani lineage who is one three Ukip MEPs representing Yorkshire and the Humber and currently speaks for the party on small business.
After his election he said: "Here I am... of Asian birth, of Asian parentage, Muslim, and I have been selected by this so-called racist party. It disproves that completely."
Margot Parker
A local businesswoman who impressed Ukip's hierarchy with her spirited campaign in the Corby and East Northants by-election 18 months ago. She was elected as an MEP for the East Midlands last week. She has a no-nonsense style which party chiefs believe will be persuasive on the national stage.
Louise Bours
Until her combative appearance alongside Piers Morgan and Joey Barton on Question Time last Thursday, she was one of Ukip's lesser-known faces. The new MEP for the north-west is a former actress whose full name is Louise van de Bours. Her northern credentials could come in handy in wooing Labour-leaning voters.
Paul Nuttall
Long serving activist from Merseyside who became Ukip's chairman in 2008 and deputy leader two years later.
He is a key weapon in the party's attempts to broaden its appeal to working-class voters in the North of England.
Register for free to continue reading
Registration is a free and easy way to support our truly independent journalism
By registering, you will also enjoy limited access to Premium articles, exclusive newsletters, commenting, and virtual events with our leading journalists
Already have an account? sign in
Join our new commenting forum
Join thought-provoking conversations, follow other Independent readers and see their replies