Now even Tory voters tell Osborne to ease up on spending cuts
Poll shows vast majority of public want Chancellor to boost economy with a 'Plan B'
Andrew Grice
Tuesday 29 November 2011 01:00 Comments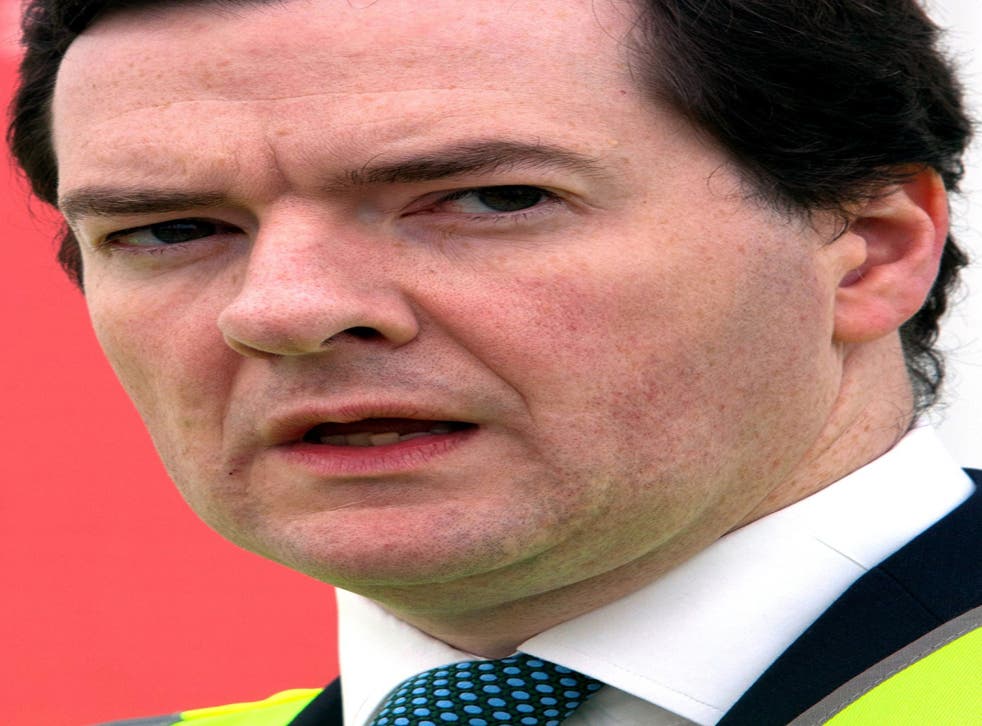 An overwhelming majority of the public believes that George Osborne should slow down his spending cuts in order to boost Britain's anaemic growth levels, according to a ComRes poll for The Independent. The findings suggest growing public fears – including among the majority of Conservative supporters – that the deep cuts may be choking off a recovery.
Asked whether the Government should slow the pace of the cuts so that it can try to boost growth, 69 per cent agree and 24 per cent disagree. Even 54 per cent of Conservative supporters want to delay the cuts, as do 71 per cent of Liberal Democrat supporters and 86 per cent of Labour voters.
Despite this support for a "Plan B", the Chancellor will stick to his Plan A deficit reduction strategy in his Autumn Statement today. But his raft of measures to revive the flatlining economy look certain to be overshadowed by gloomy forecasts on growth, borrowing and jobs by the independent Office for Budget Responsibility (OBR).
It is likely to show that Mr Osborne will meet his "fiscal mandate" to eliminate the structural deficit (the part not caused by temporary factors in the downturn) two years later than he initially hoped – by 2016-17. That could mean that, despite the pain of the cuts, he will not reduce the deficit any faster than Labour would have done. The spending plans of Alistair Darling, his predecessor, aimed to halve the total deficit before the next election in 2015 and wipe out the structural deficit by 2016-17.
Yesterday brought a warning that Britain is already sliding into a mild double-dip recession from a respected international think-tank, the Organisation for Economic Co-operation and Development.
Mr Osborne will seize on a finding by the OBR that Britain has reaped a £20bn "safe haven" dividend from enjoying lower gilt rates than other countries. While insisting he will do whatever it takes to meet his "fiscal mandate," he will find room to promise up to £3,500 a year of help towards child care costs for 130,000 more two-year-olds from low-income families. The £680m, three-year scheme, for which the Liberal Democrats lobbied hard, will help twice as many children as originally planned.
The Chancellor will announce 50 per cent tax relief for people who invest in small firms with fewer than 25 employees and gross assets of less than £200,000.
The public's doubts about his overall strategy are revealed by the ComRes survey. By 69 to 23 per cent, people do not believe higher unemployment is a price worth paying in order to reduce the deficit. Only a third of Conservative voters (36 per cent) agree with this statement.
However, ministers appear to have convinced many voters that low growth in Britain is mainly due to the eurozone crisis. Some 50 per cent agree with this statement and 39 per cent disagree. A majority (53 per cent) of Labour voters mainly blame the eurozone, as do 52 per cent of Tory voters and 65 per cent of Liberal Democrat supporters.
The public is not convinced that Labour would do a better job of sorting out Britain's economy. Only 29 per cent believe it would, while 48 per cent disagree and 23 per cent say they do not know. Only 9 per cent of Conservative supporters, 21 per cent of Liberal Democrat voters and 64 per cent of Labour voters think that Labour would do better.
Labour's lead over the Conservatives has halved to two points since the ComRes survey for The Independent on Sunday a week ago. Labour is now on 39 per cent (no change), the Conservatives 37 per cent (up two points), the Liberal Democrats 10 per cent (down one point) and other parties 14 per cent (down one).
ComRes interviewed 1,001 GB adults by telephone between 25 and 27 November. Data were weighted to be demographically representative of all GB adults and by past vote recall. ComRes is a member of the British Polling Council and abides by its rules. Full tables at www.comres.co.uk.
Register for free to continue reading
Registration is a free and easy way to support our truly independent journalism
By registering, you will also enjoy limited access to Premium articles, exclusive newsletters, commenting, and virtual events with our leading journalists
Already have an account? sign in
Join our new commenting forum
Join thought-provoking conversations, follow other Independent readers and see their replies