Only 10 per cent of people want to keep an unelected House of Lords
Conservative backbenchers sunk Lords reform in the previous parliament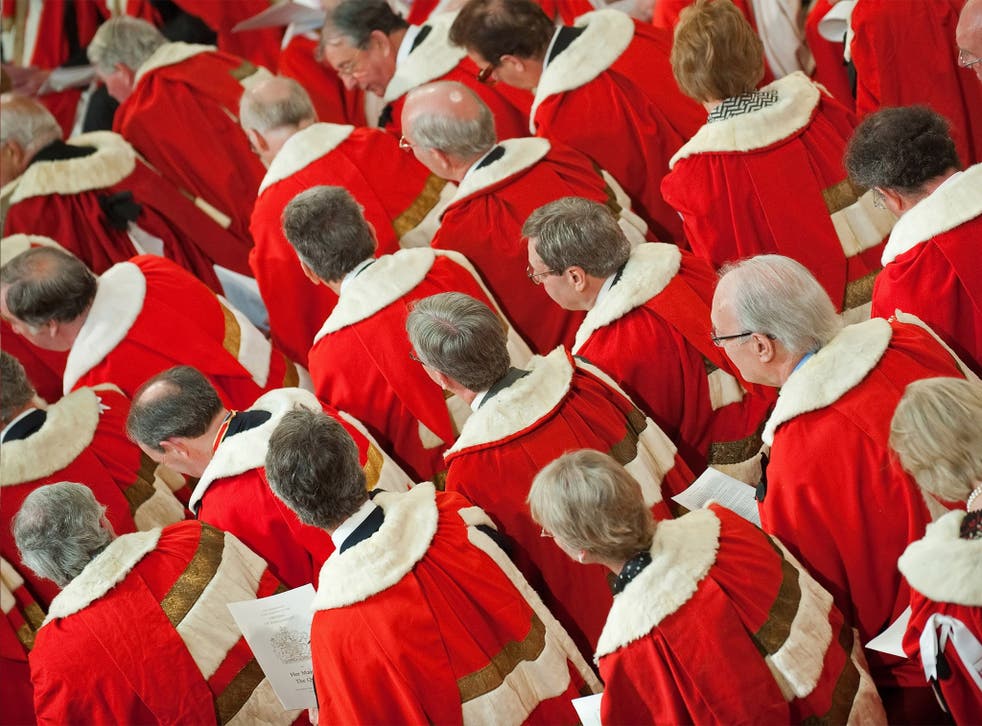 Barely one in ten people in the UK want to keep the House of Lords an unelected chamber, new opinion research suggests.
A poll conducted for the Electoral Reform Society found that 48 per cent of the public want at least some peers to be chosen by election, while a further 22 per cent would totally abolish it.
Only 10 per cent support the status quo – an unelected chamber largely appointed by the Government.
The findings come as the Government refuses to rule out appointing hundreds of Conservative peers to the Lords in order to give itself a majority there.
On Tuesday Downing Street also announced some details of a review into the House's future.
A Number 10 spokesman said on Tuesday: "The Prime Minister is determined we will address this constitutional issue.
"A convention exists and it has been broken. He has asked for a rapid review to see how it can be put back in place."
The Tory 2015 election manifesto said it supported the principle of House of Lords reform but that it was not a priority.
Darren Hughes, the Electoral Reform Society's deputy chief executive, welcomed the review and said both the Lords and the Commons badly needed reform.
"The government are tying themselves in knots over the question of Lords reform, with George Osborne saying he supports an elected upper house, while this review only looks at the issue of conventions.
"They shouldn't be making changes to our constitution out of partisan interest, just because they lost a couple of votes - they have to deal with the crux of the matter: the make-up of the constitutional calamity that is the House of Lords.
"Now's the time for looking at both Houses to deal with the democratic deficit in Britain – an unfair and out-of-date voting system in the Commons, and an expensive and archaic set-up in the Lords.
"The public won't settle for half-way house Lords reform. If the government is serious about dealing with the 'constitutional crisis' our democracy is in, they should ensure the public get a say at last in who represents us in the upper chamber."
The 2010 Coalition government said it would reform the House of Lords to make it elected with proportional representation.
The proposals were withdrawn amid disquiet from Conservative backbenchers, however. Labour also declined to lend its support during parliamentary votes, though it said it supported the plans in principle.
The poll was conducted by BMG Research between 22 October and 27 October 2015.
Join our new commenting forum
Join thought-provoking conversations, follow other Independent readers and see their replies