Our chance has come to refashion the EU, Cameron tells City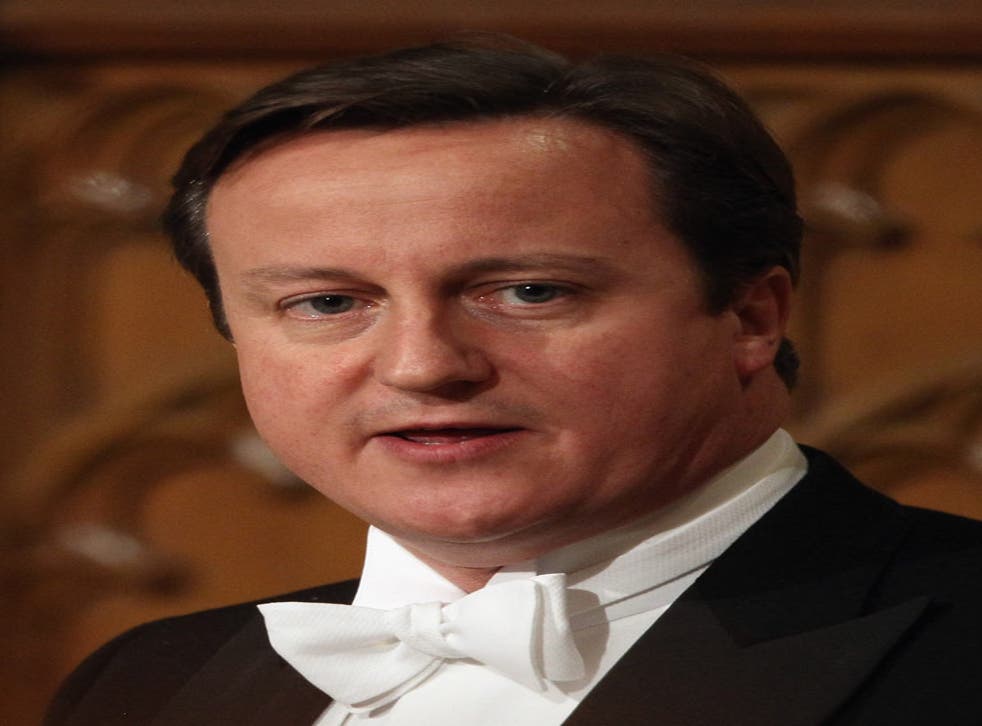 David Cameron last night described the EU as "out of touch" with reality, but insisted that Britain would be worse off if it left the 27-nation club.
In his annual foreign policy speech, the Prime Minister said the crisis in the eurozone offered an opportunity to "refashion" the EU. Describing himself as a sceptic, he attacked the union's "grand plans and utopian visions" and said: "For too long, the European Union has tried to make reality fit its institutions. But you can only succeed in the long run if the institutions fit the reality."
Mr Cameron told the Lord Mayor's Banquet in London that Britain would seek to win back some powers from Brussels. He said the EU projected an image of "alarm and crisis" to the rest of the world, and its arteries had been hardened by "pointless interference, rules and regulations that stifle growth, not unleash it".
The Prime Minister said a revamped EU should have "the flexibility of a network, not the rigidity of a bloc". He warned: "Unless we all get a grip on growth, the European Union will remain an organisation in peril representing a continent in trouble."
However, he disappointed Conservative eurosceptics who want an "in or out" referendum by declaring: "Leaving the EU is not in our national interest. Outside, we would end up like Norway, subject to every rule for the single market made in Brussels but unable to shape those rules. And believe me: if we weren't in there helping write the rules, they would be written without us – the biggest supporter of open markets and free trade – and we wouldn't like the outcome."
His speech came as Tory MPs warned the Chancellor George Osborne not to blame Britain's anaemic growth levels on the eurozone crisis and urged him to announce emergency tax cuts for business in his autumn statement on 29 November. Ideas include speeding up existing plans to cut corporation tax and bringing in a national insurance "holiday" for small firms which recruit new staff.
Mark Pritchard, secretary of the 1992 Committee of Tory MPs, told The Independent: "The UK must grow itself out of recession through smart and targeted tax cuts for small businesses and creators of jobs. We must not put ourselves in the economic waiting room of the eurozone."
Mr Cameron also defended his pro-active foreign policy, saying Britain could confound the pessimists by making a difference in the world. Insisting that the UK did not have to choose between politics and trade, he said differences with Russia on human rights and the rule of law should not "define and limit the whole relationship".
Join our new commenting forum
Join thought-provoking conversations, follow other Independent readers and see their replies