Out of control: The verdict on May's terror suspect policy
Measures hailed three years ago as vital to public safety are deemed now to have no 'practical utility'
Nigel Morris
Thursday 23 January 2014 01:00 Comments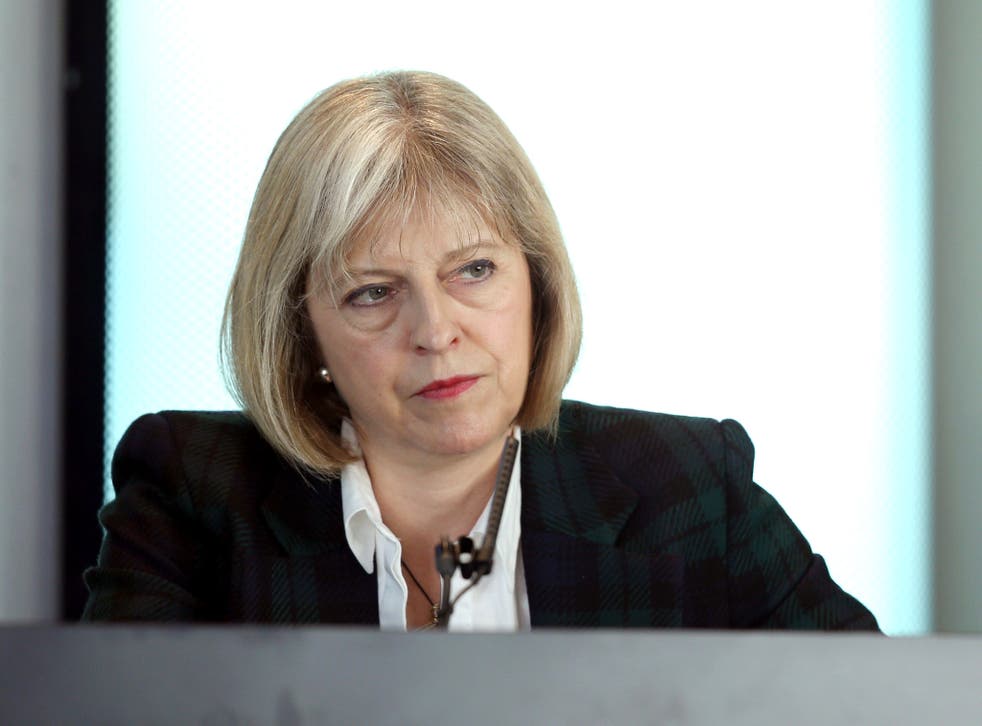 A key counterterror measure introduced by Theresa May appears to be "withering on the vine", leading to fears that the public will be put at risk by extremists walking free on British streets, the Home Secretary will warn today.
Terrorism Prevention and Investigation Measures (Tpims) were brought in by the Coalition to monitor people suspected of links with violent Islamist groups, with ministers promising the new system would help to keep people safe and enable the security services to track down other dangerous al-Qa'ida sympathisers.
Following the less-than-glorious three-year existence of Tpims, including the disappearance of two men while they were supposedly under surveillance, the system now looks as if it is being abandoned.
Not a single Tpim has been imposed since 2012 and several subjects are about to be freed from the regime. By the end of next week just one person could still be subject to the restrictions of a system once heralded by the Government as central to its fight against domestic terrorism.
In a new report, the Joint Committee on Human Rights says there is no evidence Tpims have helped to identify potential terrorists – and says the intelligence agencies appear to have lost faith in the regime as a way of keeping tabs on suspects.
It concludes: "We are left with the distinct impression that, in practice, Tpims may be withering on the vine as a counter-terrorism tool of practical utility."
Since the 9/11 attacks on New York and Washington of 2001, ministers have faced the dilemma of how to deal with individuals suspected of involvement with terrorism but against whom it was difficult to bring criminal charges.
Labour responded by locking suspects up without charge in Belmarsh prison, south-east London, and when that was ruled illegal, by bringing in "control orders" in 2005 which subjected suspects to electronic tags and curfews, and required them to move home.
Control orders faced widespread censure at the time for an unreasonable deprivation of liberty against people never convicted of a crime.
One innocent man, Cerie Bullivant, told the Independent in 2011 that being on an order wrecked his life, causing the collapse of his marriage, making it impossible for him to find a job and forcing him to drop out of college.
Amid the criticism, the incoming Coalition pledged to review the control orders regime. The Liberal Democrats were strongly committed to their abolition, with the Conservatives pressing for fresh measures to monitor suspects.
The compromise was the Tpim system, which still required subjects to wear electronic tags, stay at home over night, report regularly to police and surrender their passports. But suspects could no longer be relocated to different parts of the country and were guaranteed the restrictions only lasted for two years as long as they steered clear of their former associates.
Critics have accused Tpims of being a "control orders-lite", raising concerns that the courts have no role in approving them and that individuals affected cannot see the evidence against them.
Labour, by contrast, has complained that the new system watered down terror controls, making it easier for extremists to operate covertly.
Six of the subjects are set to be released this month, leaving a solitary individual still subject to the surveillance regime, which in his case is due to expire in the autumn. There are no signs of any new Tpims being issued, consigning the system to history three years after it came into force.
The key question now facing Ms May is what happens to the terror suspects when their restrictions are lifted in the coming days. She has remained elusive on the subject, telling MPs: "Police have put in place specially-tailored plans to deal with each individual."
This is not good enough, according to today's report by MPs and peers, who accuse the Government of being "unforthcoming" on the subject.
"In view of understandable public anxiety about the threat to public safety following the imminent expiry of Tpims, we recommend the Government put more information into the public domain about the types of work it has carried out with Tpims subjects with a view to minimising the risk that they may be tempted to engage in terrorism-related activity when their Tpim expires," they say.
Suspects about to be released
"CD": Court papers show MI5 assessed there was a "real risk" he would try to revive plans to launch attacks in Britain or engage in other terrorism-related activity if he was not subject to a Tpim. Said to have attended a terror training camp with four of the five suicide bombers involved in the attempted attacks on London on July 21,2005. Able to "quickly and covertly" buy firearms if he had the money.
"AM": Said to be involved in the 2006 liquid bomb plot, with a judge concluding "there is every reason to believe that AM would have killed himself and a large number of other people" if the scheme had been thwarted. The judge found there would need to be "convincing evidence of a change of heart" to justify lifting controls.
"CF": Has a record of absconding while electronically tagged on bail. Undertook terror training in Somalia. Detained several times in the Olympic Park ahead of the 2012 games.
"CE": MI5 assessed he was part of an extremist network whose members have used false documents in order to try to reach to Somalia for terrorist training.
"BF": MI5 said he would travel abroad to engage in terrorism if he was not subject to a Tpim. The Government said in court that he could head for Syria.
"BM": Believed he would seek to travel abroad to engage in terrorist activity if he was not subject to a Tpim.
Source: Court papers released by Labour party
The missing men
The two terror suspects who have disappeared while under a Tpim are:
Ibrahim Magag (below left), who was last seen on 26 December 2012 reportedly getting into a black cab, which he hailed in north London. He had originally been required to live in South-West England away from his friends, but was allowed back to the capital under a Tpim.
A court was told he had travelled to Somalia for terrorist training and had been involved in fundraising and forging passports.
Mohammed Ahmed Mohamed (above right), who vanished on 1 November 2013 while visiting a west London mosque. He disappeared after cutting off his electronic tag, putting on women's clothing and walking out of the building.
He is said to have received terrorist training in Somalia and to have fought with al-Shabab.
Court documents also say he supported a UK-based network supporting terrorist-related activity in east Africa.
Register for free to continue reading
Registration is a free and easy way to support our truly independent journalism
By registering, you will also enjoy limited access to Premium articles, exclusive newsletters, commenting, and virtual events with our leading journalists
Already have an account? sign in
Join our new commenting forum
Join thought-provoking conversations, follow other Independent readers and see their replies