Labour leadership candidate Owen Smith says: 'I am normal – I've got a wife and three children'
The contender's supporters have had to fend off accusations Mr Smith was being 'homophobic'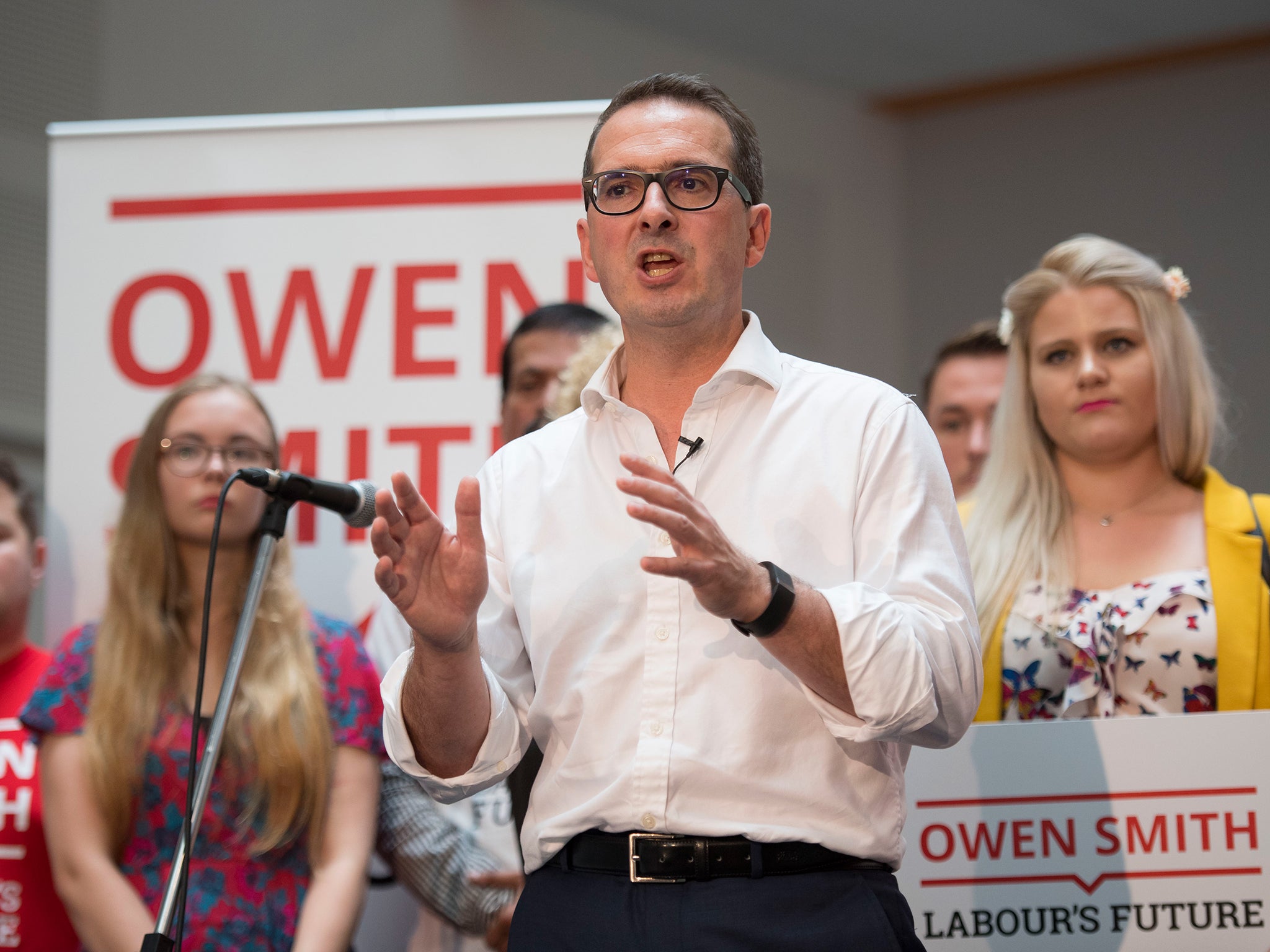 Owen Smith, a challenger for Jeremy's Corbyn's job as leader of the Labour Party, landed himself in a Twitter storm by talking about his family life on live television.
Responding to a journalist who described him as normal, Mr Smith took the phrase a compliment, and replied: "I am normal. I grew up in a normal household. I've got a wife and three children. My wife is a primary school teacher."
Angela Eagle, who is locked in contest with Mr Smith over which of them should take on Mr Corbyn in the forthcoming leadership election, was the first MP ever to come out as a lesbian.
During the Conservative leadership contest, Andrea Leadsom was heavily criticised for comparing herself favourably with Theresa May because she has children and the Prime Minister is childless.
When Mr Smith described his family life, he did not say anything hat implied that he was comparing himself with Ms Eagle, but later in the day, his supporters were having to fend off accusations on the social media that Mr Smith was being 'homophobic'.
It was a slip up on a day when Mr Smith's backers had hoped he would be able to induce Ms Eagle to withdraw from the contest giving him a clear run against the incumbent Labour leader.
Dave Brown on Jeremy Corbyn
Show all 12
The two would-be contenders were said by observers to have achieved a score draw at their first hustings in packed lunchtime meeting of MPs and MEPs, which was an unhappy experience for Mr Corbyn. While Mr Smith and Ms Eagle were applauded every time they spoke, Mr Corbyn was heard in stoney silence – a sharp contrast to the rousing cheers he invariably gets when addressing left wing crowds outside Parliament.
It is thought that Owen Smith, who has put himself forward as the 'unity' candidate, has the support of about 90 MPs, well above the 50 he needs to get himself on the ballot, and reputedly more than have signed up for the more experienced Angela Eagle.
He offered to withdraw if Ms Eagle managed to get the greater number of nominations. She brushed off the question of whether she would make an equivalent commitment by joking: "I think the person with the fewest nominations is Jeremy."
Mr Corbyn and his supporters won a hard fought battle at last week's meeting of Labour's national executive to spare him having to ask for support from fellow MPs, three quarters of whom backed a vote of no confidence in him.
Owen Smith and Angela Eagle disagree over one person standing
Mr Smith believes he has the better chance to beat Mr Corbyn because he is relatively new to Parliament and did not vote in favour of the Iraq war in 2003. Ms Eagle supported that and military intervention in Libya. But she believes that she is better qualified because of her experience as a government minister, and that it is time for Labour to elect a woman leader.
One seasoned observer who was at the hustings said that Smith came over as stronger on policy while Eagle seemed the more human. He said: "If Owen on policy lines was nine to her eight, on lightness she was nine to his eight. Hearing them, I was glad to be a member of this party. They were both so much better than the present leader that it was embarrassing."
Since she announced her intention to run against Mr Corbyn, Ms Eagle has drawn vitriolic responses from some Corbyn supporters. A brick was thrown through the window of her constituency office in Wallasey, in what may have been a political gesture.
She told MPs: "When it comes to bricks and windows, the Labour Party I know uses bricks to build homes and opens windows on a more tolerant society."
Join our commenting forum
Join thought-provoking conversations, follow other Independent readers and see their replies