Pakistan cannot 'bear the brunt' of Afghan refugee crisis, says adviser to Imran Khan
National security adviser warns of risk terror groups will exploit 'security vacuum'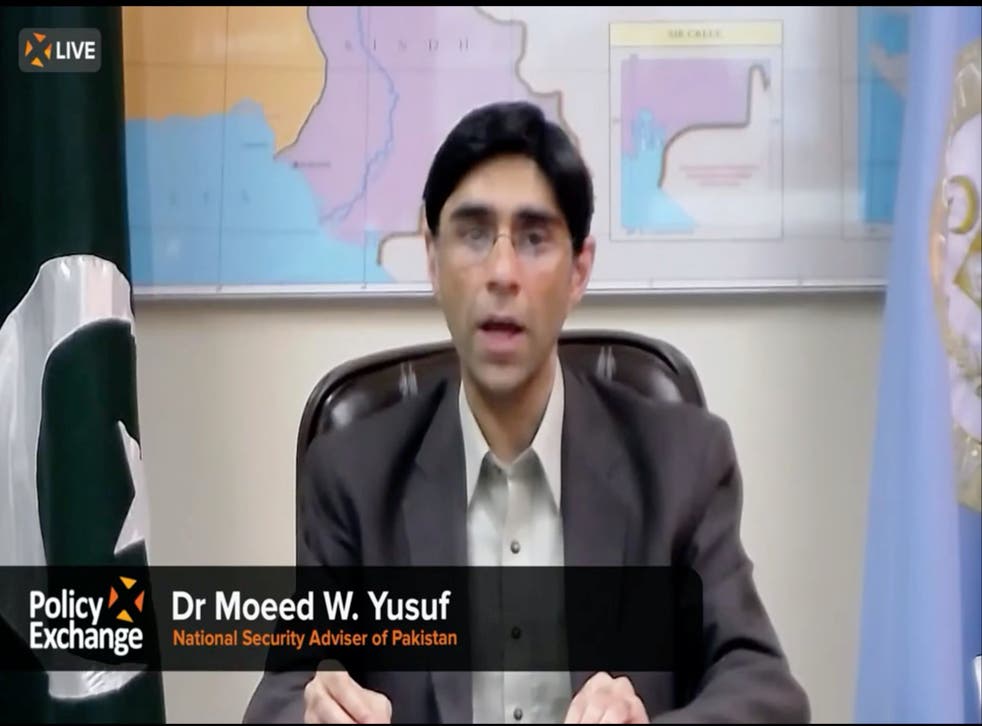 Pakistan must not be left to "bear the brunt" of any refugee exodus from neighbouring Afghanistan in the wake of the pullout of foreign troops, the country's national security adviser has said.
Moeed Yusuf warned that a failure by the international community to engage with the new Taliban regime in Kabul would risk a humanitarian crisis and a "security vacuum" to be exploited by terror groups.
Turning its back on the region as it did in the 1990s would leave the West open to a repeat of the emergence of al-Qaida, which launched the 9/11 attacks on the USA from training bases in the country, he said.
Addressing the London-based Policy Exchange thinktank, Dr Yusuf - who advises prime minister Imran Khan on security issues - called for urgent action to establish "internal secure zones" within Afghanistan which would allow displaced people to be offered shelter inside the country's borders and prevent a flood of refugees into Pakistan.
Pakistan has already taken in 3-4 million Afghan refugees since the Soviet invasion of the country in 1979, and has suffered tens of thousands of deaths and $150bn in economic losses as conflict spilled over its borders, said Dr Yusuf.
"Pakistan can not bear the brunt of more refugees," he said. "Pakistan has faced enough spillover in the past."
He warned: "If today the world makes the mistake of the 1990s, I want to be categorical, the results cannot be better than last time… We will have a humanitarian crisis, we will have instability and we will have a security vacuum that terrorists may fill, targeting again Pakistan first and the Western world second.
"Afghans are not refugees today, so let's please not create a narrative which says it is inevitable that Afghans will be refugees and Pakistan will take them.
"These are humans, not commodities. Our job is to prevent the humanitarian crisis, not to talk about that being inevitable."
Arguing that the priority of the international community must be to prevent a mass departure from Afghanistan of people fearful for their lives under Taliban rule, Dr Yusuf proposed the establishment of secure zones to house them within the country.
World news in pictures

Show all 50
"Even if there is going to be a refugee issue, the international community should work together to create internal secure zones in Afghanistan, so that the Afghans don't have to leave the country until the situation stabilises," he said.
"We need an international plan immediately. Pakistan will support wherever we can, but please don't see us as the only country that somehow has to do this.
"We don't have the capacity. Our people cannot deal with this. We can barely deal with our own education and hospital requirements. We are willing to support, but the world has to take this responsibility."