Key part of Tory austerity declared 'dead in the water' after firefighters offered cap-busting pay rise
Bodies representing other public sector workers immediately demand that Theresa May scraps the 1 per cent cap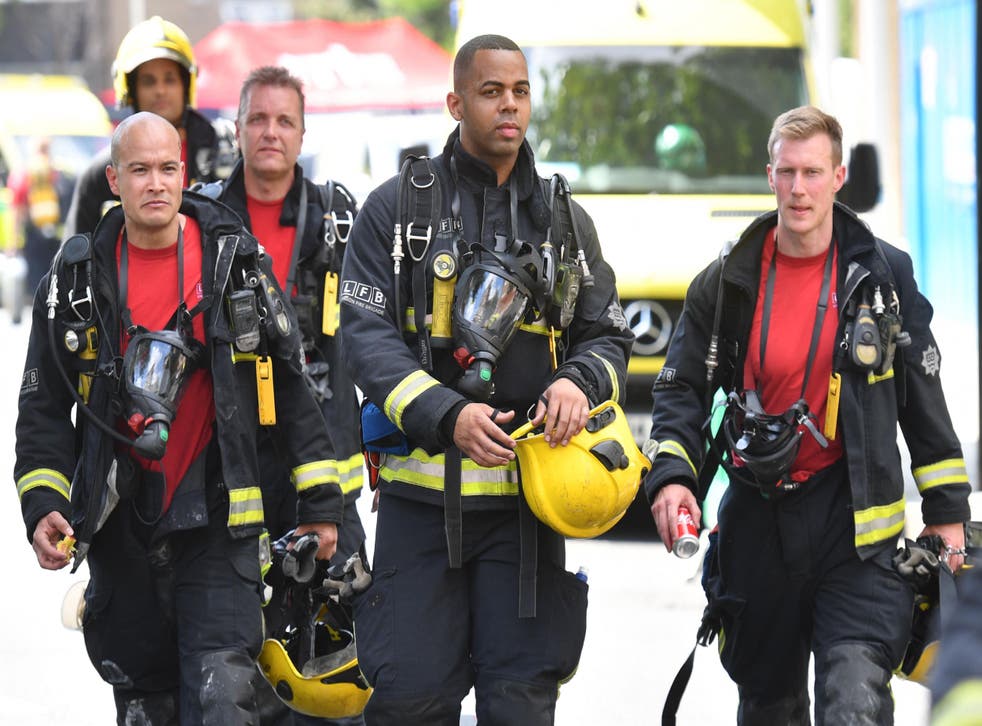 A key element of austerity has been declared "dead in the water" after firefighters were offered a wage increase busting through the cap on public sector pay.
If accepted, increases this year and next would break the 1 per cent limit previously said by Conservative ministers to be essential to bring down the deficit.
News of a possible breach in the cap led to immediate and intense pressure from other public servants' bodies, with nurses demanding Theresa May "bite the bullet" and scrap the cap, while police called for "shackles" to be removed.
Labour said it showed "the writing is on the wall" for austerity, while Conservative MPs warned pressure for change could see the weakened Prime Minister face a backbench rebellion if insufficient action is taken.
The firefighters' offer will also have stoked a bitter quarrel among top Conservatives, which even saw ex-prime minister David Cameron wade into the row and take a veiled swipe at old rival Boris Johnson.
Hours before, officials had quietly released a report proving that doctors, police, teachers and others have seen their wages go backwards in real terms since 2010 and have taken a particular hit since the Brexit vote, with inflation hitting 2.9 per cent.
The offer to firefighters would see them receive a 2 per cent increase this year and a three per cent increase the following year, with potential further increases in 2019 and 2020.
Pay for firefighters is set within a system of collective bargaining, through a joint national council representing fire and rescue services across the UK.
Nurses protest at Department of Health over pay cap
While the process is outside Westminster government's direct control, it is the Treasury that ultimately foots the bill and pay rates offered to firefighters in recent years have been set in line with the 1 per cent cap.
The Fire Brigade's Union called for an even greater increase this year, but said the offer as it stood "demonstrates that the 1 per cent cap is dead in the water".
The sight of one group of public sector workers taking a step towards a cap-busting increase sparked an immediate reaction.
The Royal College of Nursing's chef executive Janet Davies told The Independent: "Movement on the pay cap needs to be replicated across the public sector.
"Theresa May needs to listen to the voice of her colleagues and scrap the cap now – she cannot wait months and put nursing staff through more unnecessary worry and hardship.
"There is cross-party support for lifting it and the Prime Minister should bite the bullet."
A spokesman for the Police Federation renewed demands for the Government to "remove the shackles" from the Police Remuneration Review Body, which recommends police pay levels.
Liam Fox says we can't afford pay rise for nurses while defending £1bn DUP deal
A Downing Street spokeswoman said the process is "ongoing" adding: "Pay for firefighters is not set or agreed by central government and we don't have a role in negotiations."
But Westminster insiders speculated that the offer had been made with the Government's tacit consent, while others suggested it could be a move to bounce ministers into breaking the cap – it would be a politically brave decision to refuse a rise following the high praise given to the profession following the Grenfell Tower blaze.
Labour's shadow fire minister Chris Williamson said: "This country has lost 10,000 firefighters since the Tories came to power in 2010 – that's a loss of one in six.
"The writing is on the wall for failed austerity economics but this Government is incapable of truly changing course. What Britain needs is a new deal to lift real wages across the board."
Gove: We should take on recommendations of independent pay review bodies on public sector pay
The pressure was also mounting from Tory benches where MPs still reeling from the election result now want an end to years of wage stagnation.
Ex-health minister and NHS doctor Dan Poulter, among Tories who have pushed for an end to the cap, said: "It's unsustainable to say that one group of public sector workers have the cap relaxed, while others have a different approach.
"This signals an acceptance that the cap is being relaxed and it's a case of when, not if, for NHS workers."
He said it would be vital that ministers took on board advice of pay review bodies for NHS staff due to report later this month, and announced clear action in the budget, pointing out that there is now strong support for change on the Tory benches.
Asked if the number of MPs backing change outnumbered Ms May's Commons majority of 13, he said, "undoubtedly", with some estimates putting the number as high as 40.
Recent days have seen a string of cabinet ministers also signalling they now favour an end to pay restraint, including Health Secretary Jeremy Hunt and Education Secretary Justine Greening.
Foreign Secretary Boris Johnson and Environment Secretary Michael Gove have also suggested the cap could be scrapped without raising taxes.
It puts incredible pressure on Chancellor Philip Hammond who would have to find upwards of £5bn to raise the cap, while also being tasked to abolish the deficit – the UK is set to borrow a further £50bn this year.
Mr Hammond used a speech last night to launch a veiled attack on Brexiteers like Mr Gove and Mr Johnson, pointing out the decision to leave the EU is partly to blame for the pay squeeze as it led to a plunging pound that fuelled inflation.
Theresa May tells nurse who says she hasn't had a pay rise 'there is no magic money tree'
Mr Cameron made a rare return to the political front line to engage in the debate, saying in a speech in South Korea that those calling for an end to the cap would be "spending money today that you may need tomorrow" and branding critics as "selfish".
Teachers' real-terms hourly pay dropped 1.3 per cent a year between 2010, the beginning of austerity budgeting under George Osborne and the coalition, and 2015, researchers found.
Police officers earned 1.9 per cent less, prison officers 0.7 per cent less and doctors 4.4 per cent less every year, according to an Office of Manpower Economics study the Government released on Monday.
Register for free to continue reading
Registration is a free and easy way to support our truly independent journalism
By registering, you will also enjoy limited access to Premium articles, exclusive newsletters, commenting, and virtual events with our leading journalists
Already have an account? sign in
Register for free to continue reading
Registration is a free and easy way to support our truly independent journalism
By registering, you will also enjoy limited access to Premium articles, exclusive newsletters, commenting, and virtual events with our leading journalists
Already have an account? sign in
Join our new commenting forum
Join thought-provoking conversations, follow other Independent readers and see their replies