Paywall UK: Nick Clegg announces tough new regime on visas
Visitors from 'high risk' nations to be asked for deposits of £1,000 or more
Andrew Grice
Friday 22 March 2013 11:28 Comments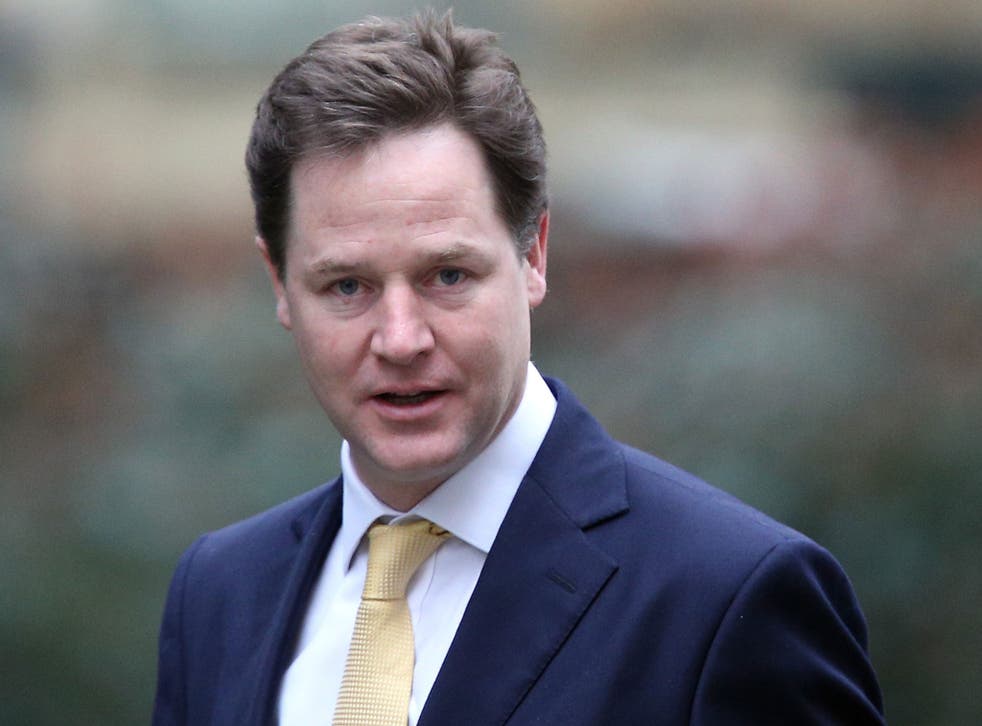 Foreigners visiting Britain from certain countries will have to put up "security bonds" costing thousands of pounds to deter them from overstaying their visas, under new proposals.
Nick Clegg, the Deputy Prime Minister, today announced plans to bring in the Australian-style deposits for visitors from "high risk" countries, to be repaid when they leave the UK.
Although a list of such nations has not yet been drawn up by the UK Border Agency (UKBA), it is expected to include Pakistan, other countries in the Indian sub-continent and some in the Middle East. The move could run into controversy if the list does not include "white Commonwealth" nations.
Mr Clegg, who chairs the Cabinet's Home Affairs Committee, has asked the Home Office to run a trial "security bonds" scheme by the end of this year. The bonds would cost at least £1,000, rising to as much as several thousand pounds for visitors from the countries deemed to pose the highest risk.
In a speech toughening the Liberal Democrats' stance on immigration, Mr Clegg said that "visa overstayers" are the major part of UKBA's enforcement work.
Describing the bonds as a "powerful new tool" he said: "The challenge isn't just stopping people coming into Britain illegally, it's about dealing with individuals who come over legitimately but then become illegal once they're already here."
Mr Clegg added: "The bonds would need to be well-targeted – so that they don't unfairly discriminate against particular groups. The amounts would need to be proportionate – we mustn't penalise legitimate visa applicants who will struggle to get hold of the money."
The Liberal Democrat leader accepted that visiting Britain to celebrate a family birth, a relative's graduation, or a wedding, should not become entirely dependent on the ability to pay a bond.
"I would want a system that is welcomed by legitimate visitors. Rather than place a great burden on them – done right this would speed up the application process, giving UKBA greater confidence about people's intentions, allowing them to make better, faster decisions," he said.
Mr Clegg has also asked Theresa May, the Home Secretary, to double the maximum fine for unscrupulous employers who hire illegal immigrants as cheap labour. He wants it to rise to £20,000 per illegal worker.
The Liberal Democrats have been seen by some voters as "too soft" on immigration, including some of their natural supporters. In a significant repositioning of his party, Mr Clegg called for a "tolerant Britain" that is "zero-tolerant of abuse".
"I'm determined we lay the foundations for an immigration system that embodies this nation's instincts and its values: our openness and tolerance on one hand; our sense of fair play, on the other," he said. "The Liberal Democrats are at the forefront of that. We want to stay a tolerant Britain, and to that end we will be zero-tolerant of abuse."
Denying that he is trying to "outflank" the Conservatives or Labour, he insisted there should not be an "arms race of rhetoric" and "low populism" on immigration.
However, a different message on the sensitive issue was given last night by Vince Cable, the Liberal Democrat Business Secretary. In an interview with Parliament's The House magazine, he attacked the Tories' target of cutting net migration to less than 100,000 a year, saying it is not the Coalition's policy.
Mr Cable, who has clashed with Ms May over the target, said it was "unattainable" without "enormous damage" and was only achievable if the Tories "increase the number of British people emigrating". He said Indian and Chinese people believed the UK had a "Britain is closed" sign.
Register for free to continue reading
Registration is a free and easy way to support our truly independent journalism
By registering, you will also enjoy limited access to Premium articles, exclusive newsletters, commenting, and virtual events with our leading journalists
Already have an account? sign in
Join our new commenting forum
Join thought-provoking conversations, follow other Independent readers and see their replies